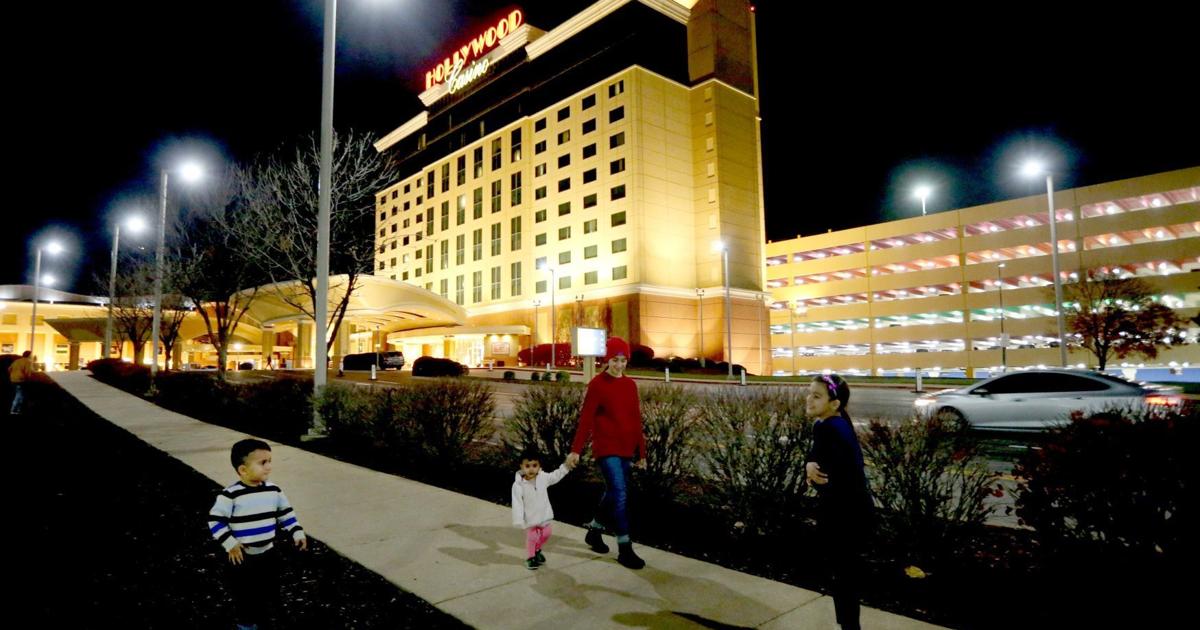 Afghan refugees check into Hollywood Casino Hotel and stay for a while | Metro
MARYLAND HEIGHTS — Four children ran through the hotel lobby, playing as if they were in their old neighborhood park in Kabul. One was barefoot. All were smiling.
They were some of the lucky refugees flown out of Afghanistan in August right before the Taliban officially took control. But the terrain of their joyful excursion was still limited, if not defined, by a lighter reality of winning and losing.
Three days since they landed at St. Louis Lambert International Airport on Tuesday, Nov. 16, their large family was holed up here at Hollywood Casino Hotel. Up on the third floor, in a pair of rooms, were three more siblings and a set of parents with bigger concerns than rambunctious children.
How soon would they be settled? Where would they live? Where would the children go to school? What job could the father do? Heavy lifting isn't a sustainable option since a bomb blast injured his back a few years ago.
"I have to be responsible for them," said Ajmal Arazem, 44. "What kind of work, I don't know. Uber?"
As a security officer in Afghanistan, he said he oversaw the perimeter of an American base near Kabul that was hit by mortars and other attacks. About 300 men worked for him in the guard towers and entrances.
Like many of the others who fled, the Americans had paid Arazem well. Enough to own a Toyota, support his wife, seven children, and have about $500 left over at the end of the month. The job, of course, came with risks, though.
All that helped put him near the front of the official line of the refugee crisis. He and his family are among more than 1,000 Afghans who are supposed to be resettled in the St. Louis region within the next year, an unprecedented wave.
As more arrive, Arazem's situation signals the transition isn't going smoothly. Hot meals are sporadic. Housing placements and general information are inconsistent. The International Institute of St. Louis, contracted by the U.S. State Department to resettle refugees, as well as volunteer groups and the existing Afghan community, are struggling to quickly place them into homes.
"A family of two is easy," said Arrey Obenson, chief executive of the International Institute. "We can get them a home as soon as possible. When we see a family of eight or nine, it becomes more challenging."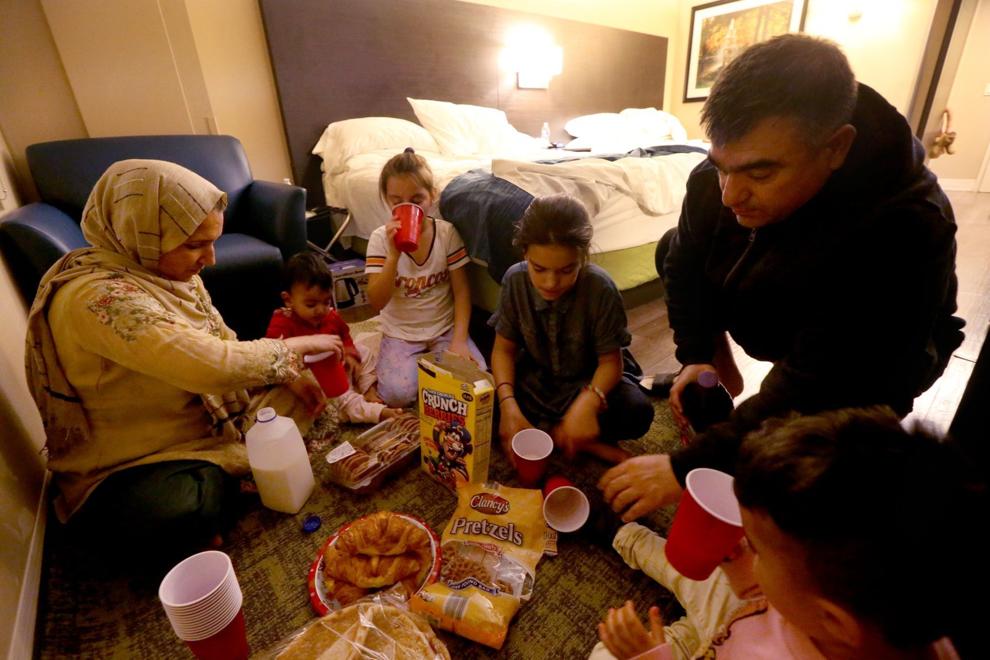 While large houses and apartments are needed, Hollywood Casino and a few other hotels have donated rooms to help bridge the settlement gap.
"We are applying some of our resources to secure contracts with hotels on a permanent basis," Obenson said.
He said families could end up staying in hotels anywhere from two days to a week, depending on finding appropriate housing.
"Of course, it is going to be a challenge to meet all of this," he said. "We are working on more concrete solutions."
A new twist
Like four of his children, Arazem also ventured off Thursday for a short break from hotel monotony. He went to the outer reaches of the casino parking lot for a light jog. He didn't want to push it because of his lingering back injury.
And he didn't want to jeopardize the progress his family had made.
"When I was running, I was afraid of the police stopping me, asking, 'Who are you?'" Arazem said.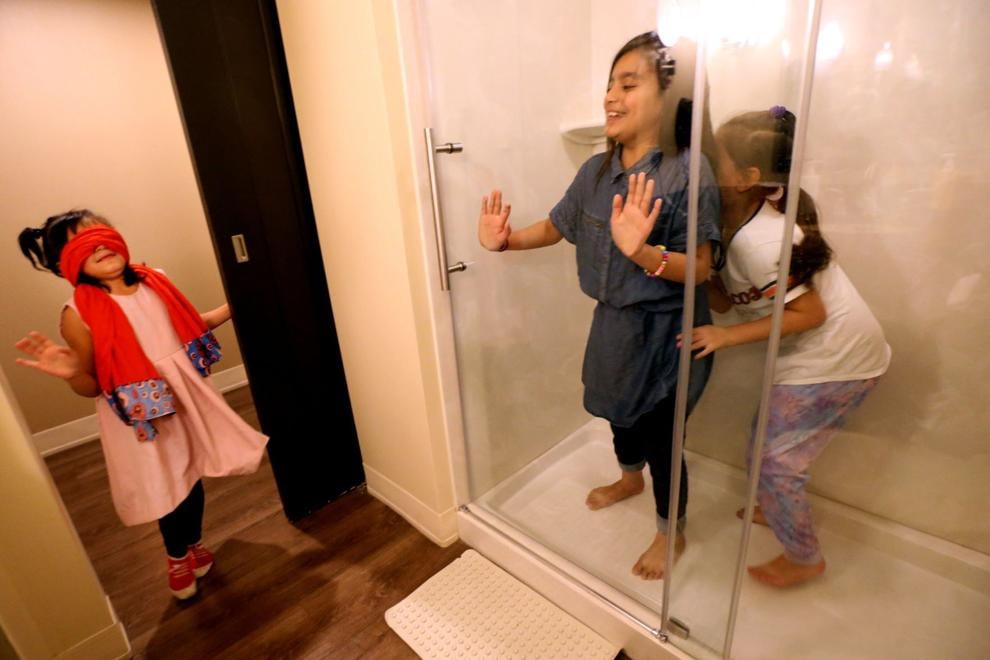 Instead, he and some of the other Afghan families who arrived with him Tuesday mainly stayed put in their rooms. The Missouri River ran right behind the hotel and they didn't know it was there. They hadn't checked out the adjoining casino.
Life has mainly been coming to them through an array of volunteer groups. Members of the Bosnian community brought shampoos, conditioners and other items. Members of the existing Afghan community, the Islamic Foundation of St. Louis and other groups brought food and supplies.
The refugees have small refrigerators but without microwaves in their hotel rooms, heating things up hasn't been an option. Lots of snack foods — cookies and chips — often make main meals.
On Thursday night, Aarazoo Ahmadi showed up with a group of volunteers from Oasis International Ministries. They mainly brought bottled water and juice on this trip.
"We have too many people already here," Ahmadi said of the refugee backup.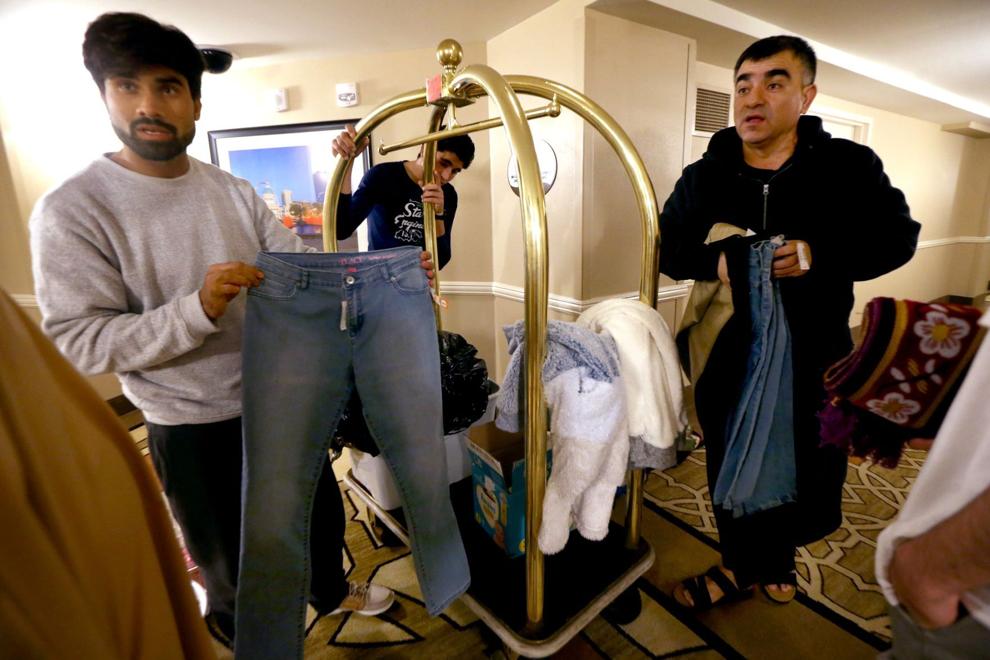 While the working plan is to spread refugees throughout the broader region, she said, south St. Louis is the most practical spot. It's close to classes at the International Institute and other supports.
Asked how hard it would be for Arazem to get his family of nine settled, she sighed.
"The first thing they need, they need to find an apartment," Ahmadi said. "Second, English classes, so he can get a driver's license."
Ahmadi said three more Afghan families were supposed to be coming in Thursday night, four on Friday and eight Saturday.
"None of them has a house," she warned. "None of them have an apartment."
Soon after, Dzemal Bijedic pulled up with a truck and van loaded with bananas, cookies, chips, cereal, croissants, oranges, cookies, jam, juice, Afghan bread and about 20 electric tea kettles. Once the refugees were in homes, he said, there's also furniture to deliver on behalf of House of Goods Baitulmal, the charity arm of the Islamic Foundation of Greater St. Louis.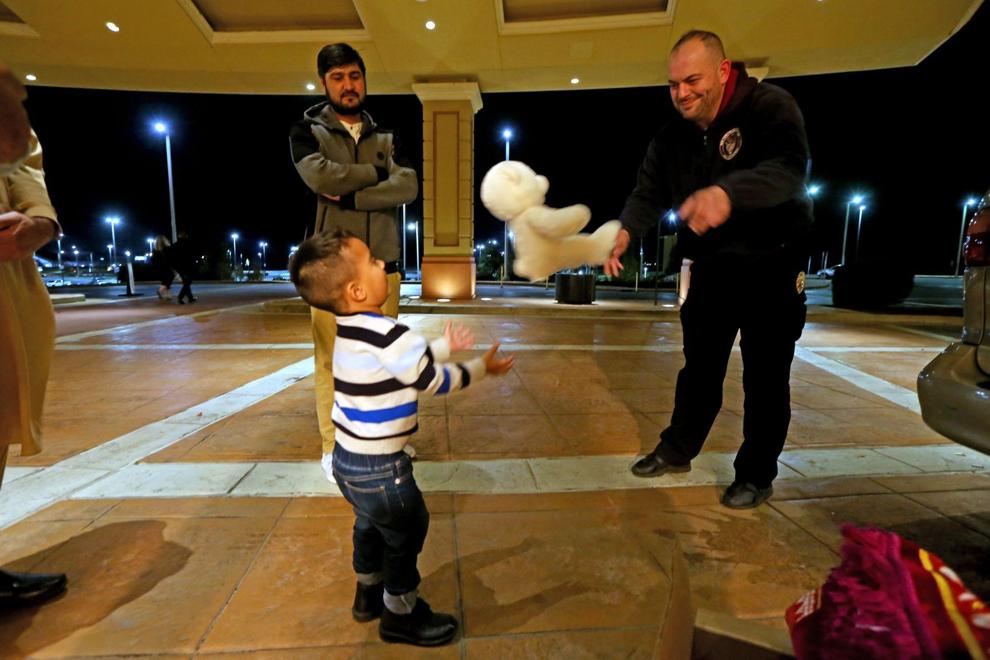 Bijedic said he arrived in St. Louis from Bosnia on Dec. 27, 1997, when he was nine.
"I am still a refugee," he said. "I am proud of it. Nobody helped us. We would go in the alleyways to find furniture and use food stamps for food. It was hard."
But he said putting new arrivals in a hotel is a new twist on refugee resettlement in St. Louis.
"It's going to be tough," he said of Arazem and the others. "When we came to the U.S. they already had an apartment for us."
Arazem and a few other Afghan men were grateful for the donated goods. They used a luggage cart to bring the bounty to the third-floor hallway. There, amid curious and helpful children, they sorted everything and put the leftovers in a spare room for other families.
An American woman, a bottle of Bud Light in one hand and a can of hard seltzer in the other, walked through.
"I am coming to this room!" she said, on her way toward the casino. "A lot of snacks!"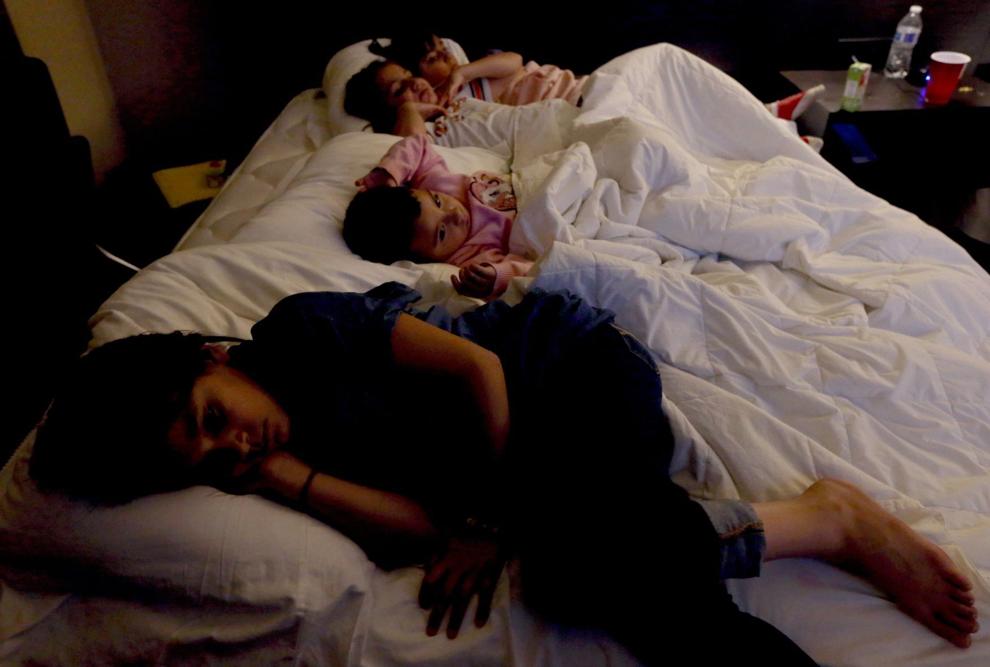 Arazem's family stored their allotment of food in dresser drawers. Approaching 9 p.m., they prepared a cold dinner. His wife, Palwashah, and children set out a rug on the floor. They made a feast of bananas, juice, bread and cereal, as cartoons played on the TV.
Arazem, looking for a spoon, retreated to their other room. The New England Patriots were up 13-0 against the Atlanta Falcons, but he wasn't watching football. He sat by himself at a desk. What he thought was yogurt turned out to be cottage cheese. He changed his dinner plans: bread, honey, and a cup of fresh tea made in a new tea kettle.
He looked content. So did his young and only son, Mateullah, who'd been barefoot in the lobby. He sauntered into the hotel room, smiling. He stopped to look at himself in the tall mirror. Getting closer, he stuck out his tongue, examined it, then licked the mirror.
A chance to rebuild
They had a better dinner on Friday night. Volunteers delivered chicken and rice from Sameem Afghan Restaurant and Catering in the Grove neighborhood. But by Saturday, the length of stay at the casino hotel was wearing them down. Three of the refugee fathers joined Arazem for a meeting in his hotel room.
Between the four of them, they had 22 children and at least one more on the way. They thought they'd already be in homes. Two of the fathers had grown worried that they would be on the hook for an unsurpassable hotel bill, which isn't supposed to be the case.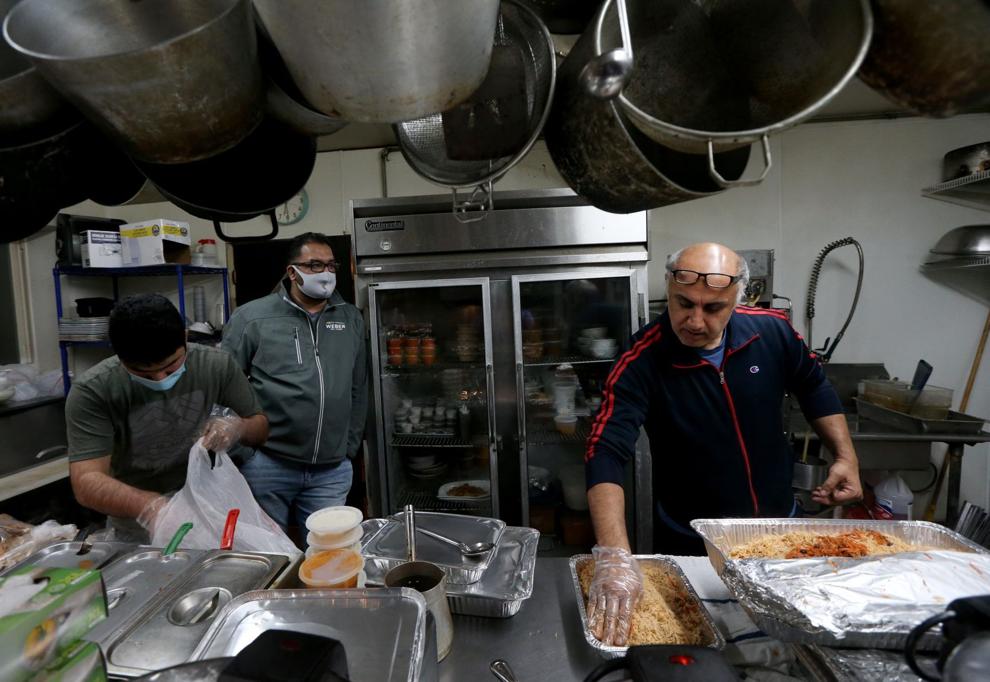 "We are not sure if it's cutting from our pocket," said Sayed Abdali. "We are all in the same situation. We don't have a lot of money."
Arazem listened to their concerns until they left. He, too, was puzzled. At least one of the families that arrived with them to the hotel Tuesday was placed in a home Friday. A smaller family, across the hall, was not.
Arazem called his International Institute caseworker. The caseworker was supposed stop by later in the afternoon Saturday when more families arrived, but he was running behind. Arazem had more time to think and wait.
He said it cost less than $1,000 a month to support his family in a Kabul apartment, including all of their living expenses.
"I think three rooms is enough for me," Arazem said of his family's needs.
That's two bedrooms and a dining room. Once they have that, his family can get settled by cooking, sewing, working — rebuilding. Two of his brothers are also trying to be resettled, though Arazem is furthest along in the process. He wants them all to be close.
"California, Virginia, St. Louis, every city is good," Arazem said. "There aren't explosions. There aren't terrorists. That's good."
He just hoped to have his family settled soon.
Saturday and Sunday passed without news. On Monday, they were still in the Hollywood Casino Hotel but word broke in the evening that they were getting moved — not to a house or apartment, but a hotel with a kitchen so they could cook.