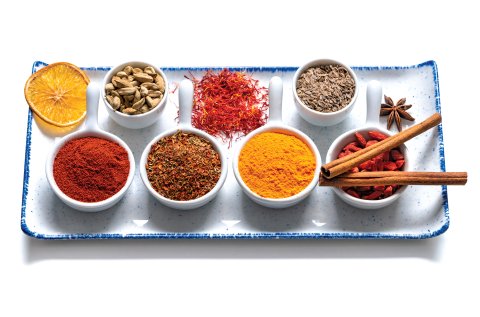 The idea of curries—saucy, brothy, gravy-rich and stewy dishes, from simple to complex, made from spices, spice blends, herbs and nuts—has thrived in the Indian subcontinent for at least 6,000 years. As Indians left their country to travel, emigrate, work or study, their food and curry culture were steadfast companions on their journey. As a result, curry has set roots in kitchens crisscrossing the globe, and the many countries that adopted curry over the years gave it a place of high honor within their cuisines—some as the heart of comfort food, and other as a very special treat to be featured in celebrations or weekly rituals, which we've highlighted here.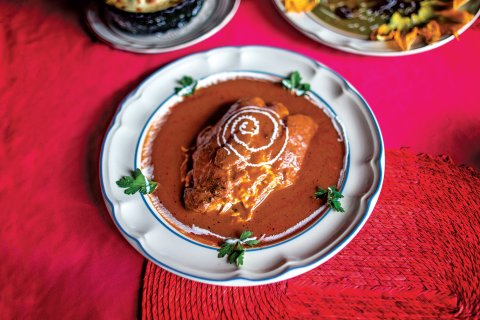 Mole Coloradito Oaxaqueño
Poached Chicken with a Spiced Mole Sauce
Mexico
The regional cuisines of Mexico and India are soulmates. Chiles, for example, are native to Mexico but proved to be an incredible find for India. Mole, that most layered of sauces, weaves in those very same chiles plus herbs, spices, nuts and chocolate. The head nun in the kitchen at the Santa Rosa convent in Puebla, Mexico, is credited with its creation. This mole's layered technique is employed in some regional Indian curries, highlighting the culinary connections between Mexico and India.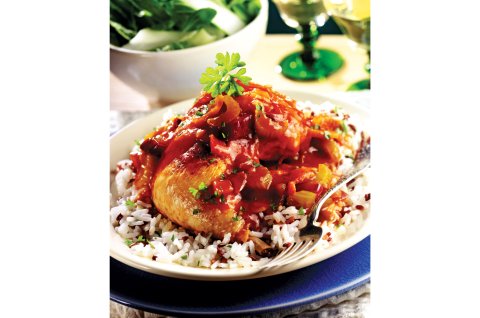 Country Captain Chicken
Curried Chicken with Peppers and Raisins
Savannah, Georgia
Legend has it that this chicken derived from a British sea captain who sailed to Savannah, Georgia, with spices from the motherland. Propelled by his hosts' warm hospitality, he showed them how to make a chicken curry, and the resulting dish was named Country Captain in his honor. Printed adaptations over the years have varied, but it is known for using bone-in chicken and tomatoes in the recipe.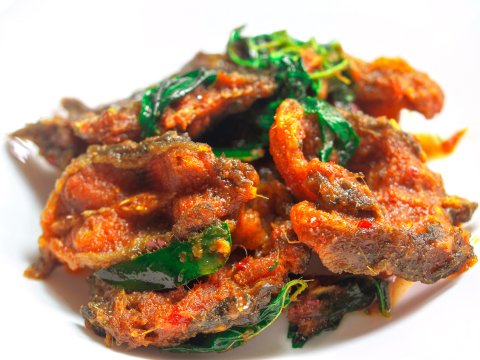 Gilbaka Curry
Catfish with Unripe Mango and Thyme
Guyana
Almost half of this country's population has roots in India, making it inevitable that curries would eventually make their way into every Guyanese kitchen. This dish is traditionally made with a variety of fish called gilbaker—unmatched as a curry offering when paired with the sourness of unripe mangoes, the scented allure of fresh thyme and the heat from chilies—but catfish works as a perfect substitute.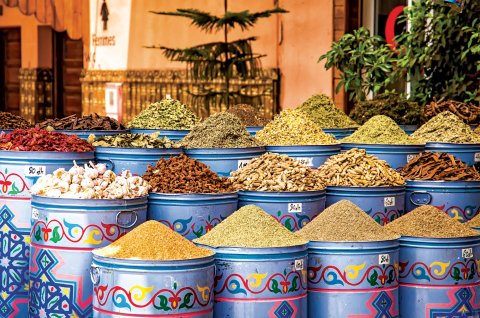 Hommos Zafaran
Slow-Cooked Chickpeas with Saffron
Morocco
Morocco's signature flavor blends called ras al hanout can contain anywhere from 30 to 50-plus ingredients. They are sophisticated, layered and balanced—a close sibling to garam masalas and curry powders. This layered chickpea stew tajine covers all seven taste elements (hot, sour, sweet, salty, astringent, bitter and umami), essential aromas, colors, textures and temperatures to deliver one memorable experience.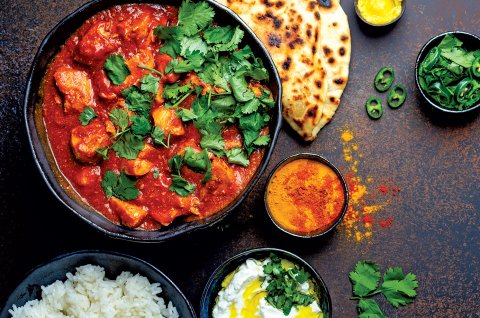 Chicken Tikka Masala
Yogurt-Marinated Chicken Thighs With a Creamy Tomato Sauce
Britain
Chicken tikki masala—declared a "true British national dish" in 2001 by the late Robin Cook, Britain's former foreign secretary—was in fact created by a Bangladeshi cook in Glasgow to appease an irate customer who complained that the chicken tikka he had been served was too dry. The chef added Campbell's tomato soup to the chicken and fortified it with spices and cream, creating a national favorite in the process.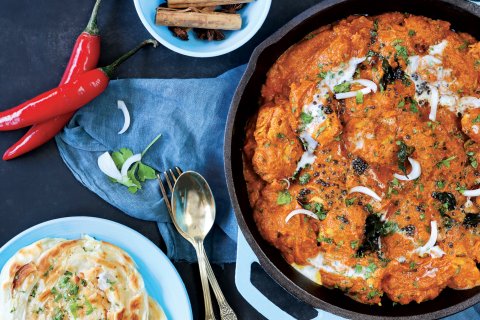 Murgh Makhani
Butter Chicken
India
Butter chicken was born when Kundan Lal Gujral worked as a cook at a roadside truck stop in Peshawar (now in Pakistan) during the pre-partition days. Not wanting to waste any tandoori chicken, he separated leftover chicken from the bones and simmered it in a sauce of pureed tomatoes, butter, cream and dried fenugreek leaves.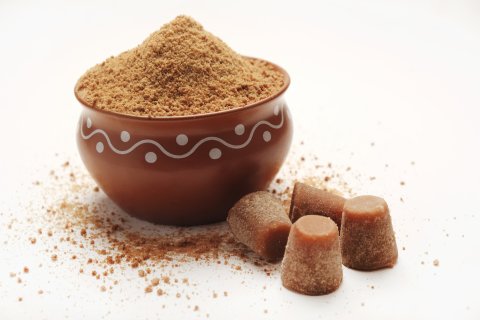 Cari Gros Pois
Lima Beans with Curry Leaves
Mauritius
Mauritius' singular cuisine is an amalgamation of three major world cuisines—French, Indian and Chinese. This curry brings in the all the culinary elements of the island, including tomatoes, chilies, thyme and the unrefined cane sugar that's called jaggery in India and piloncillo in Mexico. Serve this curry as they do in Mauritius, alongside roti dal poori, those delectable, chamois-soft flatbreads filed with spiced yellow split peas.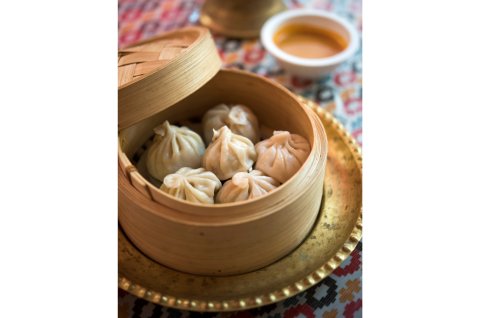 Momos
Steamed Chicken Dumplings With a Spiced Tomato Sauce
Tibet
Momos—pleated juicy dumplings filled with spiced meat or vegetables—are an iconic Tibetan food. The Tibetan food culture, like this dish, is influenced by the people who settled there, in the Himalayan Mountains, from Mongolia, China and Burma.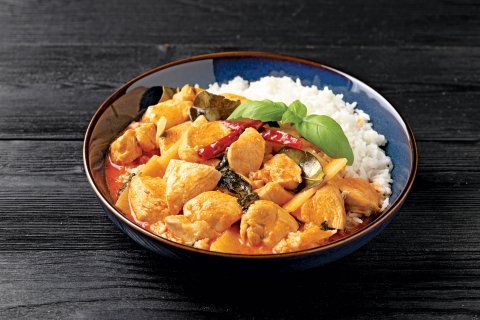 Cà-ri Gà
Chicken Lemongrass Curry with Potatoes
Vietnam
French influences on Vietnamese cooking came during their occupation of Vietnam between 1858 and 1954, bringing, among other influences, curry powders from France's earlier occupation of Pondicherry in southeastern India. The southern region of Vietnam fell in love with coconut milks and curry powders like that used in this dish. This version has lots of lemongrass, curry powder and ginger, while the coconut milk cloaks the chicken with creaminess.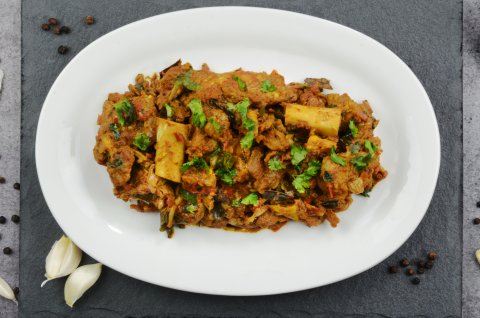 Choraiya Bhaji and Goat
Goat Curry With Amaranth Greens
Fiji
With people of Indian descent comprising about half of Fiji's population following waves of immigrantion beginning in the 1880s, the influence of Indian curries and curry powders is a given here. Spice-heavy curries are a reflection of the Indo-Fijians' southern Indian roots, and goat—one of the most accessible meats in the archipelago—is a common anchor.
---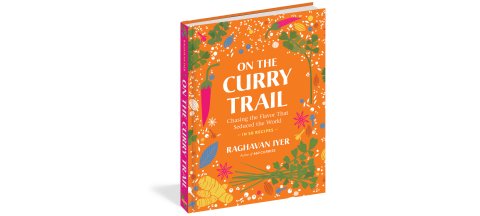 "On the Curry Trail" book cover.
Workman Publishing Company
Adapted from On the Curry Trail. Published by Workman. Copyright © 2023 Raghavan Iyer.
---