Everything you need to fully stock your vacation rental home
When traveling with family or friends, booking a house or condo through Vrbo or Airbnb could be your best option. Not only does going the home rental route generally save you money, but it also gains you more space, privacy, autonomy and the ability to accommodate big groups under one roof.
Obviously, what you're giving up are the amenities of a hotel. When I'm renting a house, I pack strategically to ensure that my stay — whether I'm in a house on stilts in Narragansett, an oceanfront mansion in Hilton Head or a ski-in/ski-out chalet in New Hampshire — still feels luxurious and ready to accommodate every whim or want of myself, my family and my guests. After all, a frothy cappuccino is what we all deserve on vacation, as is a perfectly fluffy pillow, a delicious grilled panini, the softest blanket for your bed and an A+ cooler for keeping all your brews (and juice boxes) chilled outside all week.
I have four kids, so the majority of our family vacations are road trip-friendly. Every time we take to the road, I pack my SUV to the gills. My husband loathes this tendency, as he's tasked with loading up the car, but when we get to our final destination only to discover an unusable fire pit or a bootleg coffee maker from 1975, he sure is glad I packed the Solo Stove and our beloved Nespresso machine.
Am I an over-packer? You betcha. But I never regret my must-haves, because our vacation houses are always foolproof as a result. Let's face it: While your rental will likely come stocked with a lot of the stuff on this list, the quality and/or condition of the items just might not be up to your standard (or mine!). Below is my cheat sheet to rental house peace of mind. Trust me, you're going to want to pack all of these things on your next road trip to a vacation rental home.
While I'm fine with sleeping on supplied sheets in a rental home, I know the idea grosses other people out. If that's the case, BYOS! Sure, you can grab some sets from home, but for a minimal investment, you can have these bestsellers from Amazon — they have more than 200,000 reviews — shipped directly to your stay. Done and done.
You know what I'm not cool with? Rental house-supplied quilts and duvets. Why? Because in my experience, they rarely (if ever) get cleaned. Sure, the cleaning crews always wash towels and sheets in between guest stays, but the blankets can often go right back on top of those beds. So, I always bring some ChappyWraps with me. The softest, coziest blanket out there, ChappyWraps are perfect for wrapping around your family as you make s'mores or snuggle on the couch for movie time. Plus, they're also warm enough to go straight atop your beds at night. I'm obsessed with the coastal preppy patterns, and rest assured, you'll be using them long after that vacation is over. More to know: The original size is big enough to cover two adults or three kiddos.
Yes, pillows are bulky to travel with, but they're essential. I always bring my own pillows for my husband and me because a too stiff or too lumpy pillow will result in a week of bad sleep, which will ultimately result in some very cranky parents. I've got this set in my guest room, and they're great — cool at night and fluffy (but not too fluffy), and they can be machine-washed. More to know: With more than 170,000 positive Amazon reviews, the set also has a 4.4-star rating.
Solve all your charging needs with this sharp wireless option from Nomad that can charge three devices — including those from Apple, Samsung, Amazon and Google — at once. The all-in-one charging system eliminates the need to bring three separate charging cords — say goodbye to tangled cords thrown at the bottom of bags.
Little luxuries make all the difference during a vacation, and having some beautiful flowers grace your rental home's counter or tabletop will brighten everyone's day. I love this single-varietal bouquet of pink and purple stock, which needs a quick trim and can then be arranged in the supplied light gray pitcher. Farmgirls' guaranteed two-day delivery window ensures it will arrive on time to enjoy for the duration of your vacation.
Another one of my vacation house must-haves? A delicious-smelling candle — and this one from L'or de Seraphine's collab with designer Lori Weitzner is also totally gorgeous to look at. Eschewing notes of sage and eucalyptus, the candle will fill your house with a spa-like aroma, leaving everyone feeling totally Zen 24/7.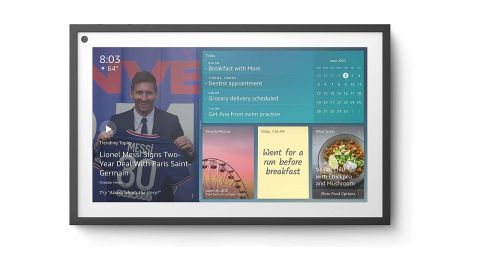 A friend of mine recently brought her Echo Show to a ski house we were sharing, and while I was dubious about it being a necessity at first, the device was actually invaluable to have around. All 16 of us were constantly hitting Alexa up with questions and commands — from "Alexa, what's the forecast today?" to "Alexa, play Dua Lipa!" — and the kiddos loved streaming cartoons on demand. While previous Echo iterations are smaller (and cheaper), I'm loving the thinner, larger wall-mountable design of the 15. You can also buy a tilt stand for an additional $30. And, even when we're not on vacation, the device is a staple for my family, importing shared calendars, reminding us of to-dos, maintaining shopping lists and more.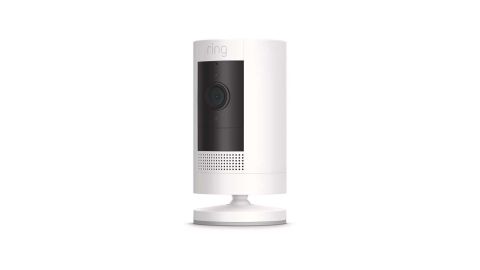 If security is a top concern, this portable, battery-operated camera from Ring is a great way to monitor any entry points to your home rental. Simply place the camera on a flat surface and you can observe the video on the Ring app or via any Alexa-enabled device. More to know: It's also a great way to keep an eye on the kids playing in a secluded area like the basement — I love that you can see, hear and speak to anyone through the camera.
If you've ever walked my home's top floor at night, you might think you're on an airplane — there's white noise blasting from everyone's rooms. And as a result, we all get eight hours of solid sleep — or more — nightly. I keep that status quo going when we travel because lack of sleep is a quick way to ruin a vacation. With more than 43,000 positive Amazon reviews, this portable option from HoMedics is great because it's super easy to pack (it's only 8 ounces!), can be plugged in or battery-operated and has six sound options.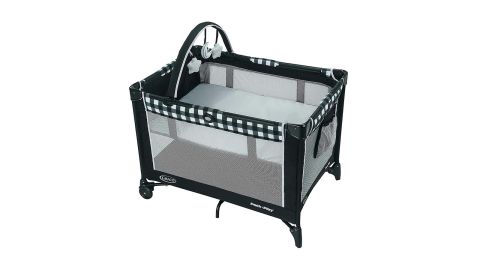 Assuming your baby will be A-OK with sleeping in a regular ol' bed on vacation is not a good assumption to make, and you're going to lose sleep because of it. Keep the routine — and four-sided crib experience — the same as at home with Graco's beloved Pack 'N Play. Yes, a lot of rentals come stocked with a playard, but do you really want your babe sleeping on one that's been used by hundreds of other babies? If not, this one for a little over $70 is worth the splurge — and it comes with a bassinet insert and carrying case.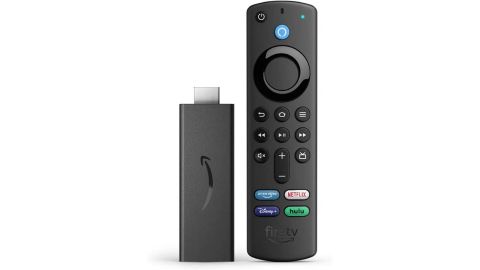 There are very few things we're willing to turn the car around for when we're vacation-bound — the Fire TV Stick is, however, one of them. While we aim to spend most of our time at the beach, on the slopes or partaking in a family adventure in the great outdoors, at the end of the day, our kids — and us parents — need to unwind with some TV and movies. Most rental houses log out of their smart TV streaming services, requiring you to manually log in to Netflix, Prime or Disney+ — and therefore, to remember your username and password for each. Avoid this fiasco by bringing along your Fire Stick, which can plug into the TV's HDMI port, and voilà! You've immediately got access to more than a million movies and TV shows.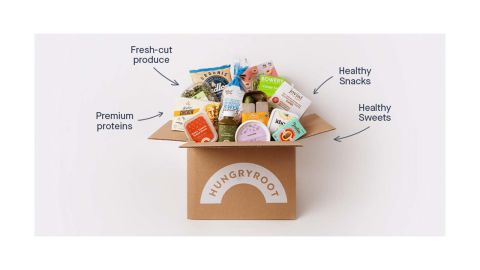 Know what I refuse to do on vacation? Go to the grocery store. Instead, I get my groceries delivered to the vacation house via Hungryroot, an online grocer that will not only load my fridge and cabinets with basics (eggs, milk, yogurt) and snacks but also hook me up with recipes and all the things I need to make them. Hungryroot takes all the work out of meal planning and grocery shopping, which is why it's my vacation go-to.
I become the house rental hero every time I bring my Nespresso machine. Whipping up extra-strong espressos, frothy cappuccinos and flat whites in minutes, the caffeinated results are barista-worthy — and they don't involve anyone taking orders, getting in the car and waiting in line at the nearest coffee shop. Clocking in at just more than 11 pounds, the Gran Lattissima is super easy to travel with. While the investment is steep, you're going to be using it long after your vacation ends (and saving a boatload by brewing at home). My favorite part: These Starbucks pods that taste exactly like what you'd get in the store.
I know, I know, there's going to be some sticker shock here. But trust me: This is one of the best high-powered blenders on the market, and if you're someone who craves a daily smoothie, it's worth bringing on the trip. Not only can this A3500 turn crunchy kale silky smooth in 30 seconds, but it's also super intuitive and easy to use, thanks to preprogrammed settings — your house guests will be blending their own smoothies on day one. More to know: The Ascent can also wash itself clean in less than a minute by blending water with a drop of soap. That's right — no dishwasher is necessary. Want to spend a bit less? Check out the brand's starter blender, which comes in at just under $250.
My husband balked at the idea of lugging our panini maker on a recent ski trip — that is, until he was served a gooey grilled cheese in between ski runs. What's amazing about the Griddler 5 is that in addition to making incredibly delicious sandwiches and being able to grill up proteins like chicken breasts or burgers, you can also flip the grill plates to a smooth side and whip up pancakes, eggs, bacon and more. When you're done cooking, remove the plates and throw them in the dishwasher for easy cleaning.
Dining at restaurants every night of vacation is fun, but it's also pricey and not always the healthiest. Make dinner a cinch by throwing some pre-bought ingredients into this slow cooker in the morning before you head out for the day's adventure, then come home to a house full of yummy aromas and a meal that's ready to be served. I love the petite size of this slow cooker (it weighs less than 10 pounds), and the fact that it's beyond easy to use — simply pick between the four cook settings, program the timer and you're on your way to a healthy, fast and easy meal.
My husband also groaned at the idea of bringing the Ooni Koda 12 on our summer vacation last year — that is, until he caught sight of six kids huddled around the beachfront home's kitchen island, rolling dough and laughing up a storm. Collaborative family bonding aside, bringing the Ooni wherever we go is a win because the Neopolitan pizzas are just that good. Far and away better than any local delivery service, the Koda 12 takes 15 minutes to heat up, and after that, it's game on — the propane gas-powered oven churns out expertly cooked pies every 60 seconds. At 20 pounds it's a bit heavy to transport, but the carrying case makes it a cinch. More to know: The brand recently launched "Groceries," a one-stop shop for high-quality pizza ingredients. You could also opt for the bigger Koda 16, which offers more interior pizza grilling room, but it's heavier and pricier.
With all the cooking you plan to do on vacation, you'll want to make sure you've got an A+ knife handy. More times than not, I've found the houses I've stayed at offer up drawers full of dull blades. You can never go wrong with Henckels, and this classic 8-inch knife will become your go-to at home too.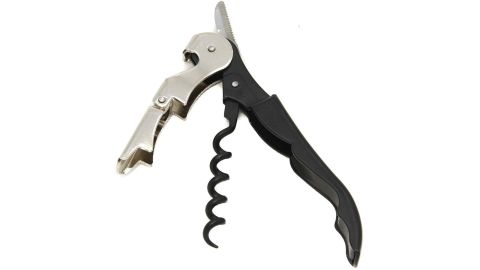 You don't want to wait until happy hour to learn that your house doesn't come with a corkscrew. Instead, spend $5 for some peace of mind. It's also dishwasher-safe if you want to give it a wash before heading back home.
I don't know about you, but during my vacations, the cocktails are flowing. Re-create the concoctions of a professional hotel bartender right from your own kitchen with this handy set that is perfect for shaking up margaritas, mojitos and beyond.
Dance parties just can't happen from your phone's speaker. Keep the music pumping throughout your vacation digs with this ultra-portable Bluetooth speaker from JBL. Waterproof, dustproof and boasting a 10-hour battery life, the Clip 4 can produce enough sound to make the neighbors complain — trust me, I know from experience. I love the carabiner clip design that attaches to a strap or buckle, making it easy to take tunes to the beach, slopes and beyond.
If you're headed to a sunny locale, the Kindle Paperwhite is a must — the glare-free screen reads like real paper. This latest version now has wireless charging and a brighter display, it can store thousands of books and, oh yeah, it's waterproof too. Perhaps best of all, a single charge lasts up to 10 weeks.
If a day trip is on tap during your vacation, consider this soft mini cooler to take with you. Whether you're driving to peruse a local farmers market or headed out for a boat day, it's perfect for keeping sandwiches and drinks cold for hours on end. Featuring an impossible-to-damage exterior, the waterproof and leakproof cooler has a comfy carrying strap too. Want a bigger size? Check out all the three additional Flip formats here.
We arrived at our last vacation house to find a dilapidated, rusty Chiminea that was unusable, which would have dashed our dreams of family s'mores night in an instant had I not brought along our Solo Stove. Clocking in at 15 inches in diameter, the Ranger is Solo's most compact stainless steel stove. But fear not: It gives off mighty heat, all of which is smoke-free. And at just 15 pounds, it's not too heavy to travel with.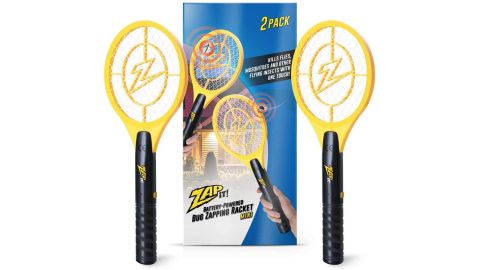 A swarm of mosquitoes can quickly turn an outdoor meal into a nightmare, so I always bring one of these Bug Zapper rackets with me when we travel. Each racket comes with two AA batteries and gives off 3,500 volts, which stops any flying pests who come near right in their tracks.
There's nothing better than wrapping up your vacation nights sitting outside, listening to music and chatting with family and friends as the sun goes down. There's nothing worse, however, than waking up covered in bug bites. I bring this handy heat-activated mosquito repeller that is odorless and DEET-free. Covering 15 feet of space, the device is available in 12 colors and beloved by more than 30,000 Amazon reviewers.
The prettiest cooler there ever was, the Yeti Tundra is also the toughest — this powerhouse is going to last you at least a few decades. Ultra-portable, thanks to puncture-proof wheels and a gripped aluminum handle for towing, the cooler is perfect to leave on the deck of your rental house for the week, keeping everything from IPAs to seltzers nice and chilled, thanks to extra-thick insulated walls and a freezer-quality gasket that circles the lid, locking in cold. We also use it to transport perishables like marinated meats and yogurts during our longer car trips. More to know: The Tundra comes with a five-year warranty and comes in a few sleek colorways.
Even on vacation, accidents happen. Arm yourself with everything from bandages and cold packs to disposable gloves, cotton balls and more, all of which are stored in this handy carrying bag.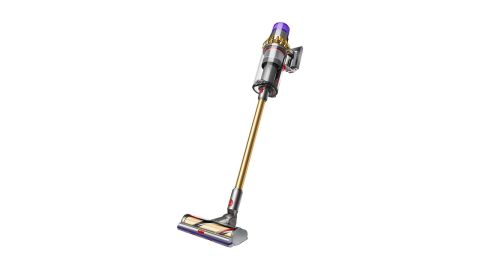 When it comes to my experience with cleaning supplies at rental houses, you can expect the bare minimum. Read: a broom, not a vacuum. This was the scenario I found myself in a few summers ago when I spent the entire vacation sweeping sand out the home's front door. Now I avoid that by bringing my most beloved home appliance with me when I travel. That's right, I bring my cordless Dyson vacuum on the road. This latest version is pricey, but trust me, you get what you pay for. Weighing just less than 8 pounds, Outsize Absolut+ is primo at sucking up everything from sand and Cheerios to microscopic dust, and because one charge lasts for 120 minutes of runtime, you don't have to worry about it running out of batteries while you're away. Have some sticker shock? Check out all the Dyson cordless vacuums, which start at $399, here.
To be clear, we wouldn't be able to take a lot of the items on this list if it weren't for our Thule pod. The unsung hero of my family's travel adventures, the Thule Force XT can easily mount onto your car's crossbars and has a ton of capacity. Available in four sizes, the carrier can be opened from either side of your vehicle, allows for full trunk access and features a handy lock. We store everything from skis and poles in there to scooters, small appliances, beach toys and beyond.
Looking for a travel credit card? Find out which cards CNN Underscored chose as our best travel credit cards of 2022.