San Francisco's Reem Assil is a new kind of restaurateur, fusing her work as a chef with activism. She says foods like manakeesh flatbreads she serves at her San Francisco restaurants help diners appreciate Palestinian culture and empathize with her people's ongoing struggles. "I'm part of a new wave," said Assil, who is easily the Bay Area's most high-profile Palestinian American food entrepreneur. But she's not the only one.
If you take a 20-minute drive along South Van Ness Avenue, you can stop for a mint mojito coffee at Philz in Russian Hill, hit Ike's Sandwiches eight minutes away in Cathedral Hill for a Super Mario meatball sandwich and then pop into Bi-Rite Market in the Mission for some olive oil and salted caramel ice cream. But here's something you probably didn't know these beloved Bay Area chains have in common: they were all founded by Palestinian Americans.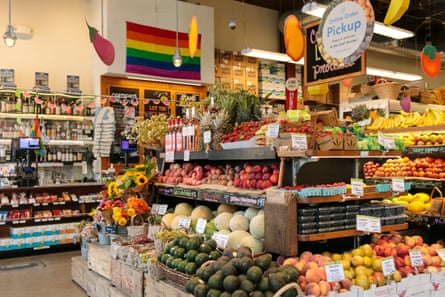 Most of these entrepreneurs came to San Francisco in the period from the late 1940s to 1960s, when Israeli military forces expelled hundreds of thousands of Palestinians from their homes in the West Bank and East Jerusalem. The relatively warm climate attracted Arab immigrants. In those days, Americans didn't know hummus from a hammam, so they opened shops selling groceries, later expanding into coffee, sandwiches, ice cream and breakfast foods.
Assil said she was grateful to the people who came before her: "There's a real subculture of young Palestinians who grew up in the stores and watched the entrepreneurship of their parents."
---
Jamal Shamieh, who grew up working in his family's market, was one of them. Geneva Super Mini Mart sold eggs, milk, cigarettes and newspapers. Jamal, known as Jimmy, and his siblings worked there every day: after school, after dinner, and on weekends. "The whole family understood that we had to work hard to make it in America," he said. "They were hard lessons working very long hours."
Mini markets did much more than provide recent immigrants a way to make a living, said Ramzi Salti, a lecturer in Arabic at Stanford University. Whether in the Sunset, the Mission, or Castro neighborhoods of San Francisco, these stores were a California version of the baqalah, a vital part of Arab culture. "Those are traditional stores in the Arab world and they tend to be a hub for the community," said Salti, who hosts the Arabology podcast and blog. "You go in to buy milk and you end up in a conversation."
The Arab community in the Bay Area is estimated at 200,000, according to the Arab Resource & Organizing Center.
Shamieh eventually earned an MBA and in 2010, he and his family launched Cream, a small chain dishing up made-to-order cookie ice-cream sandwiches.
Hospitality through food has always been central to Arab and Palestinian culture, says Salti. For Palestinians living in the US, cuisine has become a meaningful way to introduce others to their culture. "They take pride in the food of their ancestors, even if they don't live in their ancestral lands any more," said Salti. "Passing it from one generation to the other is an essential part of Palestinian identity."
The third season of the culinary documentary Migrant Kitchen explored how Assil of Reem's California is bringing Arab street food like the manou'che flatbread, chicken musakhan with caramelized onions and sumac, and the sweet cheese dessert knafeh to a broader audience.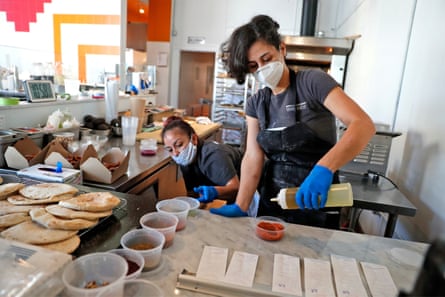 Growing up in suburban Boston, Assil knew her maternal grandfather had lost his wealth in Gaza in the 1967 Israeli invasion. He started over in Lebanon and again had his property confiscated when civil war broke out. "People who've been at war and displaced, they have this … amazing and incredible will to build up from scratch," she said. "It's just like survival. And you could say that about a lot of immigrant groups."
Assil worked as an organizer and activist, but, as she details in her acclaimed book Arabiyya, she became burnt-out. "Food became my love language and also my tool for change," Assil said. Her colorful restaurants in the San Francisco Ferry Building and the Mission reflect her heritage and the neighborhood's Latino roots. Assil, who describes herself as an entrepreneur and activist, is turning the restaurant into a worker-owned cooperative.
As a boy, Ike Shehadeh, founder of Ike's Love & Sandwiches, remembers his parents talking and laughing with friends late into the night over Turkish coffee and mint tea. His drink was milky mint tea with rosewater.
He was five when his mother taught him how to make sandwiches. She cooked three traditional meals daily and didn't believe in all-day dining. But Shehadeh was a hungry kid who liked snacks. He'd toast bread and mix different jarred condiments to keep his sandwiches juicy. His garlicky Dirty Sauce and spicy names like Ménage a Trois make Ike's Sandwiches stand out. Today, Ike's has 80+ locations across the western US.
Shehadeh says it never occurred to him to make Palestinian dishes when he launched in 2007. "I wouldn't go make some hummus and falafel because my mom made that," he said with a laugh. Still, his rose iced tea and lemonade are a nod to beloved flavors.
His parents, a former professor turned market owner and stay-at-home mom, taught him important lessons that made Ike's Sandwiches successful. "I learned to show up to work every single day whatever is going on in the world. I learned that from my father in the market business," he said. And his mom, who didn't speak much English, taught him to be brave. "Being uncomfortable, being in a new place … and not letting that faze me," he says. "I used to do it and figure it out along the way."
As seen in the Netflix series Mo, meeting over coffee to discuss news and politics is part of daily life for many Palestinians, both in Ramallah and the US. In late 70s San Francisco, the universal love of coffee meant every Palestinian market owner sold it for 70 cents a cup. It brewed all day and was muddy and bitter by the afternoon.
That's where Phil Jaber, founder of Philz Coffee, saw an opportunity. He started making drip coffee fresh by the cup and creating international bean blends. According to the Philz Coffee website, Jaber moved his kitchen table into his market at 3101 24th Street and launched Philz Coffee in 2003.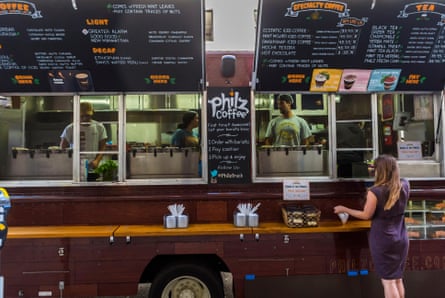 People loved the fresh grinds, careful attention to each cup of coffee, and original drinks like the chocolaty mocha tesora or the mint mojito, served sweet and creamy. The chain has expanded nationally with close to 70 locations across California, Chicago and metropolitan Washington DC. When Philz closed a 2016 funding round, bringing its total investment to $75m, the company was valued at $100m to 500m, according to Crunchbase.
---
Sam Mogannam was six when he started helping his father Ned and his uncle Jack at Bi-Rite, the little market on 18th Street that the brothers bought in 1964. Over the years, Mogannam learned about life and people, watching neighbors come and go, find partners and start families, and share their lives with his family.
Creating community through food still informs how Mogannam runs his business, including Bi-Rite Creamery and markets, which recently announced a third location. "It's all about hospitality, when you're able to make people feel welcome and create a public space where your neighbor would come in and be a part of your daily life," Mogannam says.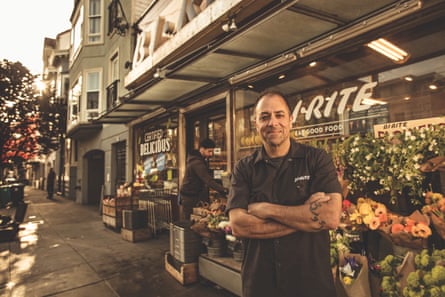 The 2010 documentary Corner Store explores the Arab market's significance through the story of Yousef, a Palestinian man who works in a corner grocery for 10 years to bring his family to the US. But when he returns to Palestine, he realizes his new community in San Francisco has changed him.
After this first wave of Palestinian immigrants found success in starter businesses, they expanded into other ventures. "Those small stores served their purpose for that group," Mike Nader Musleh said. "Property values went up like crazy, they naturally migrated to the suburbs, and they've become a part of American culture." His father, Naseef "Nick" Musleh, bought a deli when his family moved to San Francisco in 1979, expanding into real estate investment and restaurants a decade later.
Naseef Musleh's most influential venture may be the Pork Store Cafe, a Haight Street institution he opened with his sister Nadia. She ran the grill, serving omelets, griddled hash browns and salty humor in a classic diner setting.
Growing up in a family of store owners and entrepreneurs, their cousin Nimr Musleh says he didn't consider another career. He and his brother Omar own Flipside Burger near Oakland's Lake Merritt, plus Main Squeeze juice bars in Oakland and Alameda. "Most of us were in groceries and we ended up in restaurants," said Musleh. "You are what your father was."
Nick Musleh sent his sons Mike and Nabiel to college and bankrolled their large DJ dance parties at the Warfield and Bill Graham Civic Auditorium. They went on to become nightlife pioneers and owners of Harlot nightclub. Nabiel Musleh sits on the San Francisco Arts Commission while Mike Musleh is a real estate investor. Running the Pork Store Cafe keeps him connected to his family's roots.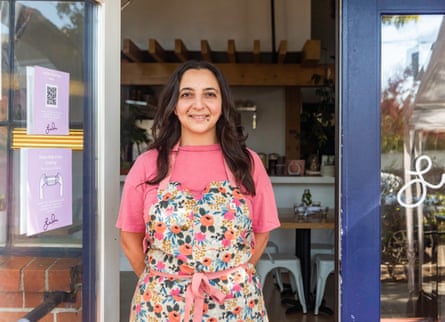 Meanwhile, Musleh's cousin Mona Leena Michael represents a new generation of Palestinian American food entrepreneurs. The first thing she remembers doing in the home kitchen is helping her mother pull parsley leaves to make tabouleh. Michael studied speech pathology but wasn't excited about grad school. Instead, she started her restaurant career, spending 12 years working as a barista, opening a wine bar with her cousin Mike, working at the French-California restaurant Jardinière and running the kitchen at Dyafa before opening her bustling cafe Lulu in Berkeley.
Every weekend, crowds flock to her Insta-worthy dining room with pink and green fig wallpaper, glittery floors and a pink neon sign for her fresh, inventive menu. Dishes range from buttery biscuits and harissa lamb breakfast sandwiches to pita salads with fried chicken and a generous brunch mezze platter with eggs in labneh, mini manou'che, bright green falafel, lamb-topped hummus and sprays of champagne grapes. She calls her menu Californian with Palestinian influences. "I didn't think doing the purest Palestinian restaurant would do all that work justice, and it was very limiting," she said. "This is my soul food."