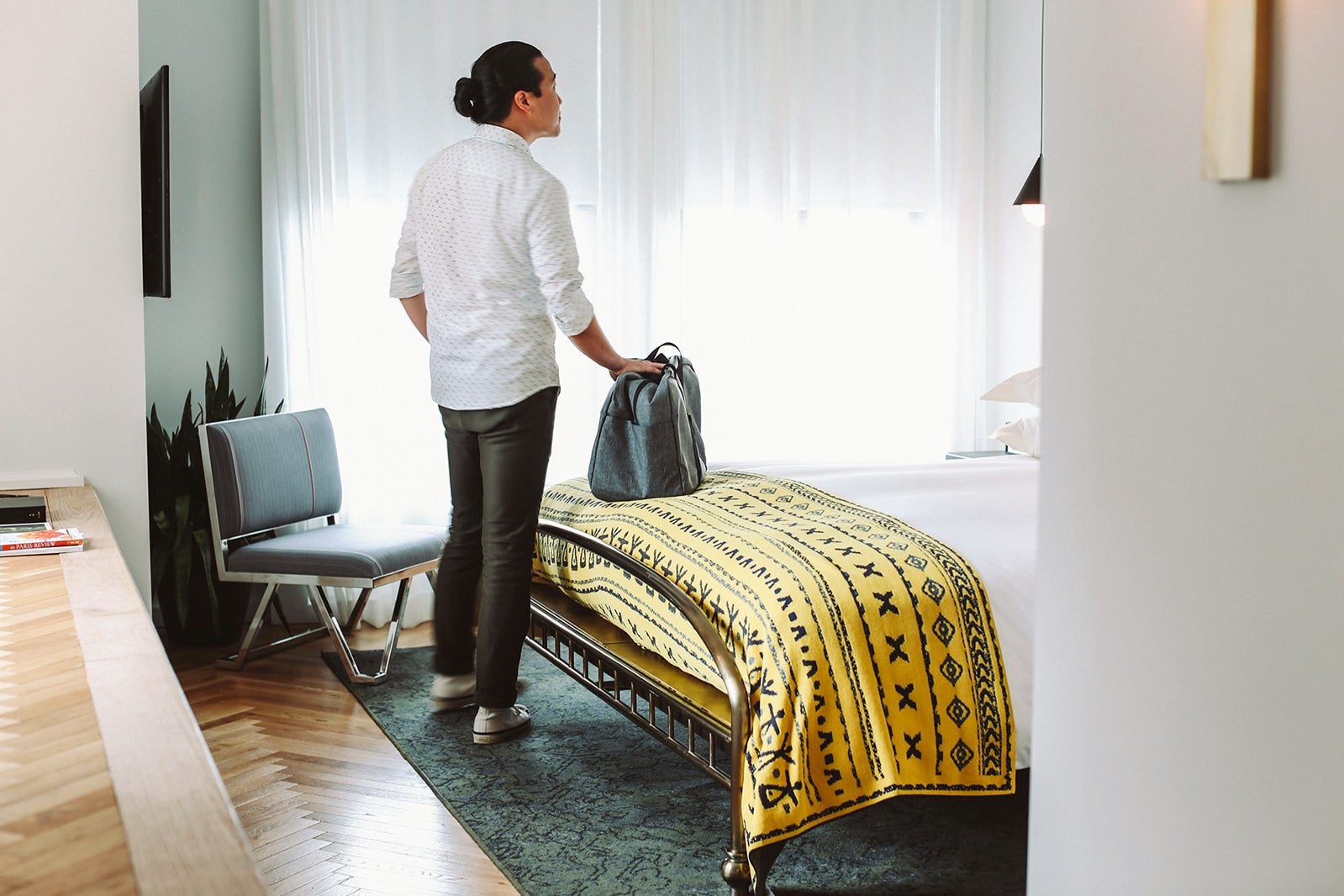 Quirky rooms and a trendy bar – The Line DC hotel
As you walk up to The Line DC, there's no ignoring that this church-turned-hotel holds some stories.
This imposing edifice anchors the trendy Adams Morgan neighborhood, with a large concrete stairway that leads up through soaring columns to a set of large, very old doors. Once inside, pause to take in the sprawling open seating area, ornate balcony and impressive stained-glass windows. Though no longer a sacred space, it is still indeed awe-inspiring.
But as you walk into the lobby, you'll feel warmth and style seep from every corner, too. The original organ pipes have been repurposed into the geometric chandelier hanging from the vaulted ceiling and religious recitations have been replaced with the raucous laughter of friends enjoying cocktails by the bar.
Here's what you need to know about a stay at The Line DC before your next visit to the capital.
What is The Line DC?
The Line DC is a line of boutique hotels with locations in Austin, Los Angeles, San Francisco and Washington, D.C., that aims to provide guests with a home away from home in the hearts of these cities. The Line DC opened in 2017 and comprises 220 rooms and suites. Today, the space is filled with a trendy crowd of young professionals, making it hard to differentiate between hotel guests and locals meeting friends for a drink at the No Goodbyes bar.
An excellent location
The Line DC is located in Adams Morgan, nestled between a series of brightly colored and inviting shops, bakeries and bars. Constructed in 1912, the building was originally home to the First Church of Christ Scientist, an identity that peeks through in details like old pews and hymnal boards incorporated into the hotel's decor. But far from feeling hushed or haunted, the repurposed space is large, lively and inviting. It's a great spot to settle in with a book and a cup of coffee if your room isn't ready when you arrive.
1 of 4
The imposing entry to The Line DC. EMILY THOMPSON/THE POINTS GUY
To get here after you arrive in D.C., you'll need to take a 20-minute rideshare or make a 50-minute bus journey from Reagan National Airport (DCA) or Union Station. If you're arriving at Washington Dulles International Airport (IAD), plan for a lengthier 50-minute drive or 1.5-hour bus ride.
But your journey will be well rewarded. The area around The Line DC feels residential and is extremely walkable. Simply head out the lobby doors and explore the surrounding shops and eateries brimming with charm and personality. Walk five minutes to Meridian Hill Park to see one of the longest cascading fountains in North America before strolling down the nearby mile-long stretch of restaurants, bakeries, bars and shopping along 18th Street Northwest that ends in Dupont Circle. Check out the old-school bookshop, Lost City Books, get a burger from Lucky Buns, and explore plants at PLNTR and records at Smash! Records.
And if you only have time for one stop after your day in the city, treat yourself to gelato at Dolcezza or a drink at Tail Up Goat or Reveler's Hour.
Sign up for our daily newsletter
Related: The Dupont Circle Hotel in Washington, D.C.
The rooms are homey
The guest rooms at The Line DC are bright and airy, with large windows and white walls that provide a fresh contrast to brass headboards, artfully exposed wiring and midcentury parquet floors. Even the giant banker-style oak desk manages to feel down to earth with its casually arranged stack of old books, cleverly hidden outlets beneath a hinged metal cover and an old-school pen and postcard for keeping in touch with friends back home.
1 of 6
Entry into a double queen room in The Line DC. EMILY THOMPSON/THE POINTS GUY
What really distinguishes the rooms, including my District Double Queen, though, is the eclectic blend of old and new details throughout. The geometric light fixtures, brass bed and mismatched side tables all add up to a classic but modern style that creates a feeling of home. If you have a designer friend helping you decorate your home with antique flea-market finds, that is.
1 of 5
Antique-ish light fixtures in the room. EMILY THOMPSON/THE POINTS GUY
The Line DC also includes works from local female artists to add another layer of style to each room. These paintings adorn the walls in single settings or as clusters, giving the room a unique feel and providing guests with a taste of the city's culture.
Though conservative on space, the bathrooms feel upscale thanks to limestone tiling, sleek walk-in showers and high-end Cowshed bath products.
Related: The secret psychology of hotel design
The food and drink are elevated classics
Whether you're looking for coffee to go, a killer happy hour or a space to sit and enjoy a meal, you'll find great options in the Line's No Goodbyes coffee shop, restaurant and bar.
The large dining space is equipped with two bars that serve a curated list of "old dog" classic drinks like a negroni ($16) as well as "new tricks" twists like the Bay Cruiser G&T (gin, house-made blood orange mixer, bay leaf & bergamot tonic, $16). But, true to the Line style, even the classic drinks are made with special in-house ingredients like the foraged black walnut bitters in the old fashioned ($17).
1 of 4
Ordering coffee in the No Goodbyes. EMILY THOMPSON/THE POINTS GUY
For breakfast, you can get a traditional southern breakfast sandwich made with cage-free eggs and American cheese on a fluffy buttermilk biscuit ($8) and add bacon or turkey sausage ($2) if you want a hearty start to the day. You can also check out the No Goodbyes' more adventurous foraged-mushroom frittata made with cage-free eggs, wild mushrooms, smoked yogurt, herbs and dressed greens ($18).
For lunch and dinner, you can choose from a selection of unique items like the bright beet-pickled eggs with harissa mustard ($6) and a duck breast pastrami reuben with seasonal kraut, Muenster cheese and garlic horseradish aioli ($17), or stick with an old favorite and order the cheese board with local fromages, seasonal jam, pickles and benne crackers ($26).
Be sure to check The Line DC's events calendar to see if there's something fun to attend while you're there. I got to attend a free cocktail-making class where one of the bartenders taught us to make spring drinks to impress our friends at home. While he wouldn't cough up any of the bar's house-secret recipes, we had a fun night of learning, mixing and taste-testing. One of my classmates also asked the bartender about new plans for the space formerly occupied by Rake's Progress, the hotel's fine-dining restaurant that closed in 2020, but all he would tell us was that it's now used for private events.
Related: What card should I pay with when dining at a hotel?
The gym is well-equipped
The Line DC's basement holds one of the best-equipped hotel gyms I've seen. Morning Peloton devotees and CrossFit junkies alike can knock out a great workout, while the classic cardio machines and weights along with bars, padded medicine balls and training sleds mean there's something for every fitness level and interest.
1 of 7
Entering the fitness center in The Line DC. EMILY THOMPSON/THE POINTS GUY
There's even a big whiteboard for writing out workouts and a booming sound system to keep you motivated any time of day. Even if you're usually the type to leave your sneakers at home on vacation, you'll want to bring them for this stay.
Related: Best hotel gyms in the world
Accessibility at The Line DC
Common areas throughout the hotel and restaurant are wheelchair-accessible, including many of the hotel's entrances, the restaurant, parking areas and public restrooms. Additionally, mobility-accessible rooms and suites with roll-in showers are available.
Reasons The Line DC might not be for you
If you want to rely on public transportation for your trip, you may want to choose a hotel closer to a metro station. The nearest station to The Line DC, Columbia Heights, is a 15-minute walk away.
The Line DC proudly states on its website that it's family-friendly, but the neighborhood and hotel environment are geared more toward trendy young adults than families with children. Plus, the metal bed frames and angular wooden furniture in the rooms are far from ideal for toddlers.
Related: Hilton's Morrow Hotel in Washington, D.C.
Bottom line
The Line DC feels like a home away from home in a trendy D.C. neighborhood. The modern decor that nods to the building's church roots creates a space that feels warm and inviting as well as unique. After a brutal gym session, a stroll through the neighborhood, or meeting friends for happy hour in the hotel bar, you may find yourself repeating the hotel motto: "You really need to stay in line (just this once)."
Related reading: