Restaurant Roundup: Revamped menus, BBQ return, Cinco de Mayo specials
May 4, 2023
Several new menu items are available at The Barrel House. For appetizers, try the Sicilian Arancini, which are fried rice balls stuffed with ground beef, veggies, fresh mozzarella and basil pesto, or the burrata, which is a 4-ounce ball of mozzarella with a creamy soft inside. It's topped with roasted peppers, smoked cherry tomatoes and basil pesto, and served with baked crostini. Bacon and the Peach is a new salad of fresh greens tossed with bourbon bacon vinaigrette. It's topped with candied walnuts, gorgonzola cheese and grilled sliced peaches. There are also new Korean BBQ and bacon chicken ranch pizzas and a smoked pulled chicken sandwich.
Chef Kari Shelburg at Great Shots has revamped the restaurant menu at the driving range at the Sanford Sports Complex. A few of the new offerings are pork carnitas nachos, blackened salmon salad, three cheese chicken mac-and-cheese, Italian melt, BBQ bacon burger, buffalo chicken slider, chicken Florentine pizza, smoothies and triple chocolate cake.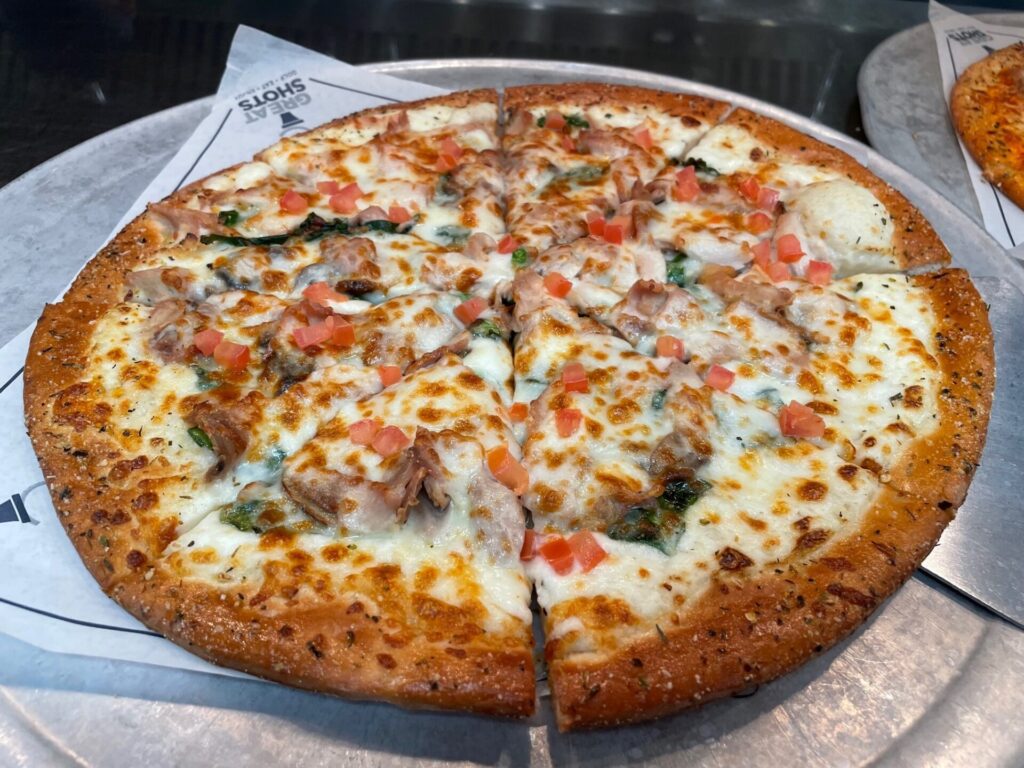 Fat Daddy's Smokehouse takes over the kitchen at On the Rocks in Valley Springs every Friday and Saturday night. The man behind the barbecue is Randy Ragatz, whose skills drew a following in 2020 when he ran Bone Daddy's Smokehouse out of The Phoenix Lounge in Harrisburg. His partner in the new venture is Doug Medalen. Fat Daddy's will be at the Valley Springs bar until at least mid-July, owner Robert Pralguske said. On the Rocks serves breakfast, lunch and dinner seven days a week, he said. The lunch and dinner menu features  hamburgers, chicken sandwiches, Philly cheesesteaks, wings and Heggies Pizza. Fat Daddy's hours are 5 to 10 p.m. Friday and 3 to 9 p.m. Saturday.
Here are a few food specials in the coming days for Cinco de Mayo:
Simon's Tacos has specials for Friday on platters, enchiladas, tacos and margaritas.
Hecho con Amor is taking over the kitchen at Windy City Bites Bar & Grill on Saturday. Ashley Rocio's menu  will be available from 2 to 9 p.m. – or earlier if she sells out. Windy City will go back to cooking after that. Here's the menu.
Blarney Stone Pub's featured menu through Sunday includes cheesy chicken tortilla soup, grilled stuffed burrito, pork enchiladas and sopapillas. On Friday, get $6 Magners Margaritas or ClawRitas.
Flyboy Donuts is making concha, a Mexican sweet bread, as a special treat for Friday. Customers can order ahead at flyboydonuts.com.
The Good Earth Farm near Lennox is having its first pizza night of the year on Friday. Enjoy time outside, play yard games and meet Princess Buttercup, the pig that's the newest addition to the critters. Make reservations to ensure the farm has enough Breadico pizza dough. Pizza choices will be Mexican street corn, Gas Station Taco Pizza, cheese and pepperoni. A vegan version of the taco pizza can be ordered. It's also teacher appreciation night, so teachers and support staff will get specials on drinks. Hours are 4 to 8 p.m.
On Friday, Let It Fly is serving chips and queso, a trio of street tacos and tres leches for $25.
TapHouse 41 is featuring a birria steak quesadilla into next week, or until the birria is gone. Birria marinated flank steak is layered in the flour tortiallas with a cilantro slaw, queso fresco, jalapenos and a side of sour cream. It's served with chips and salsa. Pair it with White Elm Chelada or Anderson Valley Nitro Cerveza Crema.
Treasury Taqueria has taken over The Treasury's kitchen through Saturday. Find seasoned ground beef, tinga, carne asada, al pastor, shrimp, carnitas and fried mushroom taco choices, along with chips and salsa or guacamole and Mexican street corn.
Wagoo Burger has a different menu for Friday with chips and queso, a nacho platter, fish tacos and two burrito options.
Wileys is donating $1 from every fishbowl drink sold Friday night to The Multi-Cultural Center as part of its First Friday Party With a Purpose. A tequila bar will offer $5 margaritas, and there will be $5 Coronas, Modelos and walking tacos. Get $5 off carne asada tacos.
Charlie's Pizza has new daily specials for May from 4 to 7 p.m. for dine-in and call-ahead carryout. Stooge Sundays: 20 percent off Three Stooges pizza, Meat Mondays: 20 percent off Meat Lovers pizza, Big T Tuesdays: 20 percent off Big T pizza, Works Wednesdays: 20 percent off Works pizza, Thursdays: 50 percent off domestic draft beers.
Rudy M. Navarrete's Tex-Mexican Catering is having a fundraiser Sunday for the Marflow Foundation, which helps send kids to church camp. Faith Lutheran Church at 601 N. Cliff Ave. is hosting the event from noon to 2 p.m. Sunday. An all-you-can eat taco bar will be $6 for adults and $3 for kids. Additional donations will be welcomed. All proceeds will go to the foundation, which was started by the Rev. Michael Wolfram, who paid for Navarrete to attend Minneboji when he was 10.
Donate blood, and get a free buffet at Pizza Ranch. The 41st Street location is hosting a blood drive for the Community Blood Bank on Wednesday. Sign up here for a time slot.
Tuesday night is the kickoff for Food Truck Tuesdays at Golf Addiction. The food truck gathering runs every week through Sept. 12. The business at 57th and Marion Road hosts a half-dozen food trucks on a rotating basis from 5 to 9 p.m. There's live music and a free bounce house. Golf Addiction sells beer, with Fernson Brewing Co. as the local brewery pick. The first week features Backyard Grill, Breaking Burrito, Hunny & Bunny The Ice Cream Truck – SDSU Ice Cream and Ollies.
Nine Sioux Falls-area food trucks and a liquor store/bar/restaurant/bakery have joined together to create the Foodie & Truckie East River Passport. Buy the passport for $15, and stop at each truck or business to get a stamp and a free item or discount. Participating businesses include Black Iron Waffles, Fat Kid Filly's, JJ's Wine/The Boozy Bakery, Krazy Concessions, Let Me Be Frank, Pa & Sons, Rainy Day Coffee Co., Sheep Flockers, Tacos de Gringo and Taverns + Tots.
Ask and you will get a free churro on Wednesday at Taco John's. Each location will have 100 churros to give away. The chain imports the dessert items from Spain and fries them in-house daily. "After experiencing one of the snowiest winters on record out in the Upper Midwest, we figured our guests everywhere deserve a delicious, warm treat for powering through bad weather and to make more special memories as we wait for summer," said Taco John's chief marketing officer Barry Westrum.
Sickies Garage Burgers & Brews is celebrating National Hamburger Month with $1 off a different featured burger every day. And on Mother's Day, moms can get a free Hot Momma Burger or any entree item for $15.99 or less with an additional purchase of equal or greater value. The Hot Momma Burger is topped with ghost pepper cheese, peppered bacon, Mom's secret sweet jalapeno jam, onion tanglers and avocado.
Maribella Italian Ristorante has a new featured menu for May with polenta fritta, salmone, sorbetto alla mora and spritz veneziano.
The Bunker Bar in Harrisburg has started serving Critters Dive Bar Pizza. Find traditional toppings and pizzas with fun names like Garbage, El Jefe and Beer Drinkers. For specials, get $10 pizzas from 5 p.m. to close on Wednesdays and $18 for a pizza and two domestic beers from 1 to 3 p.m. daily.
Nothing Bundt Cakes has some new cake toppers for May celebrations.
Bee Loved Kitchen has a new spring menu of juices and smoothies. Among the new juice flavors: ginger pear, watermelon mint lime, celery grape and more. A couple of the new smoothie options are watermelon rosemary and blueberry aloe. They can be ordered online for pickup or delivery every Wednesday.
Leo, the new 14-week-old golden retriever therapy dog in training for the Sioux Falls Police Department, stopped by Severance Brewing Co. this week to choose the ingredients for a beer that will be brewed in his honor. The creation, Leo's Choice, will be a mango sour with pale ale malt. Part of the proceeds from the beer sales will help pay for his care. Look for it in June.
A Homestead Brew is hosting a beer branding by the fire from 2 to 9 p.m. Saturday. Sticking a hot stainless steel rod into a beer caramelizes it and changes the flavor into "something new and spectacular." The brewery east of Sioux Falls near the Iowa border is hosting Murph's Burgers & Fries, starting at 5 p.m.
The traveling food truck On the Hook Fish & Chips will be back in Sioux Falls on Saturday, but be prepared to pay more. "Due to the decreasing value of the dollar, we must continue to make adjustments. We have always been committed to quality, and therefore, we must charge what is necessary to continue to provide a premium and sustainable product." The new price is $15 for three pieces of wild-caught Alaskan cod and fries. The truck will be here from 11 a.m. to 7 p.m. in the Tractor Supply Co. parking lot on North Cliff Avenue.
May's featured popcorn flavor at Poppy's Popcorn Co. is orange creamsicle.
Changes in hours, service
Sunny's Pizzeria is staying open later now with its summer hours: 11 a.m. to 2 p.m. and 4:30 to 9 p.m. weekdays and 11 a.m. to 9 p.m. on the weekend.
Phillips Avenue Diner will be closed Tuesday for maintenance.
The Combine in Garretson has discontinued weekday lunch hours. New hours are 4 p.m. to close Tuesday through Friday and 11 a.m. to close on the weekend.
Here are other food and drink headlines from the past week.
Homemade barbecue sauce steals spotlight at new food truck
Pizza will return to mall's food court menu
From baked to fried, potatoes take center stage on new food truck
Afghan restaurant reopens after yearlong catering contract
Harrisburg coffee shop to launch all-day breakfast menu