You can find any number of satisfying, if predictable, uses for leftover rotisserie chicken. Fold it into a quesadilla, say, or throw it into your bowl of instant ramen. But if your leftover rotisserie chicken is from Chicken Scratch — if you have somehow managed not to devour your Chicken Scratch order in one sitting — then you just might be tempted to bring it back to this Food Hall at City Foundry restaurant and ask the chef and owner Nate Hereford to make something new with it.
Hereford's Chicken Dip sandwich is both smarter and sleeker than whatever you can cobble together from the oxidized depths of your refrigerator. He warms up pulled rotisserie chicken in jus, the fast-casual sandwich equivalent of pouring already impeccably gorgeous, fit movie stars into haute couture for the red carpet. He nestles this glowed-up chicken into a crusty Companion Baking sub roll with his restaurant's bracing horseradish-mustard sauce, a little melted provolone (more like a second sauce than the typical sandwich cheese glob) and the bite of kale marinated in a Parmesan vinaigrette.
The Chicken Dip sandwich would be terrific if Hereford stopped here, but there is the matter of its name. On the side he provides a little cup of the aptly named Liquid Gold, additional seasoned stock for dipping — or sipping. I won't tell.
I also won't tell if you, like me, are wary of chicken salad as a general concept. Hereford waves away my concerns by dressing the chicken in the restaurant's Scratch sauce, which cuts the creaminess of mayonnaise with tangy buttermilk. You can order the chicken salad as a sandwich on a bun or a straight-up salad with greens. In sandwich form, the flavor and juiciness of the pulled rotisserie meat is both paramount and further invigorated with the crunch of chopped celery, the piquancy of pickled red onion and a steady breeze of dill and other fresh herbs.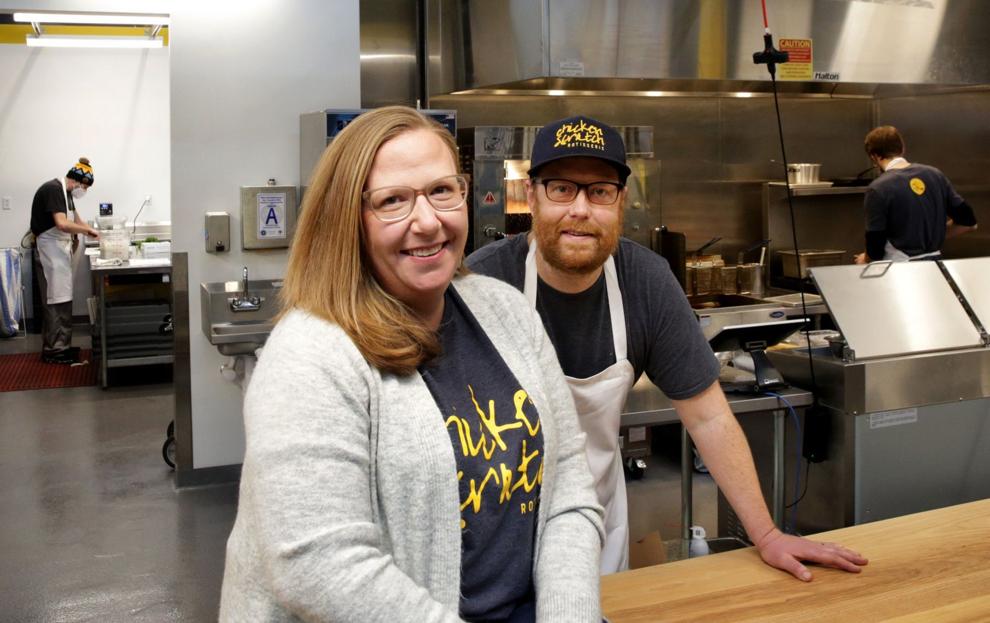 Chicken Scratch is the first restaurant for Hereford and his wife and co-owner, Christine, but he has already made a mark on St. Louis dining as the executive chef of Gerard Craft's Niche during that epochal restaurant's unabashedly ambitious late period, when the kitchen restricted itself to local ingredients. Under his tenure, I ranked Niche No. 1 in the 2015 and 2016 editions of my STL 100.
Hereford cut a path across the country on his way to St. Louis. A native of the Boston suburb of Beverly, Massachusetts, he attended the University of Vermont and then moved to Missoula, Montana, where he met his future wife. He attended culinary school in Portland, Oregon, and worked for such acclaimed Chicago chefs as Graham Elliot and the late Homaro Cantu before he and Christine relocated to her native St. Louis.
Hereford started at Niche in 2009 and left just before its June 2016 closure for a research-and-development position with the San Francisco food company behind the plant-based egg substitute Just Egg. In California, Hereford told me in an interview last year, he and Christine noticed how many rotisserie-chicken restaurants there were: "I started to try these places, and the complex simplicity of all of it really just kind of blew my mind."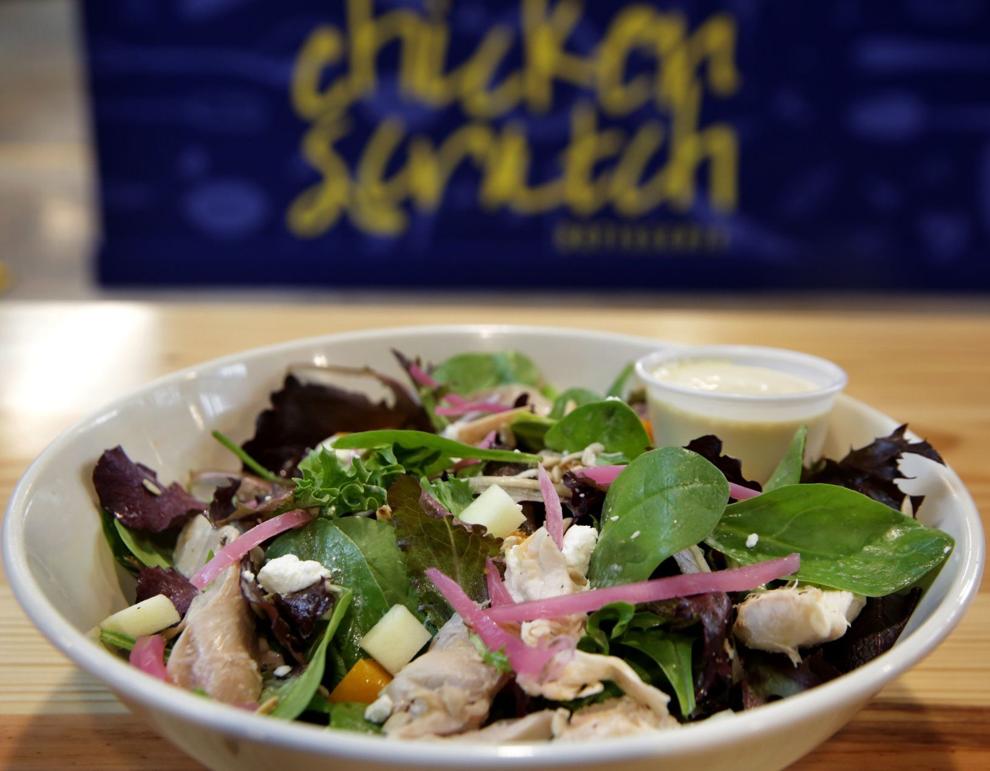 Complex simplicity is also how I choose to defend putting down my knife and fork and tearing into half of a Chicken Scratch bird with my bare hands. It's like cracking your way through a steamed blue crab. You need to work every nook and cranny for the best morsels. Hereford cures the chicken overnight in salt and sugar, rubs it with a relatively mild blend of herbs and spices, and roasts it in a Rotisol rotisserie oven. This yields deeply chicken-flavored chicken bathed in its own juices, which convey the smoky-sweet essence of the golden-brown, char-freckled skin.
The chicken doesn't need further accent, but your order does include one of three sauces: the Scratch, the horseradish-mustard or (my favorite) a feisty, piquant hot sauce made from charred Fresno chiles. For side dishes, Hereford returns to that concept of complex simplicity. The noodles in the macaroni salad retain a bracing springiness. Jojo potatoes (fried potato wedges, a nod to his time in Portland) are both crisper and creamier than spuds of that size and shape have any right to be. A pesto-like salsa verde is the unexpected — and unexpectedly perfect — contrast to roasted Brussels sprouts.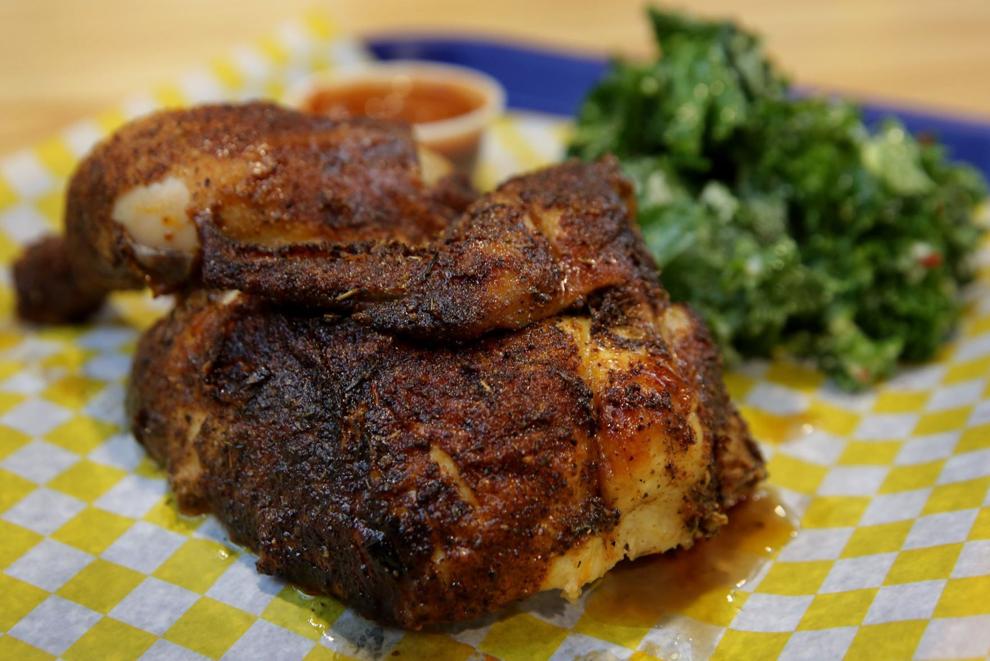 Unsurprisingly, Hereford turns out a terrific version of the inescapable fried chicken sandwich: crisp-to-tender chicken breast set against cooling dill pickle and iceberg lettuce in a bun, with your pick of the restaurant's three sauces served on the side. That I didn't even mention this sandwich until the end of my review might be a better testament to Chicken Scratch's rotisserie birds than anything else I have written here.
We are currently not assigning star ratings to restaurants. This review is based on dine-in service and takeout.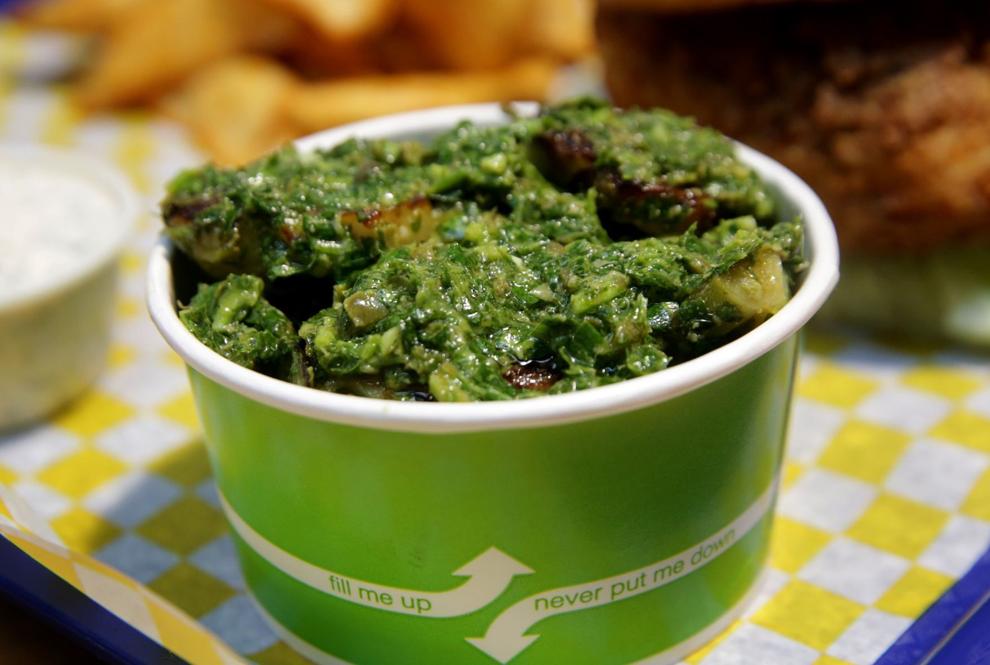 Where Chicken Scratch, Food Hall at City Foundry, 3730 Foundry Way • More info chxscratchstl.com • Menu Rotisserie chicken and chicken sandwiches • Hours Lunch and dinner daily (closed Tuesday)