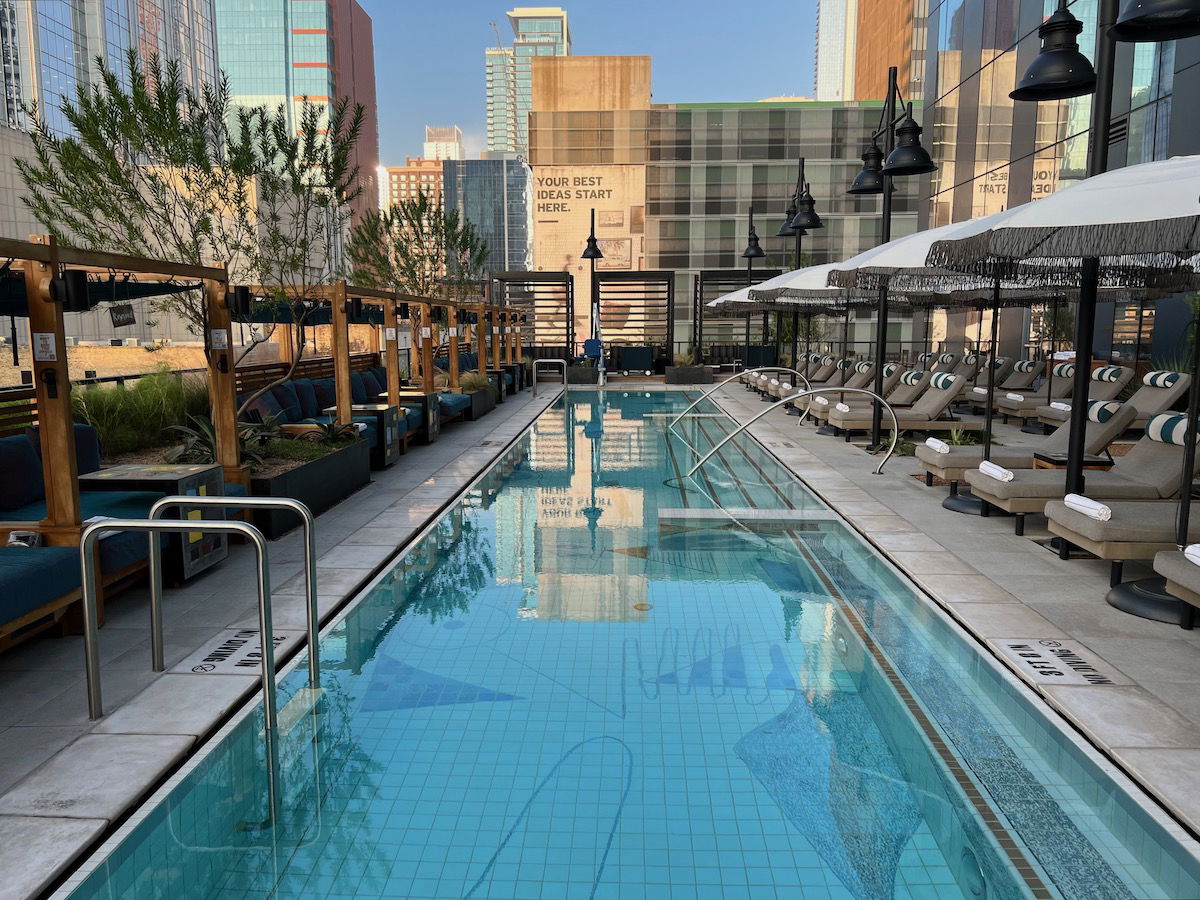 Review: Thompson Hotel Austin – One Mile at a Time
During my trip to Austin, I spent a few nights at the Thompson Austin, which opened in early 2022. This was a special stay for me, since it's also the stay during which I earned lifetime Globalist status.
I've written in the past about how I'm a huge fan of the Thompson brand. Dare I say that I think my love affair with the brand is wearing off a bit, as I stay at more of the newly opened properties? There's a lot to love about this hotel, but also some things that frustrated me.
On the plus side, the hotel has fantastic food & beverage outlets (as is common with Thompson), a central location, a nice pool, and friendly service. However, I found the room design to be poor, to the point that I wondered if I was staying at a W property. Furthermore, I'm not a fan of the fact that this "property" is in fact two hotels plus an apartment building, so there's nothing "boutique" about it.
Booking the Thompson Austin
I paid cash for my stay at the Thompson Austin, and the rate was roughly $300 per night. Ford booked me through the Hyatt Privé program. Hyatt Privé rates cost the same as standard flexible rates (not member rates, advance purchase rates, AAA rates, etc.), and include the following additional perks:
Daily full breakfast for two in the hotel's restaurant
A $100 property credit per room per stay
A one category room upgrade confirmed within 24 hours of booking (room-to-room or suite-to-suite) — based on availability at the time of booking
Early check-in (as early as 9AM) and late check-out (as late as 4PM), subject to availability
A welcome gift and letter
Admittedly some of these benefits overlap with my World of Hyatt Globalist perks, but getting an extra $100 credit was a nice extra benefit.
For those looking to redeem points, the Thompson Austin is a Category 6 World of Hyatt property, meaning that a standard room free night redemption costs 21,000-29,000 points (for my nights the rate would have been 25,000 points). For what it's worth, I value World of Hyatt points at 1.5 cents each, so paying cash was the better value.
The Thompson, tommie, and Sienna at the Thompson
I've posed the question in the past of what constitutes a boutique hotel. The Thompson Austin markets itself as a "boutique" property, though I think it's important to understand that this is a three-in-one property — it has two hotels, plus an apartment building.
First of all, there's a 212-room Thompson, and a 193-room tommie hotel (tommie is supposed to be a brand similar to Thompson, but with smaller rooms).
While these hotels are marketed separately, they're 100% the same hotel for all practical purposes. They share the same entrance, the same lobby, the same check-in counters, the same amenities, and rooms are on the same floors. When you get out of the elevator on each guest room floor, Thompson rooms are to one side, while tommie rooms are to the other side. So this is a 405-room hotel, plain and simple.
While I get the concept of dual branded hotels (it's intended to appeal to more market segments), I found the execution here to be weird. The entrance to the hotel only lists Thompson (with no mention of tommie), while the coffee shop is marketed as being at the tommie, even though it's just as much at the Thompson.
On top of the two hotels, there's also a 314-unit apartment building in this complex, known as Sienna at the Thompson. The apartment building shares the same pool, gym, etc. (though there's a different entrance).
The point is, while the pool and gym are impressive, keep in mind that you're sharing it with 719 units (and for the apartment complex, there are some two bedroom units). Below is a picture of the exterior of the building — the bottom half of the building is the two hotels, while the top half of the building is the apartments.
Thompson Austin location
The Thompson Austin has a central location. It's located at the intersection of 5th and San Jacinto. I'm not an expert on Austin, but I found this to be a pretty convenient, and it was easy to walk most places from here. Note that the hotel is near the area with many bars, so it can be loud and a bit wild here in the evenings.
If you're arriving via Austin-Bergstrom International Airport (AUS), it's only about a 15-minute drive from the airport, which is convenient.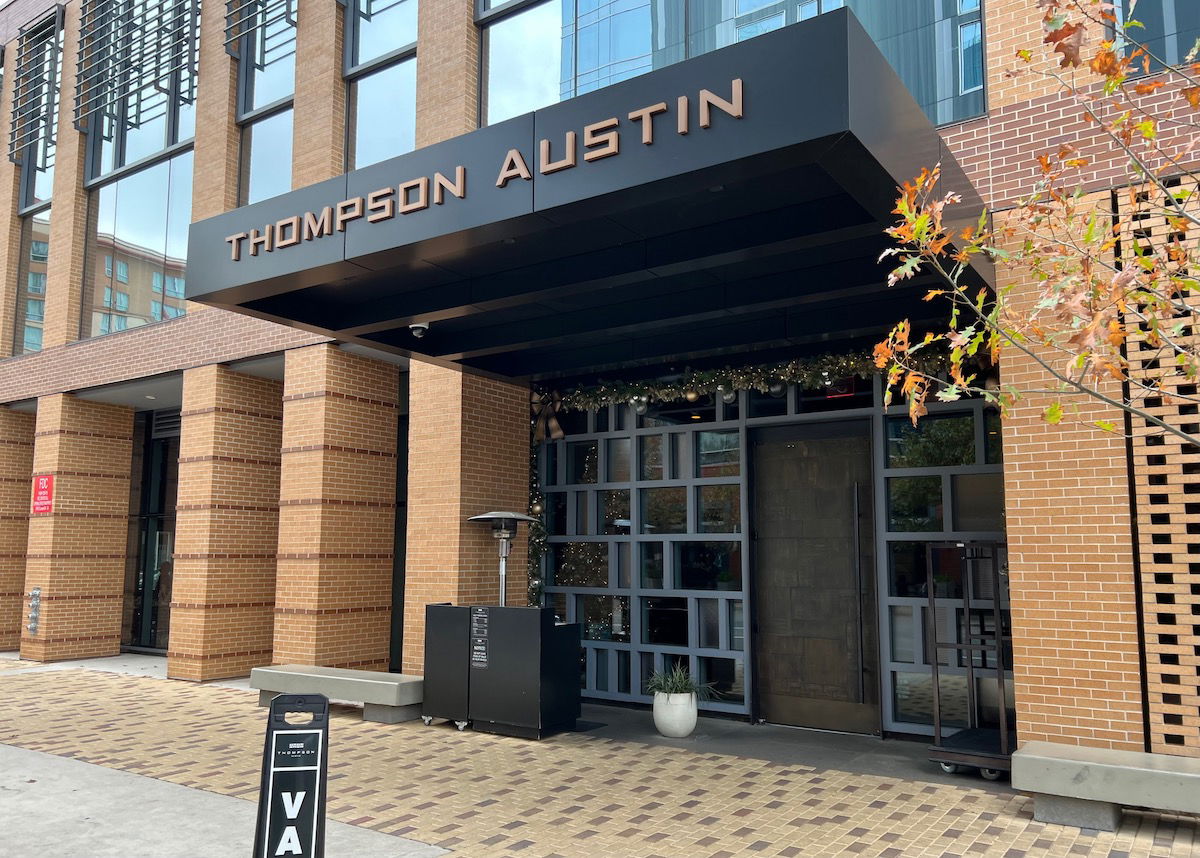 Thompson Austin lobby & check-in
The Thompson Austin has a cool and quirky lobby, with several couches, a fireplace, and an all around cozy vibe. Three of the food & beverage outlets are accessible directly from the lobby, so this offers easy access to many of the hotel's amenities.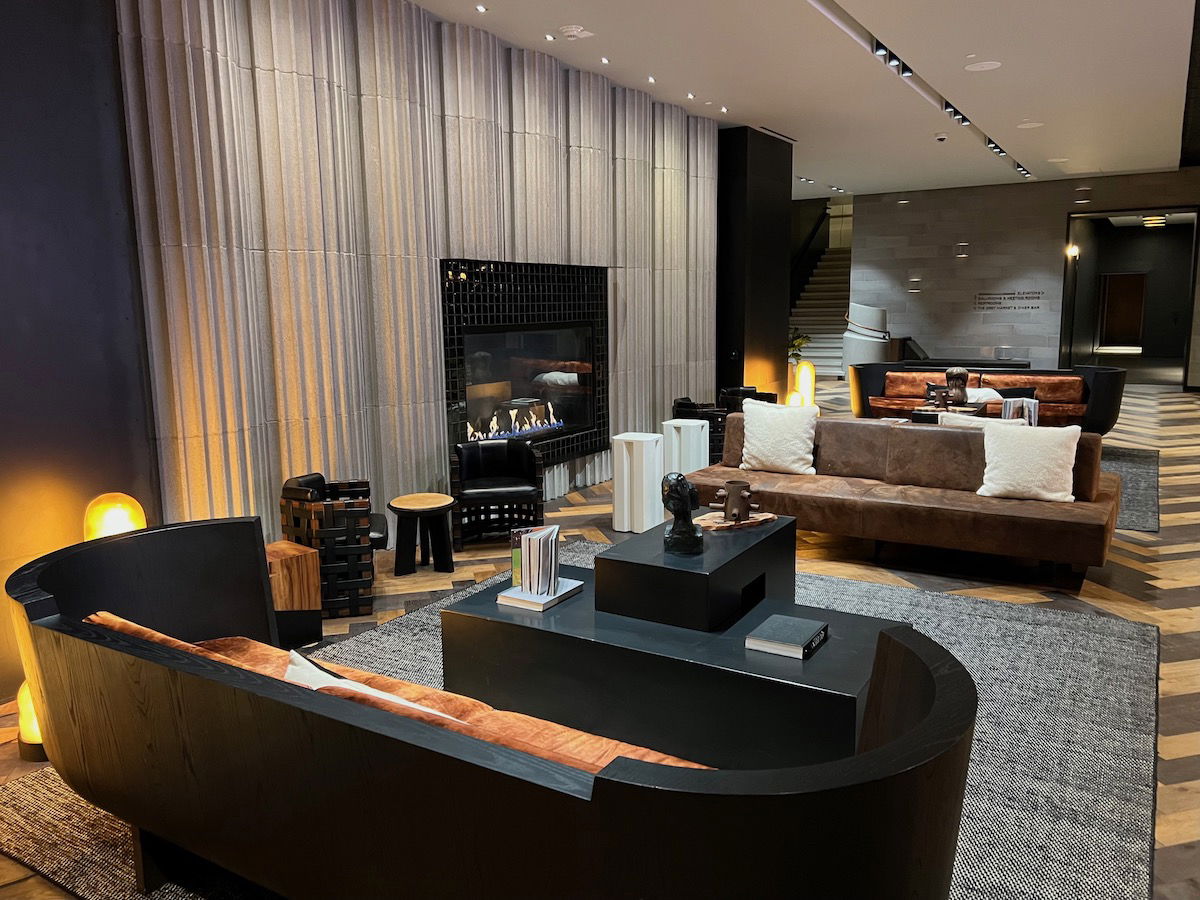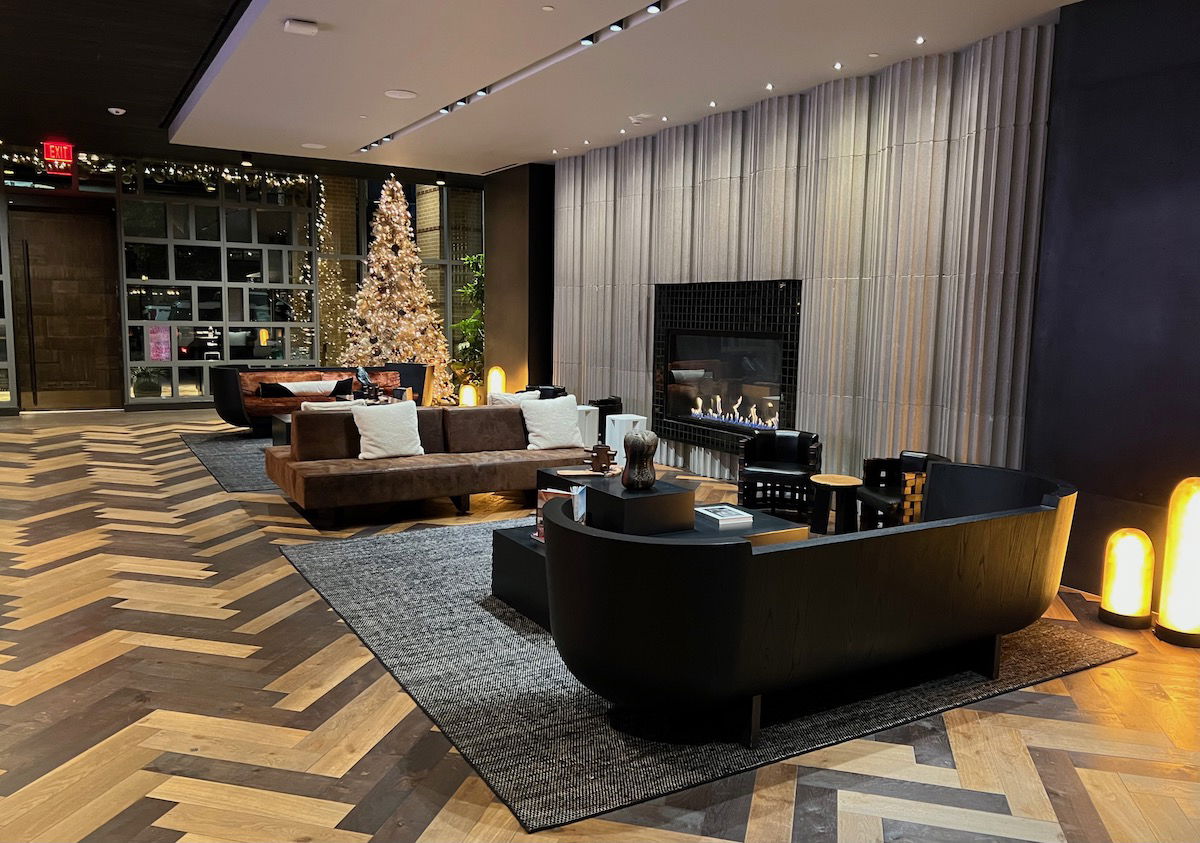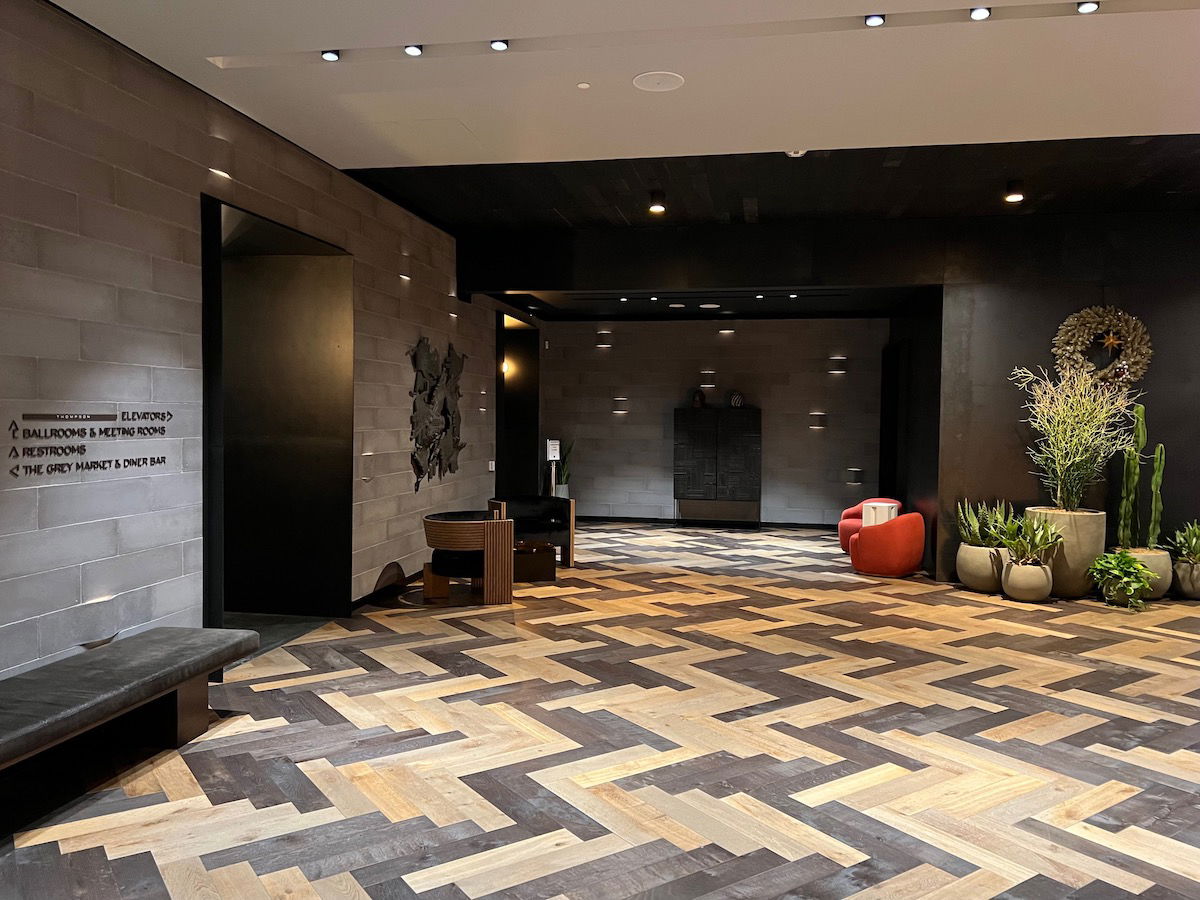 Reception was located inside the lobby and to the right.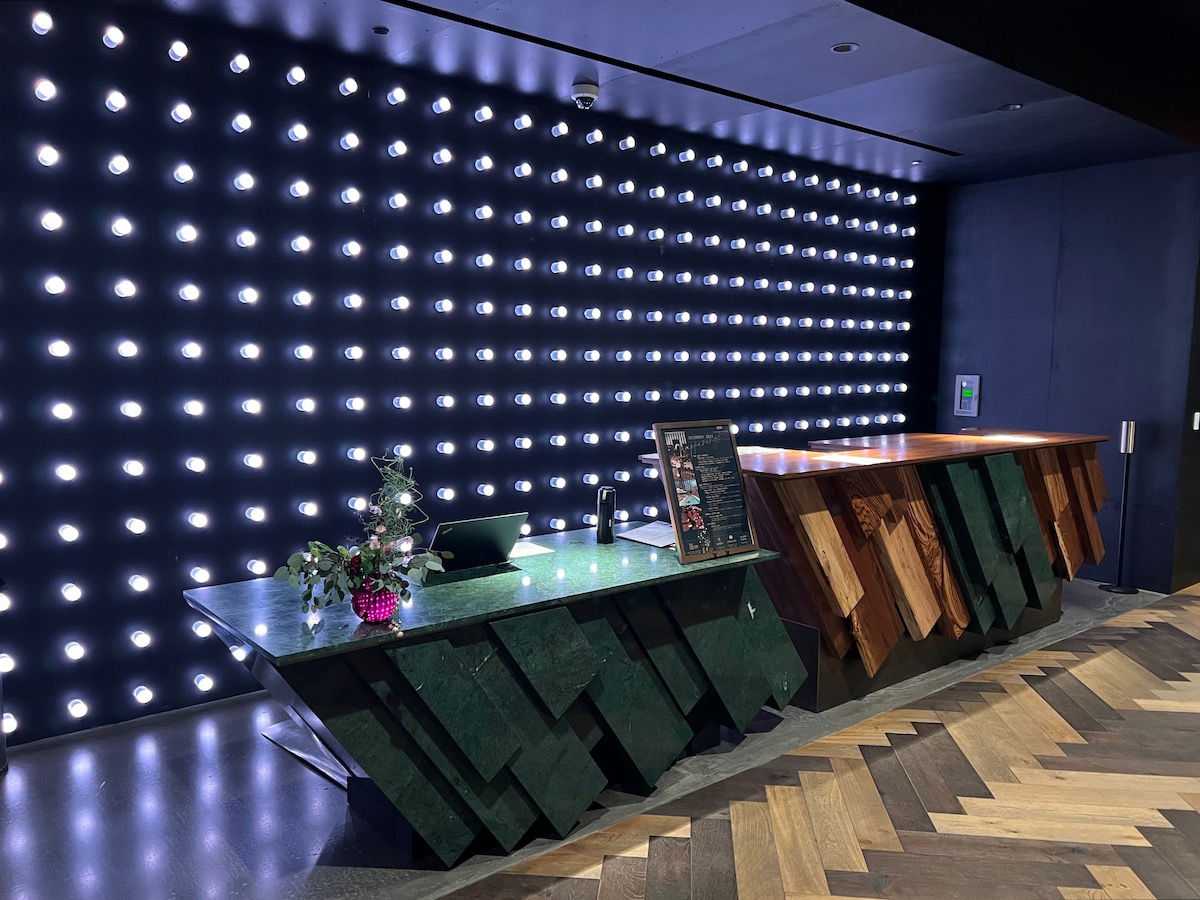 Check-in started by being asked which of the hotels I was staying at. The check-in process was quick, and the associate checking me in was friendly and professional. He did a great job going over all the Globalist perks and amenities of the hotel. I had been assigned a San Jacinto Suite, which is the standard suite at the hotel, as I had used a suite upgrade award to confirm this.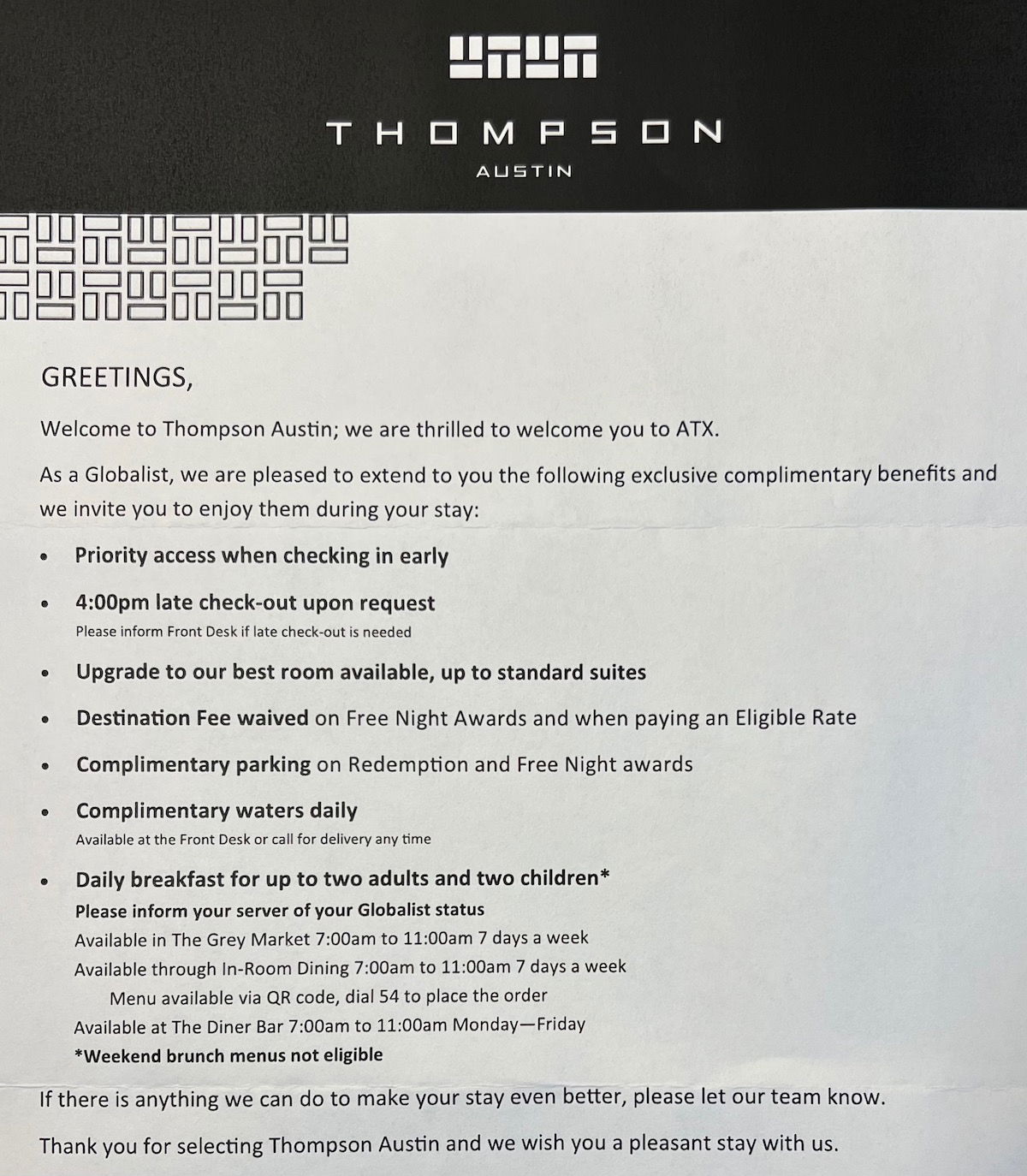 Once again, I find the dual branded aspect of this property to be strange, as I was given a Thompson key in a tommie sleeve.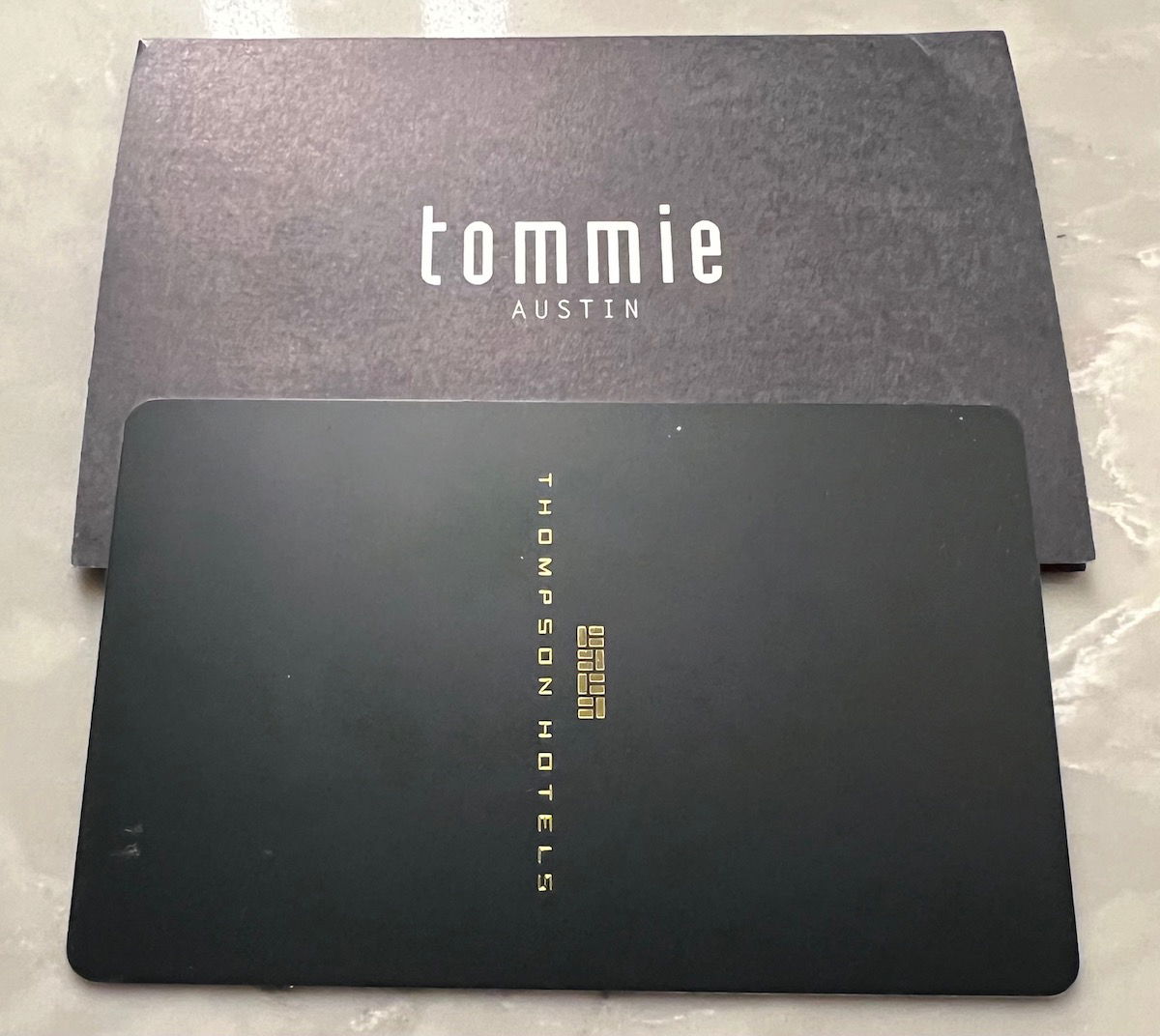 With keys in hand, I headed to the elevator, located right down the hall from reception. I took that up to the 13th floor, where my room was located.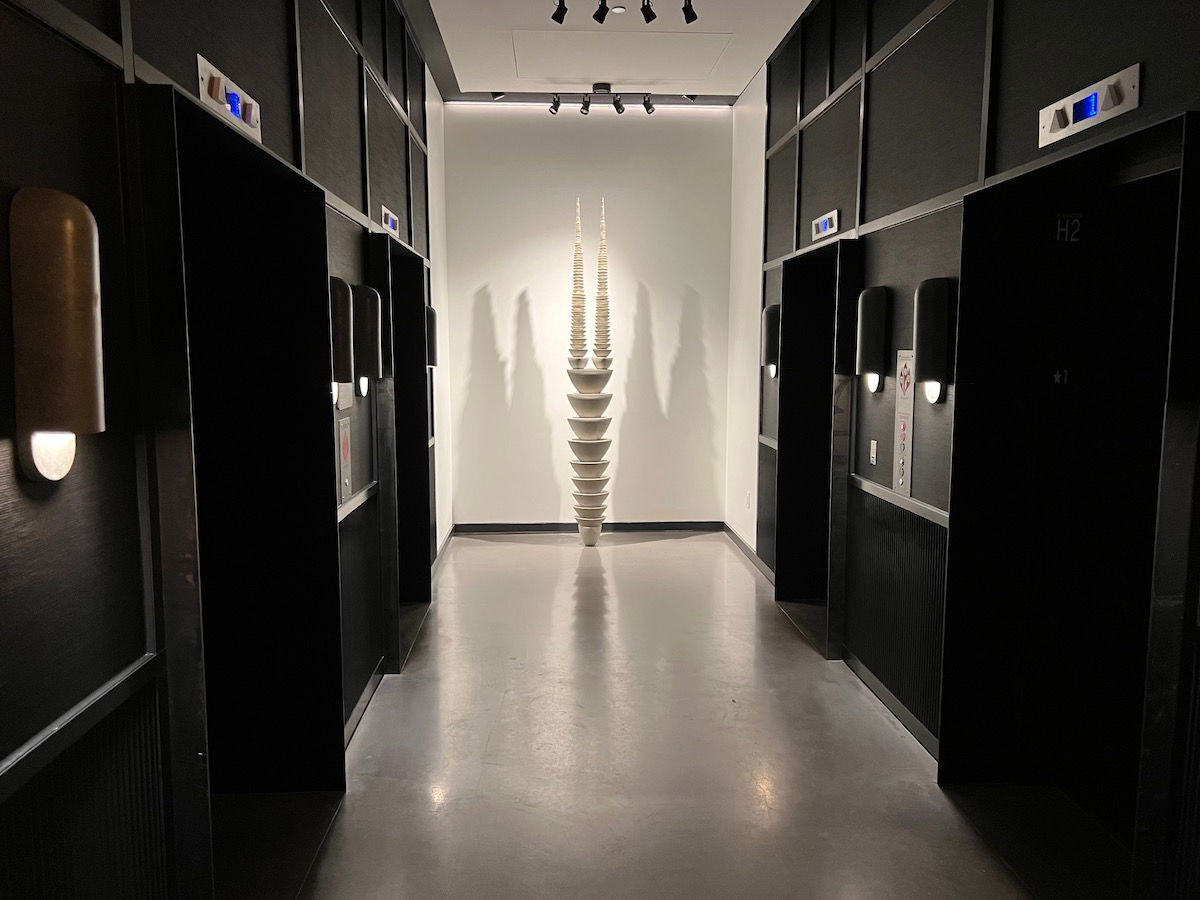 The elevator had some cool, trippy art, which changes depending on the angle from which you look at it.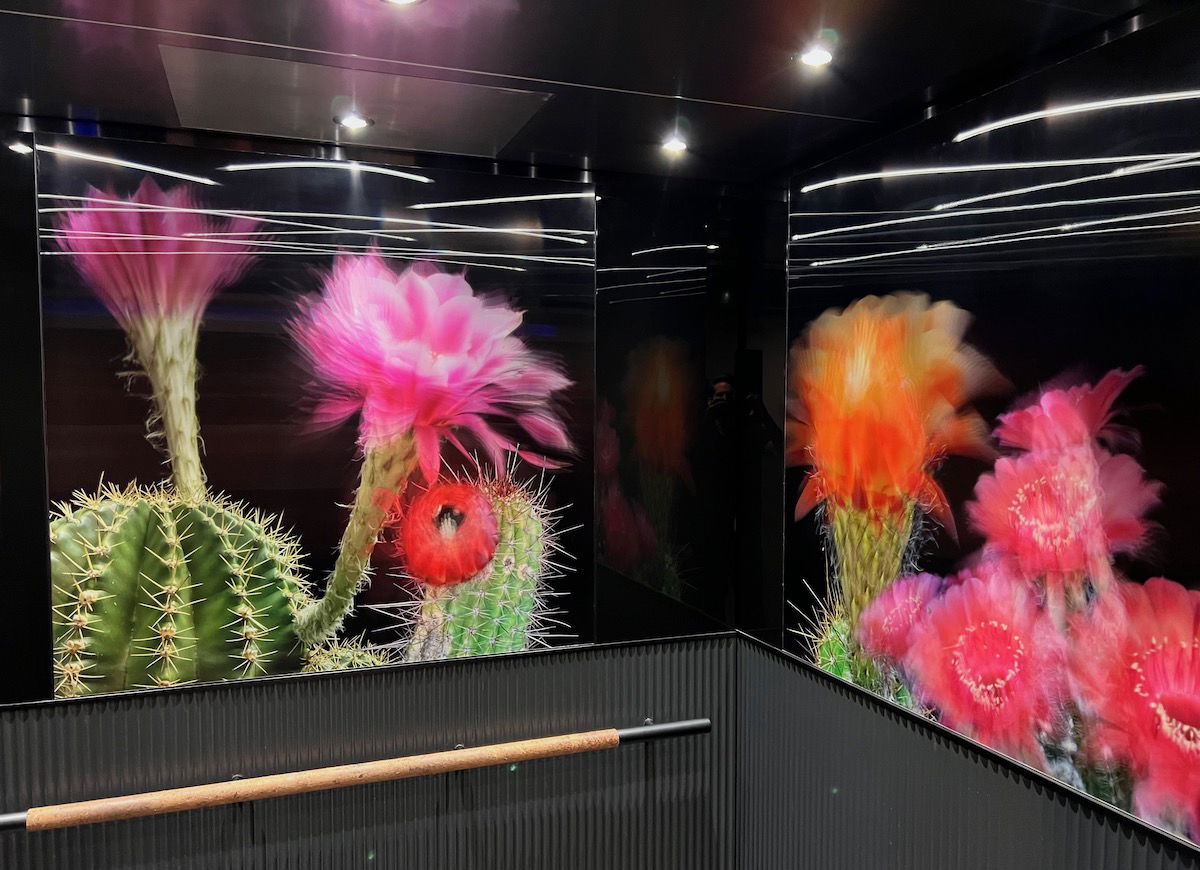 Once on the 13th floor, the tommie rooms were located to one side (with red carpet), while the Thompson rooms were located to the other side (with darker carpet).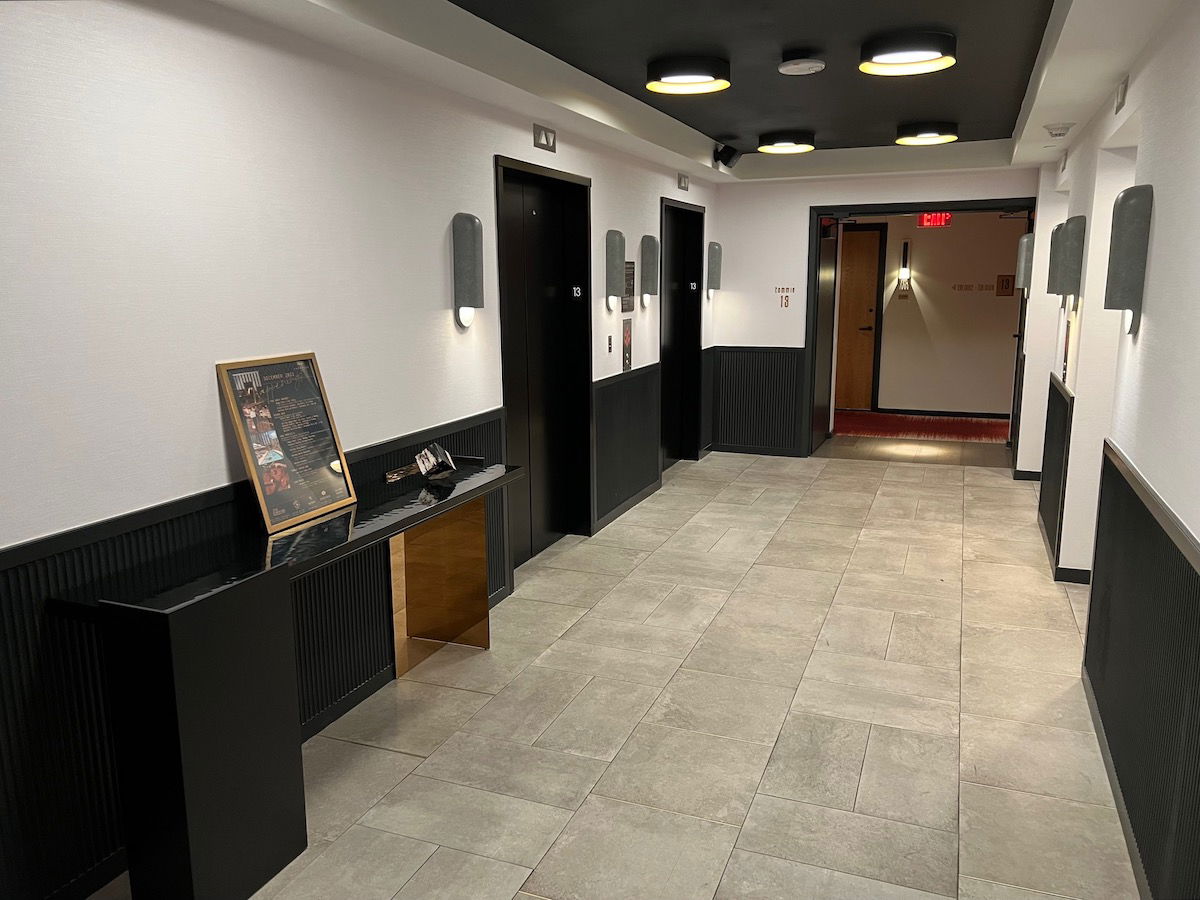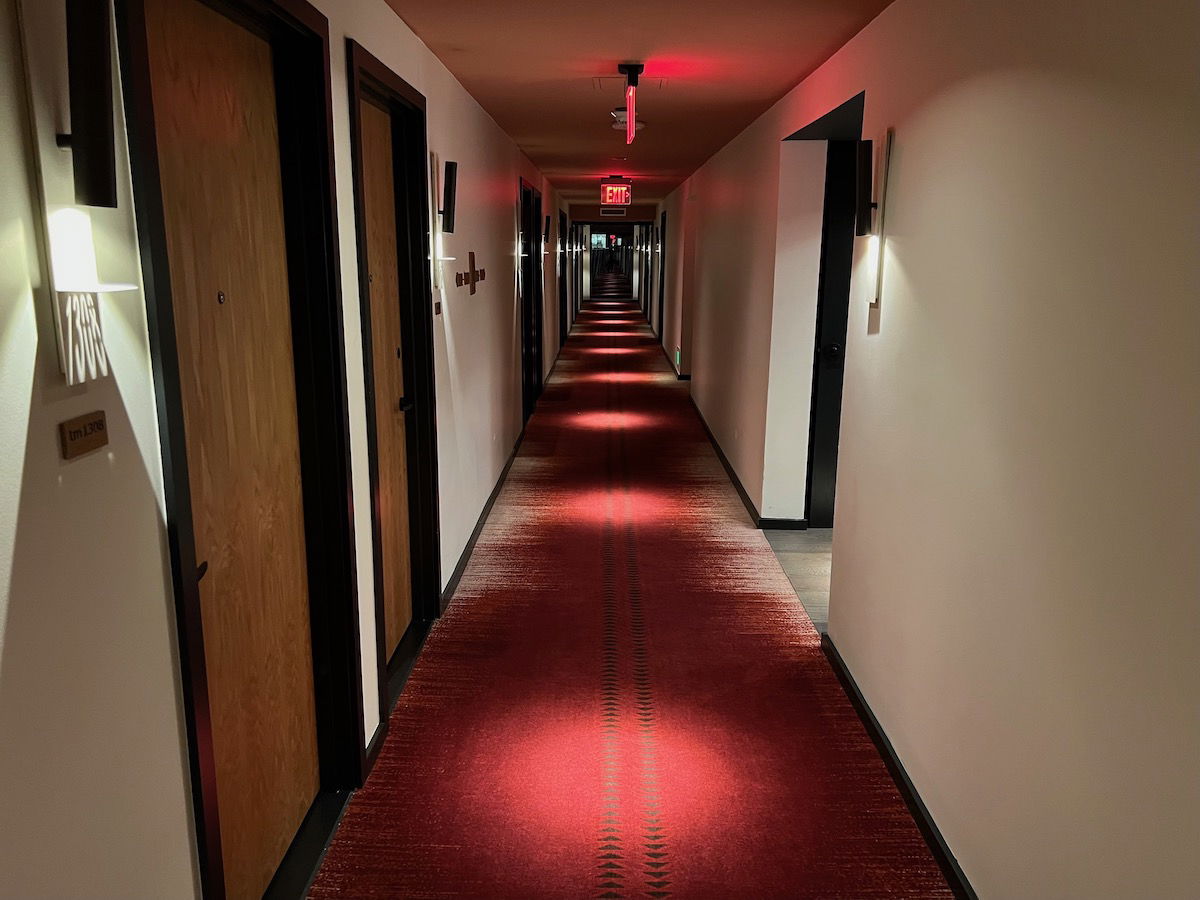 It's interesting how both the Thompson and tommie have the same room numbers — Thompson room numbers start with "TH," while tommie room numbers start with "TM." It seems like it would make the life of hotel employees a lot easier if they just chose different numbers, since each time you went to an outlet and charged something to the room, an employee would have to ask at which of the two properties you were staying.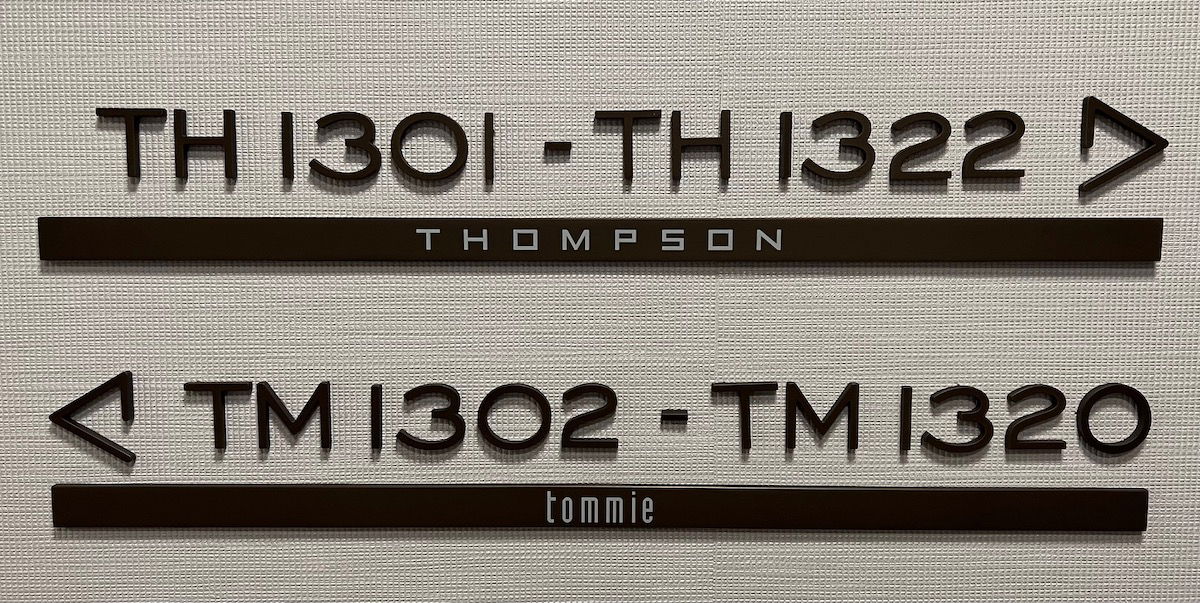 Thompson Austin San Jacinto Suite
I was assigned TH1304, a San Jacinto Suite. Once walking down the Thompson hallway, this was one of the first rooms on the right.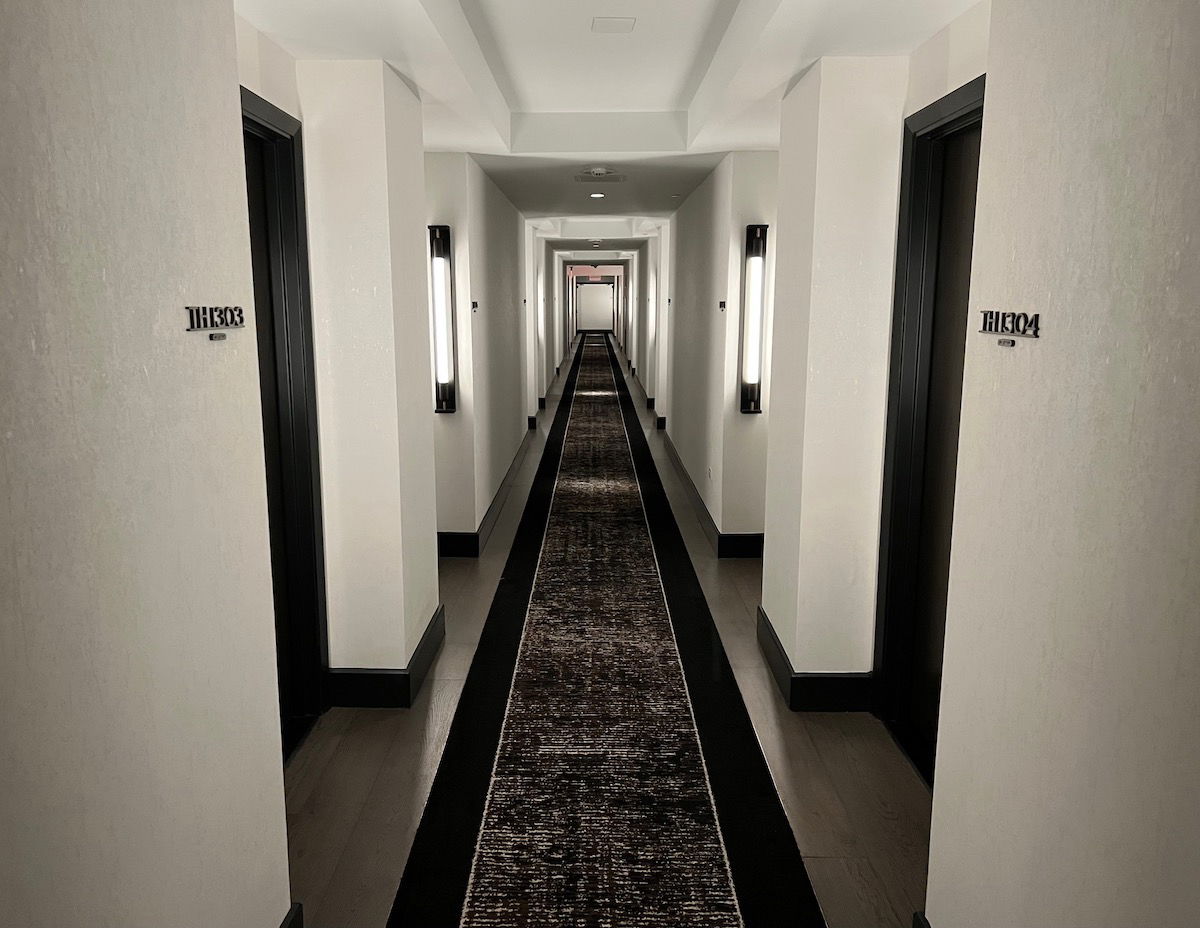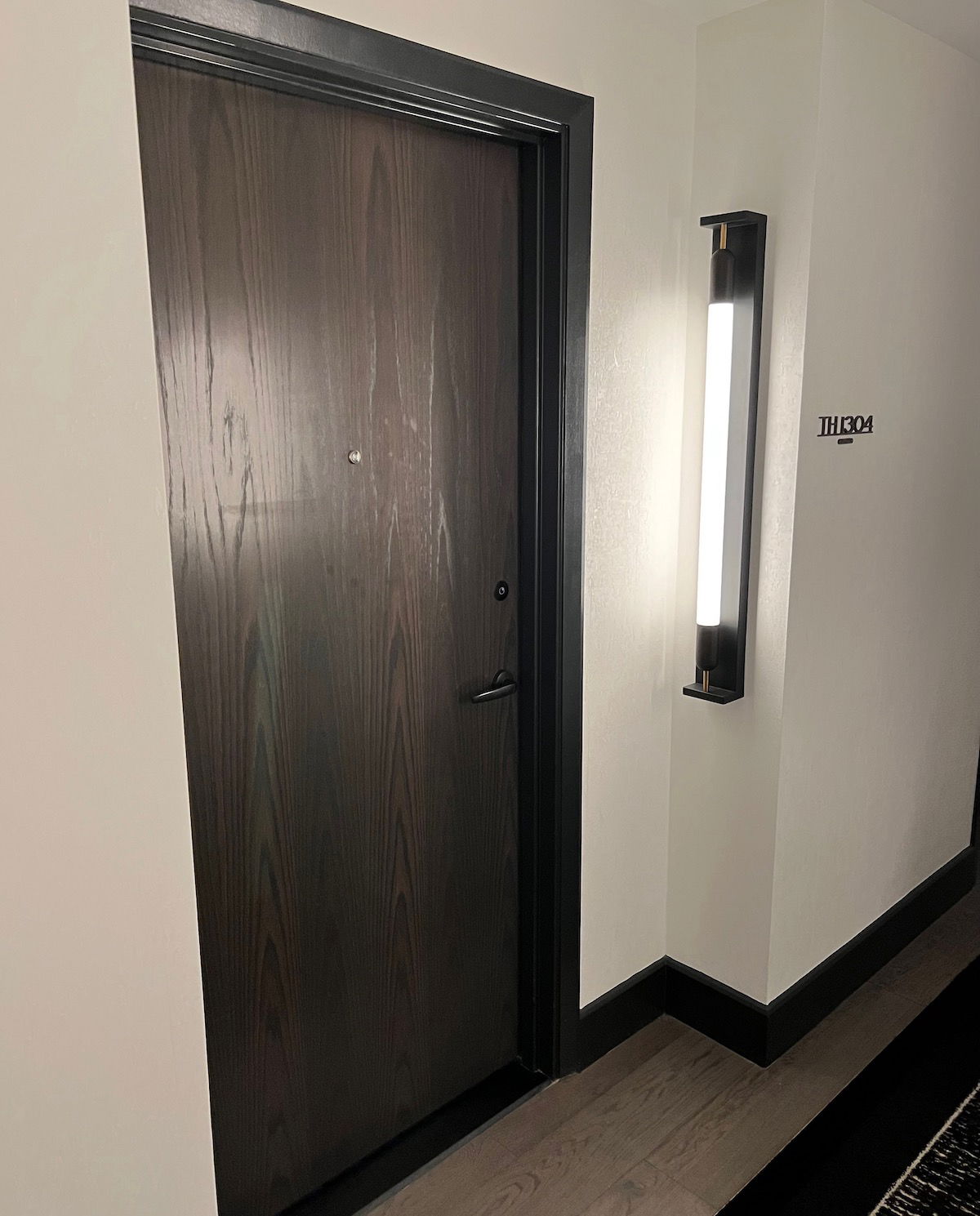 It seems that newly built Thompson properties are all about having small rooms, and this suite is the perfect example of that. It's interesting that when you go to Hyatt's website and search rates at this hotel, square footage isn't listed, unlike at most properties.
However, the room description page does have these details, and San Jacinto Suites are 572 square feet. While that's a good size in general, it's not exactly spacious for a full suite with a separate living room and bedroom.
The suite featured an entryway with a half bathroom on the right, and then a closet and the minibar to the left.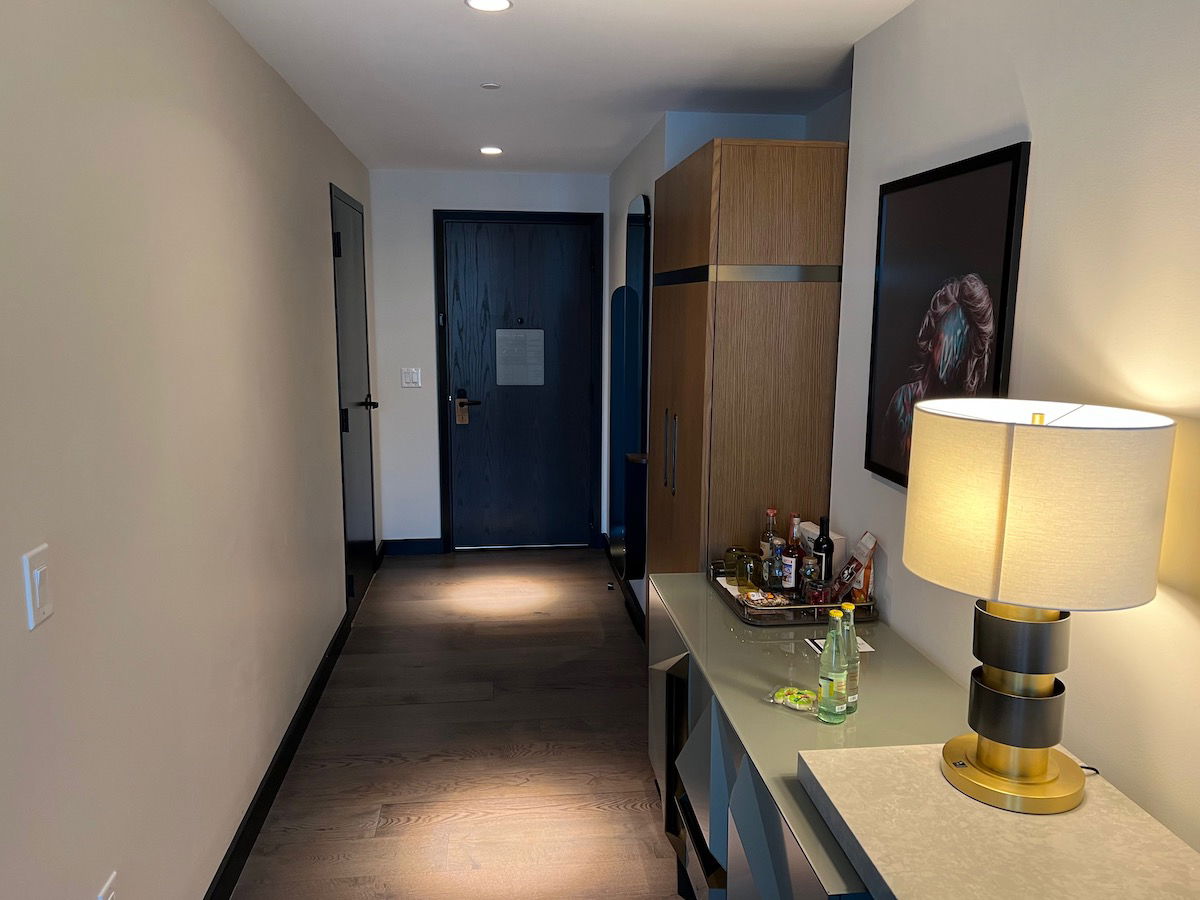 The living room consisted of a piece of furniture that was somewhere between a loveseat and a couch — you could comfortably fit two people there, or three people if you wanted to be really close together.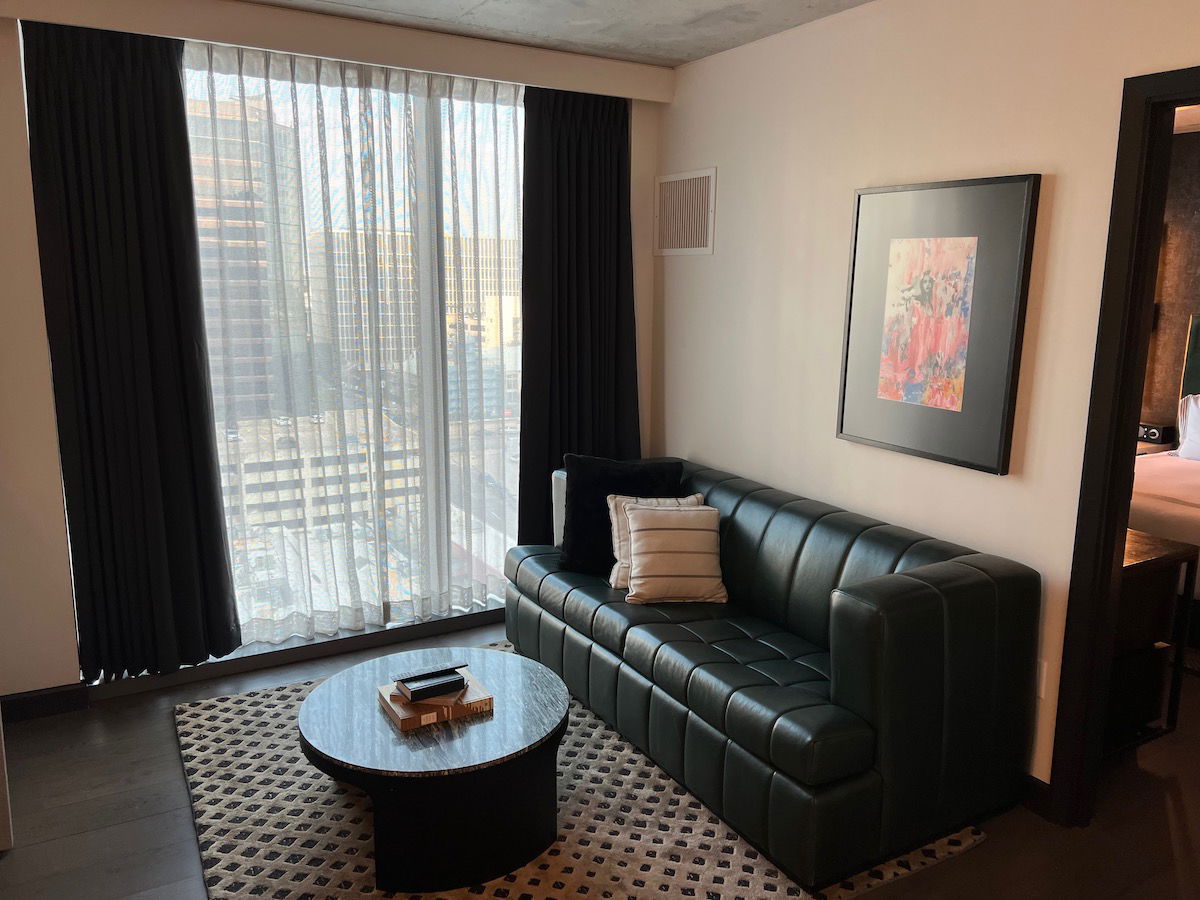 The living room had a wall-mounted TV, as well as a long desk of sorts, which also had a turntable.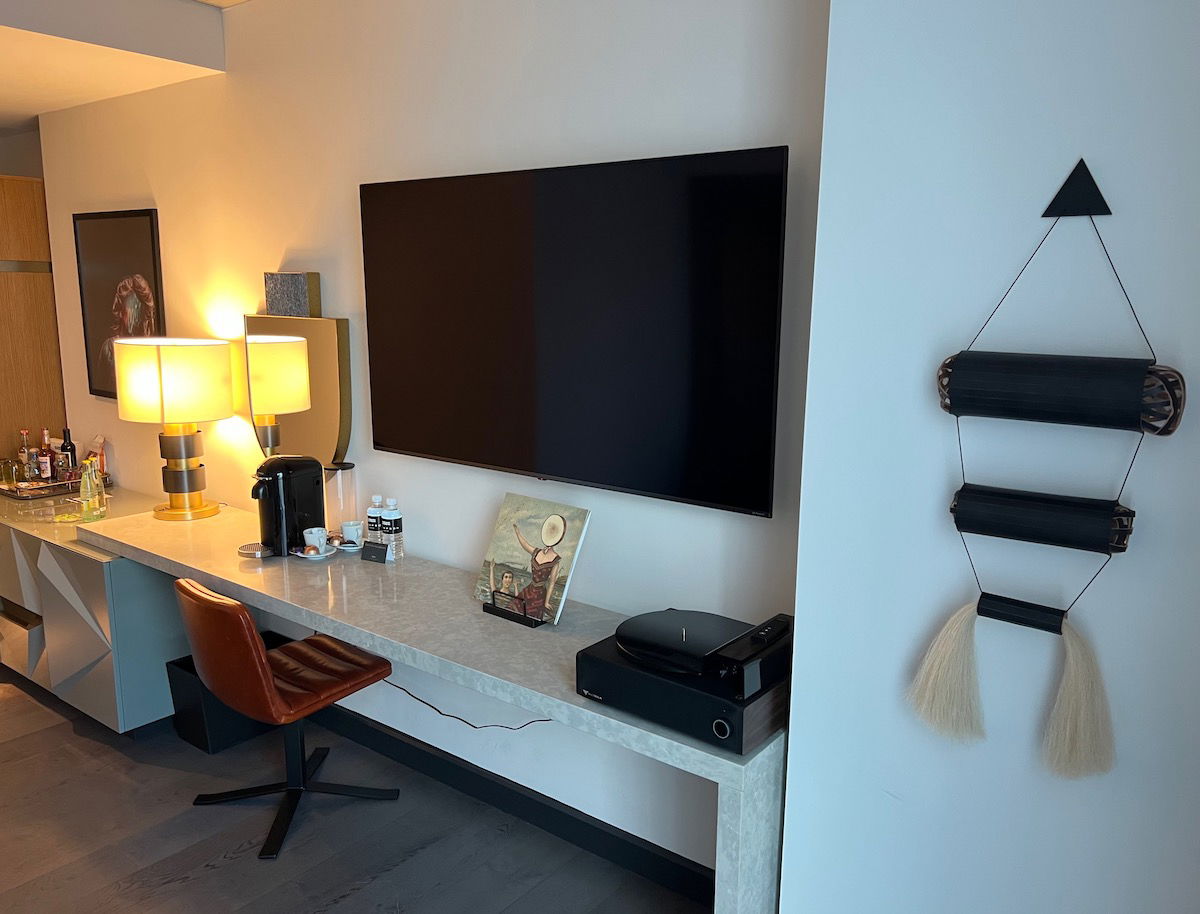 The suite had a Nespresso coffee machine on the desk. While there was sugar, there was no milk or creamer of any sort.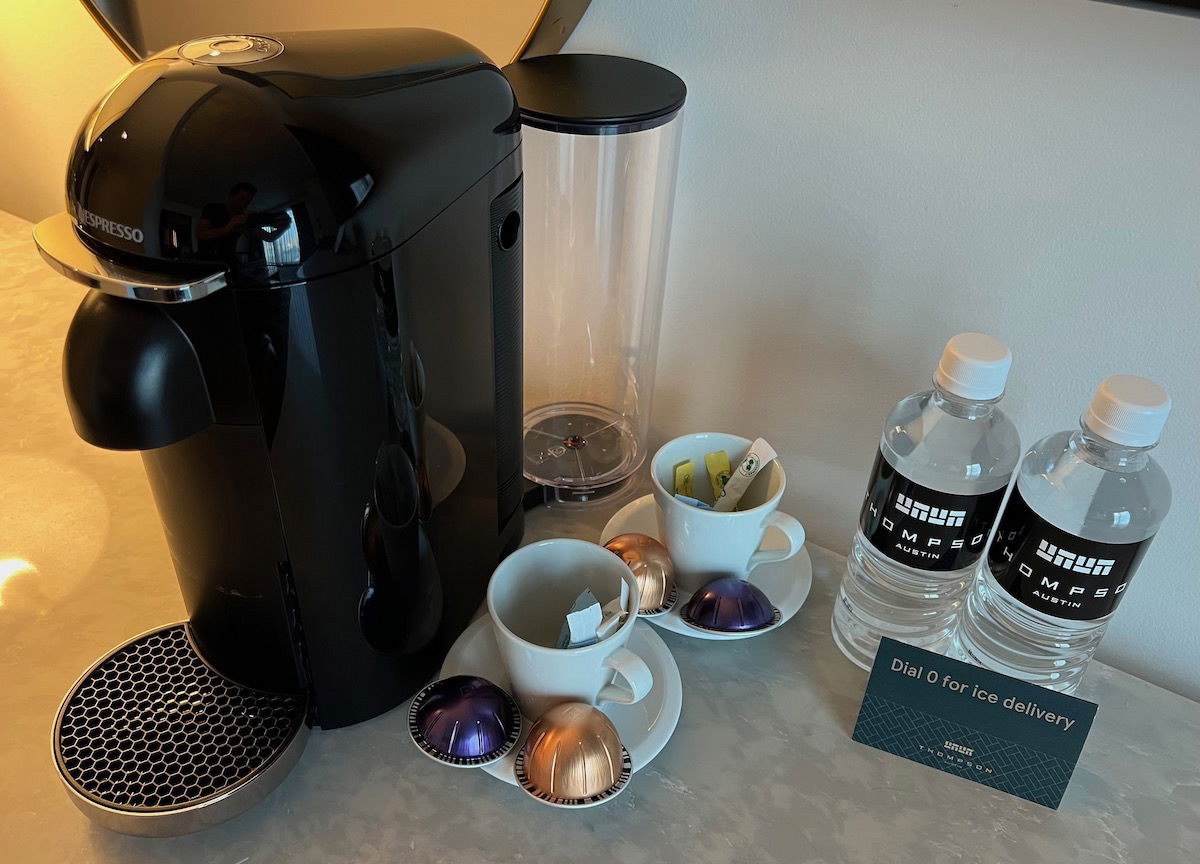 Then there was the minibar, which had a selection of drinks and snacks available for purchase.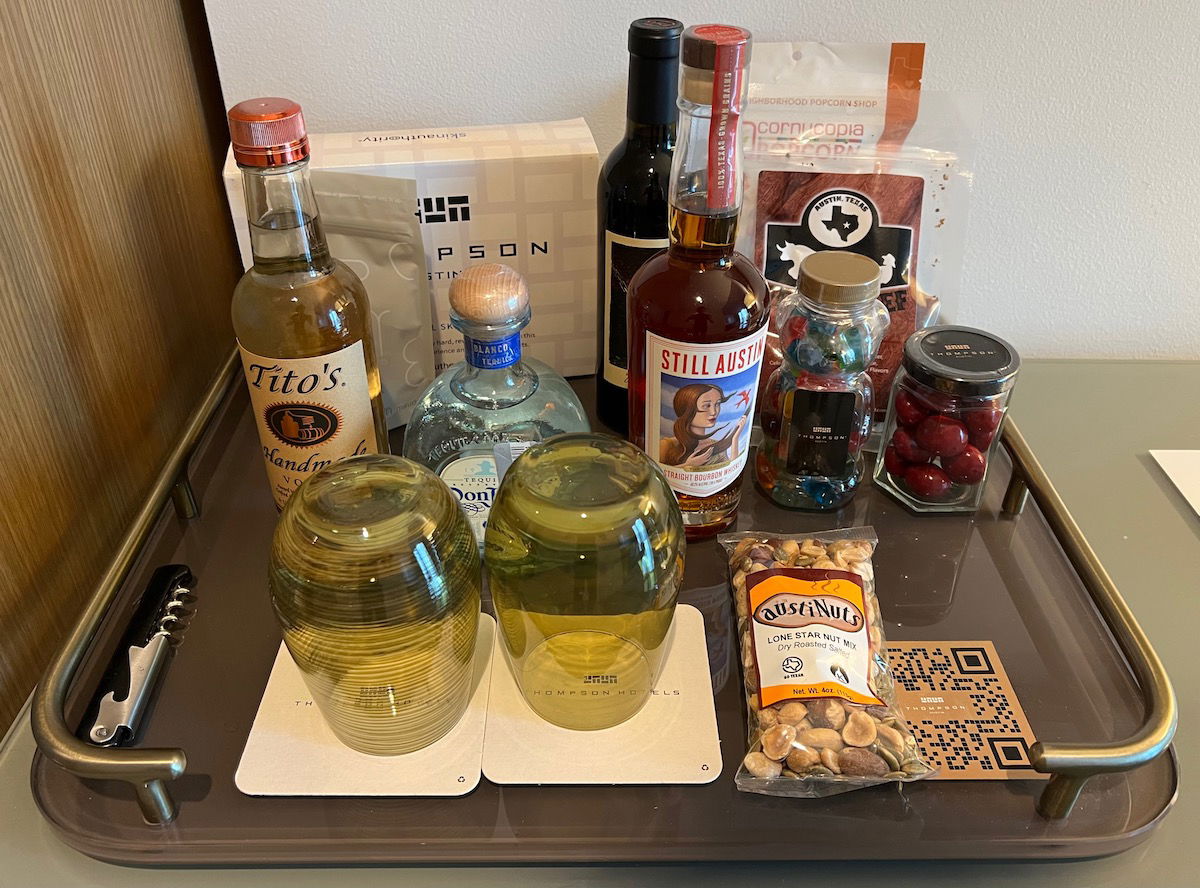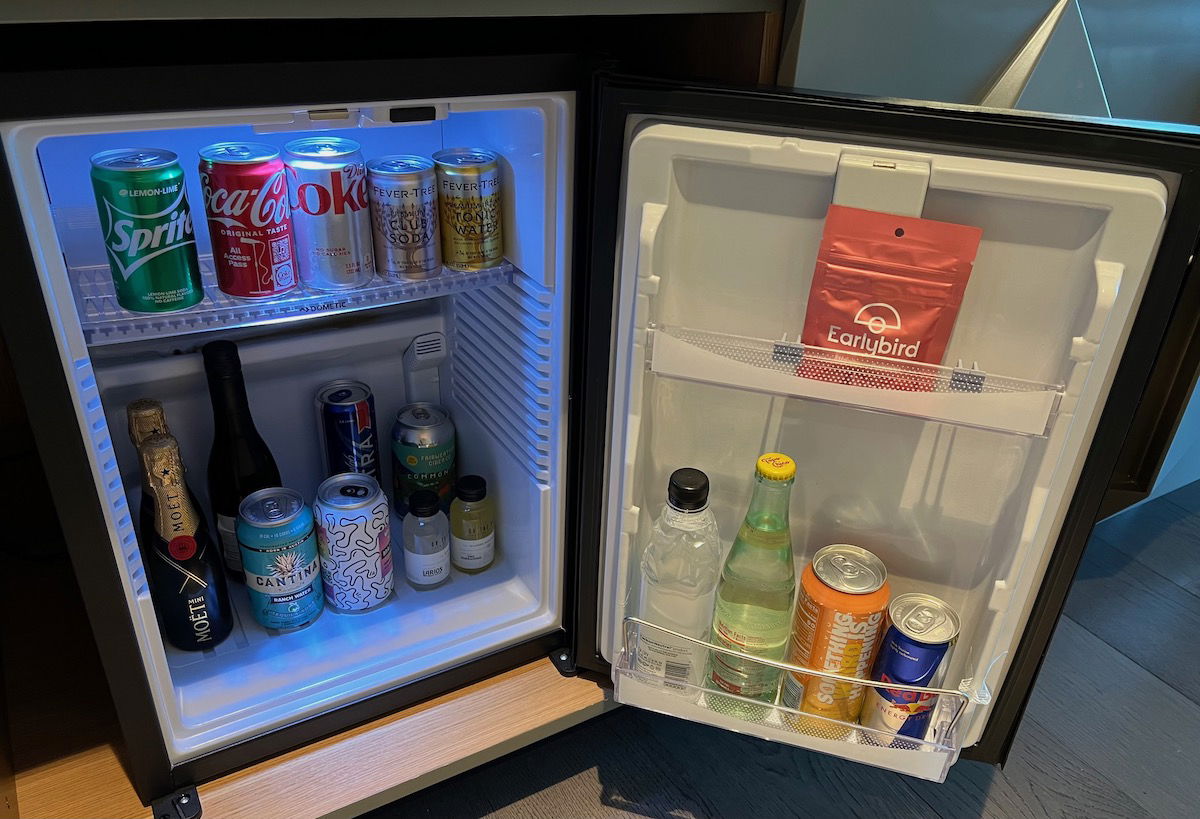 Also near the minibar was a welcome amenity, consisting of two bottles of Topo Chico sparkling water, plus a cookie.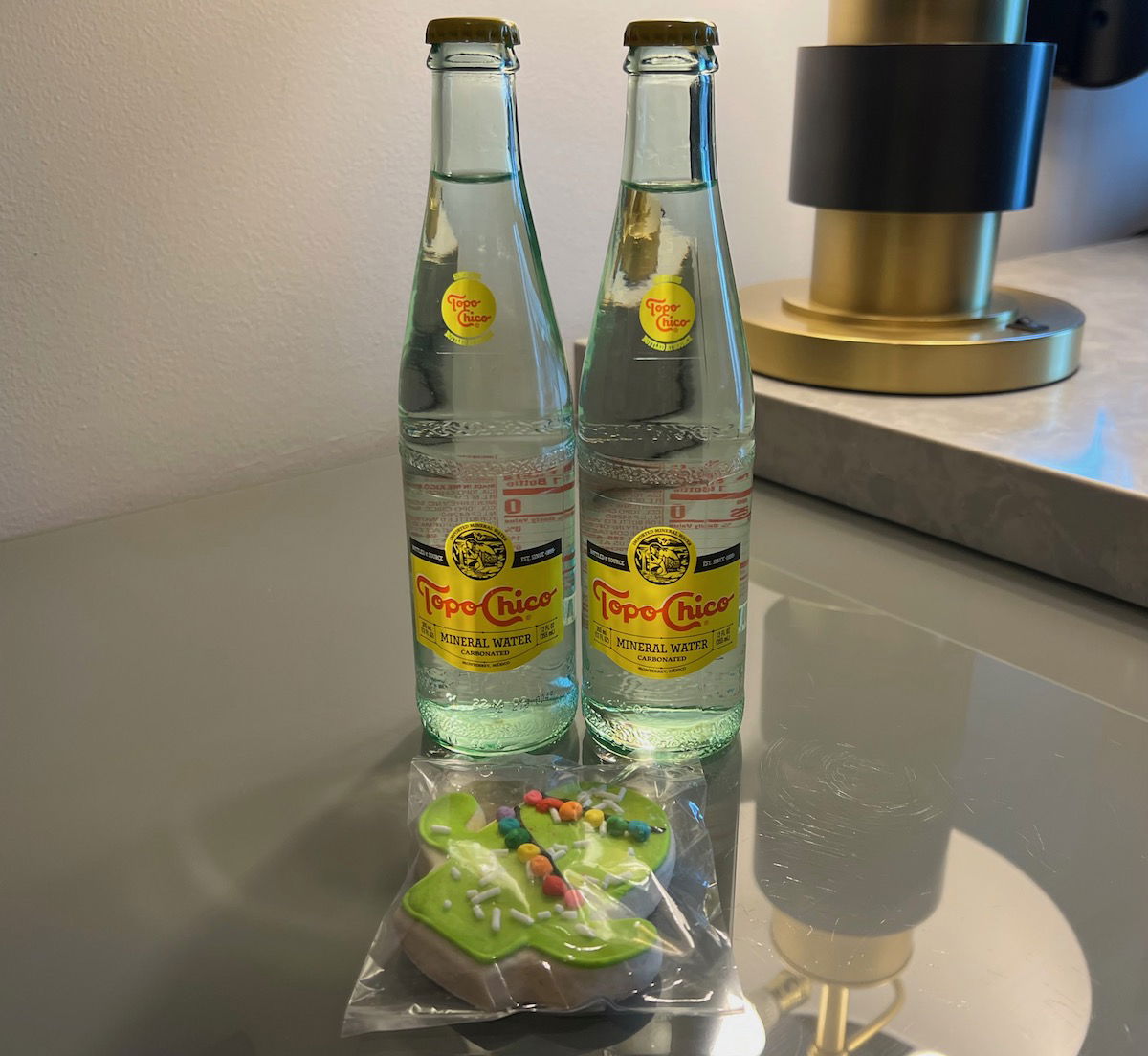 There was a half bath off the living room, featuring a toilet and sink.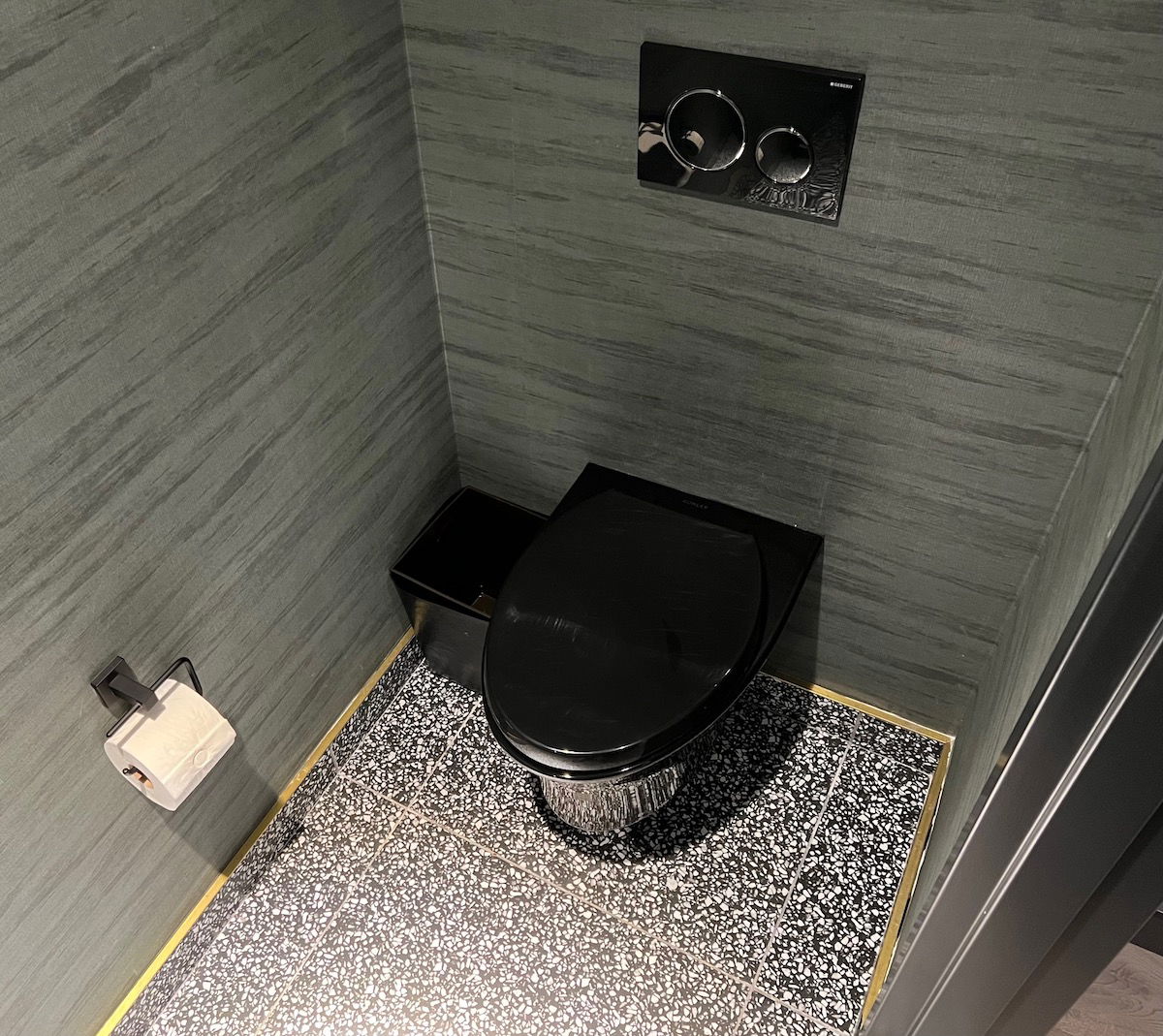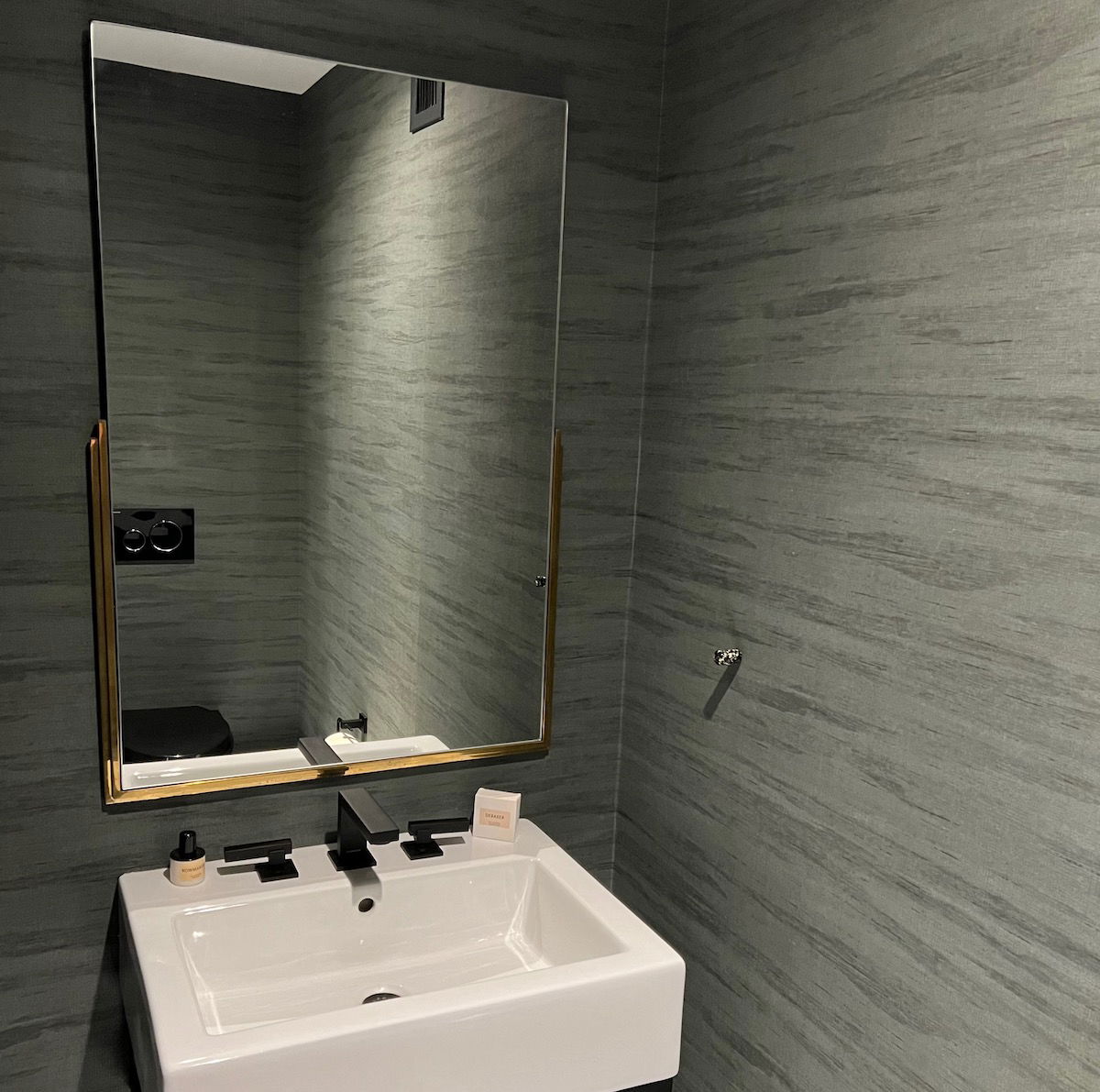 The bedroom had a comfortable king size bed, plus another TV.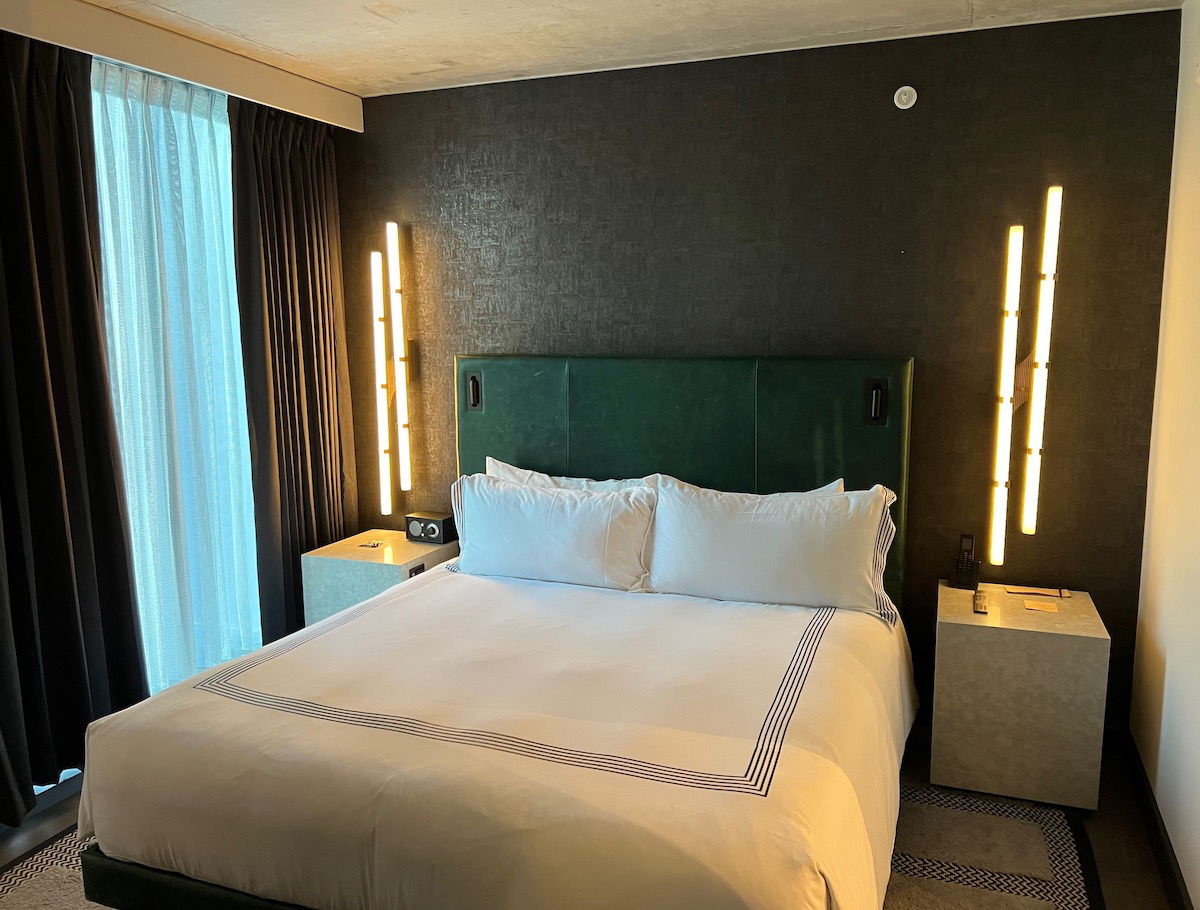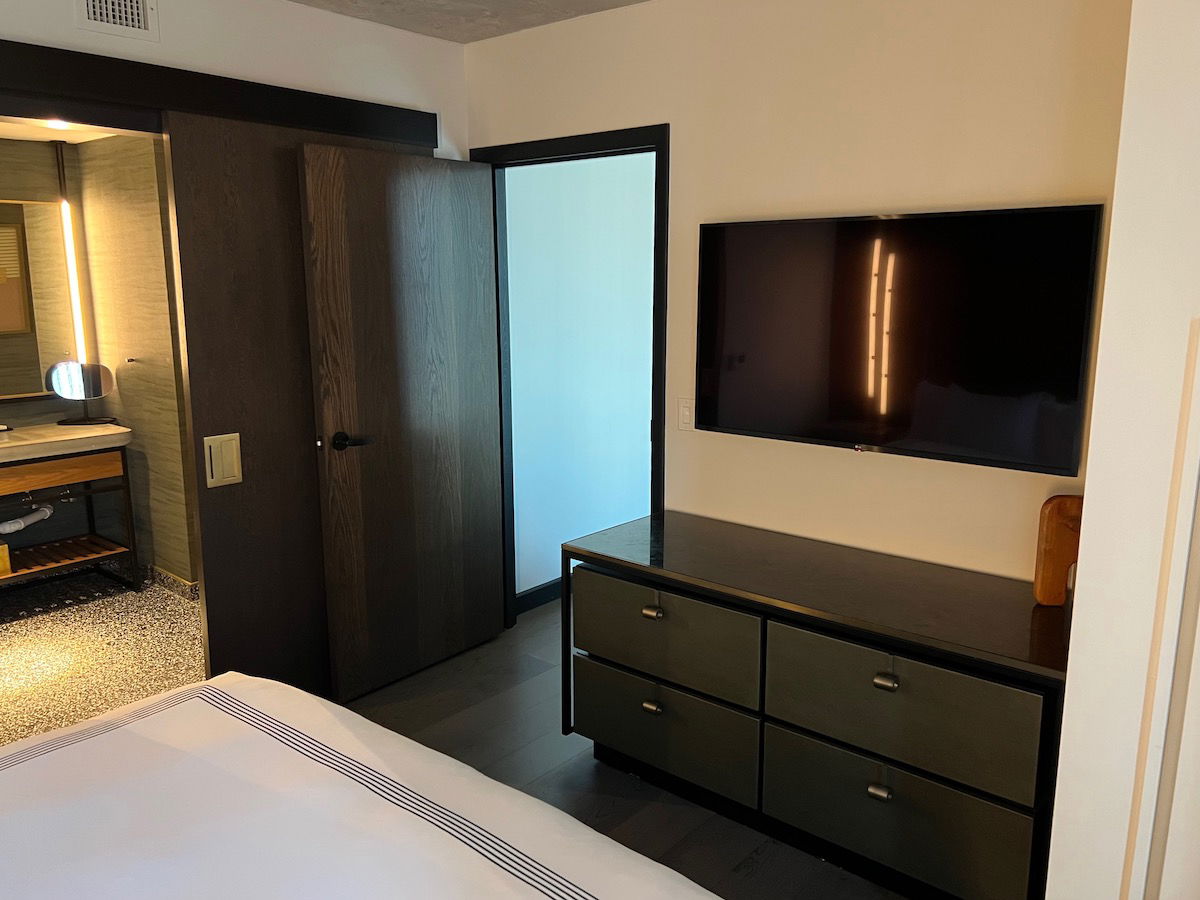 There was a sliding door separating the bedroom from the main bathroom. The bathroom had a single sink, a partitioned off toilet, and a massive shower with one shower head on each side, which could have easily accommodated a dozen people at once.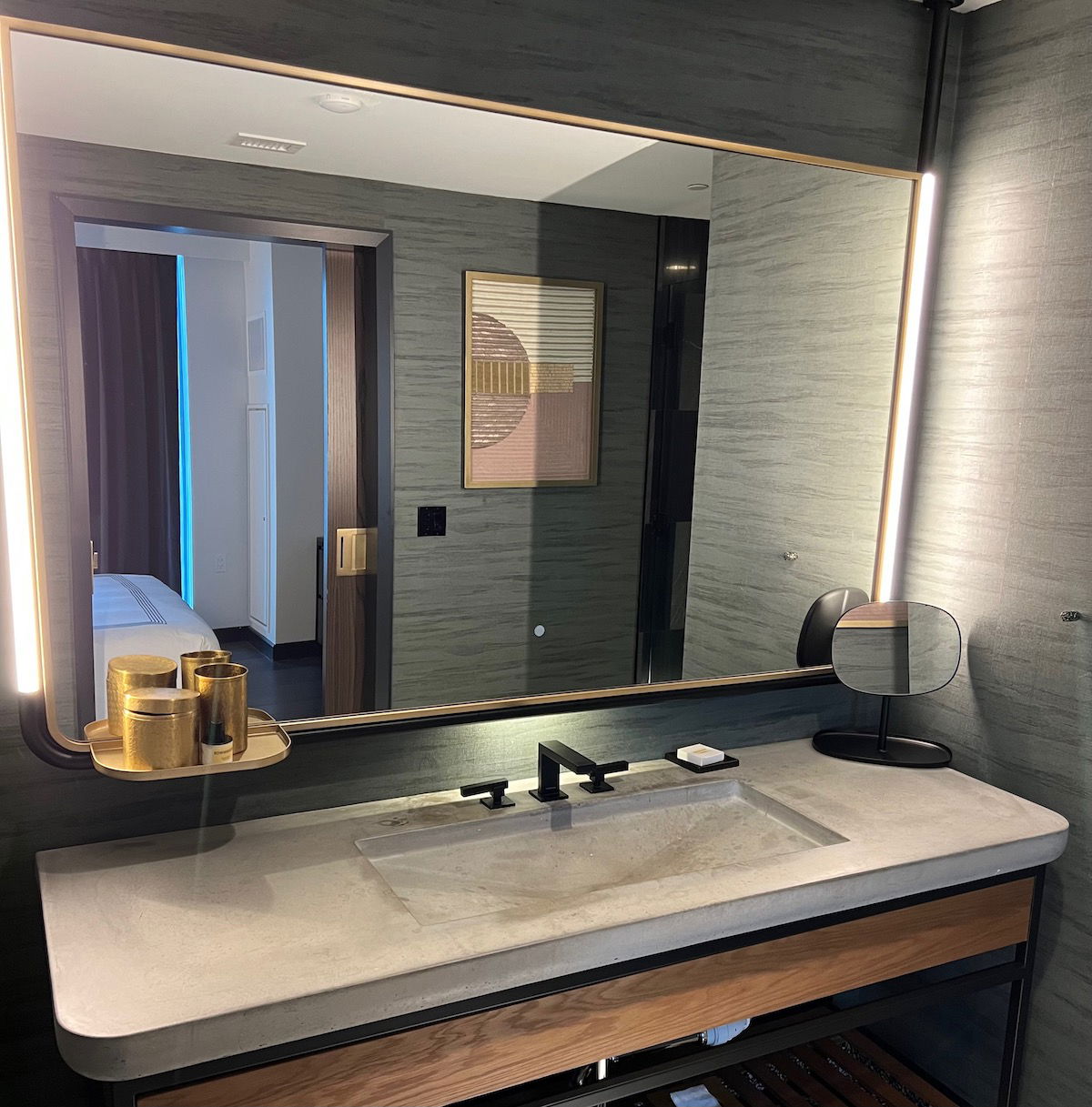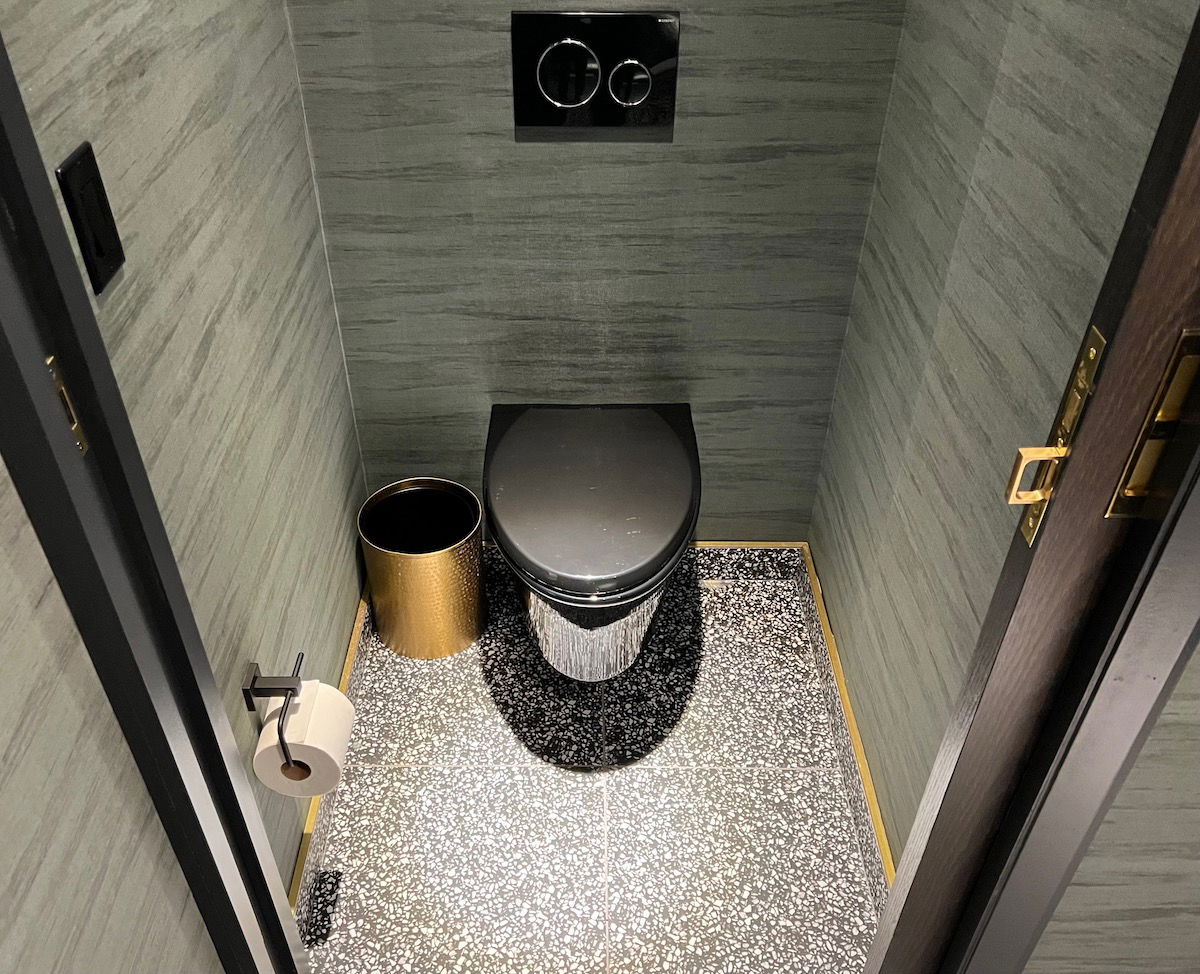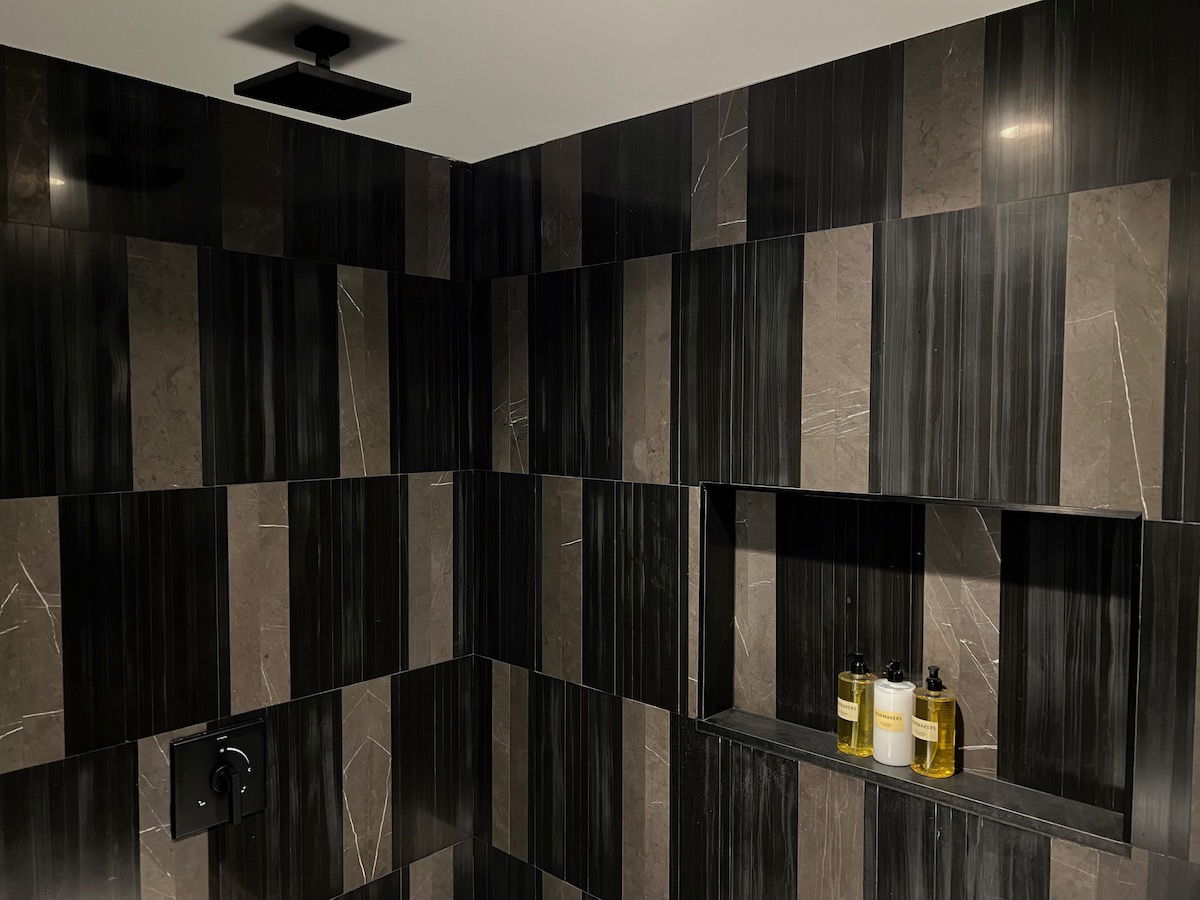 Toiletries were in reusable bottles from Bowmakers.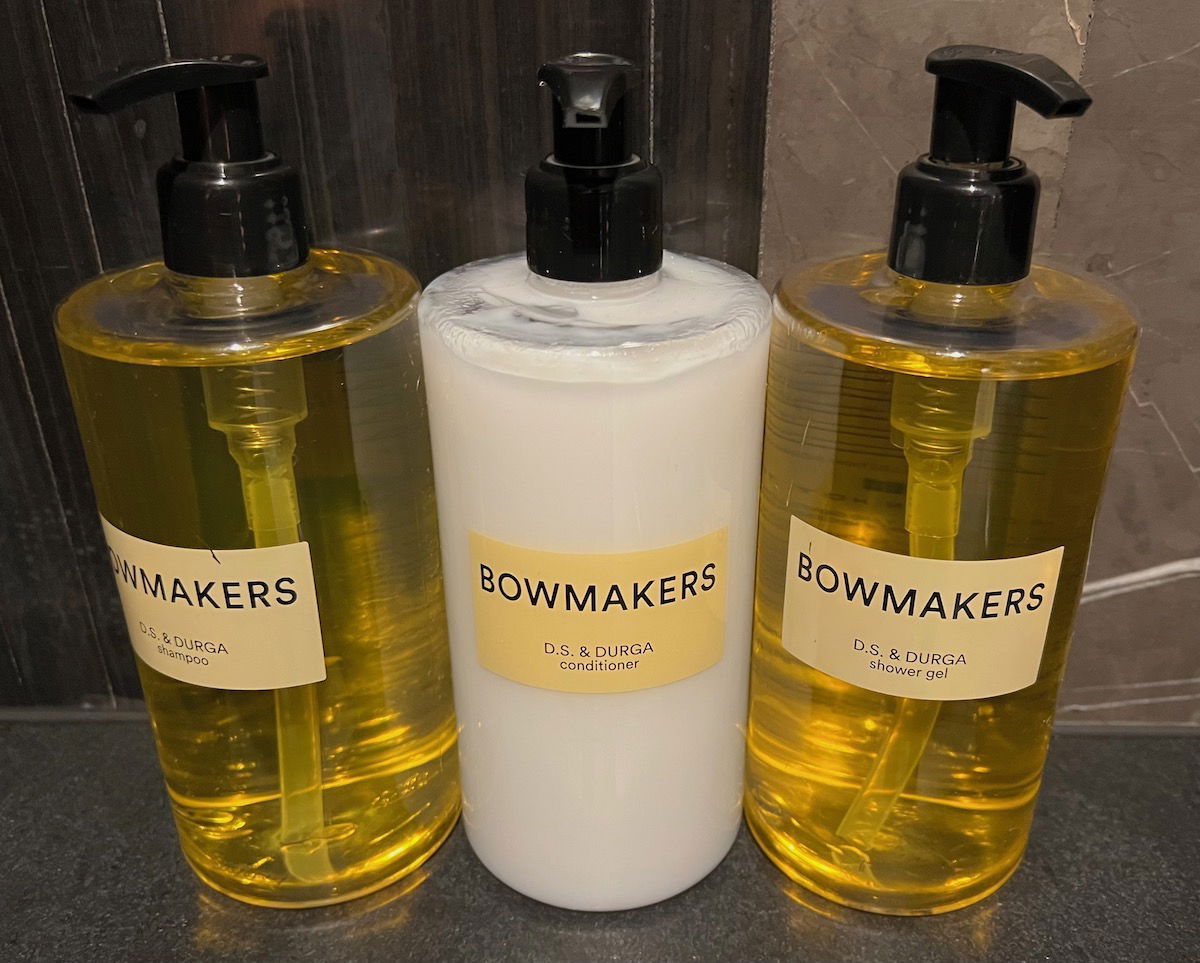 The suite had views of nearby buildings — the Austin skyline sure has a ton of hotels (in the bottom left of the below picture you can see The Driskill, another Hyatt property).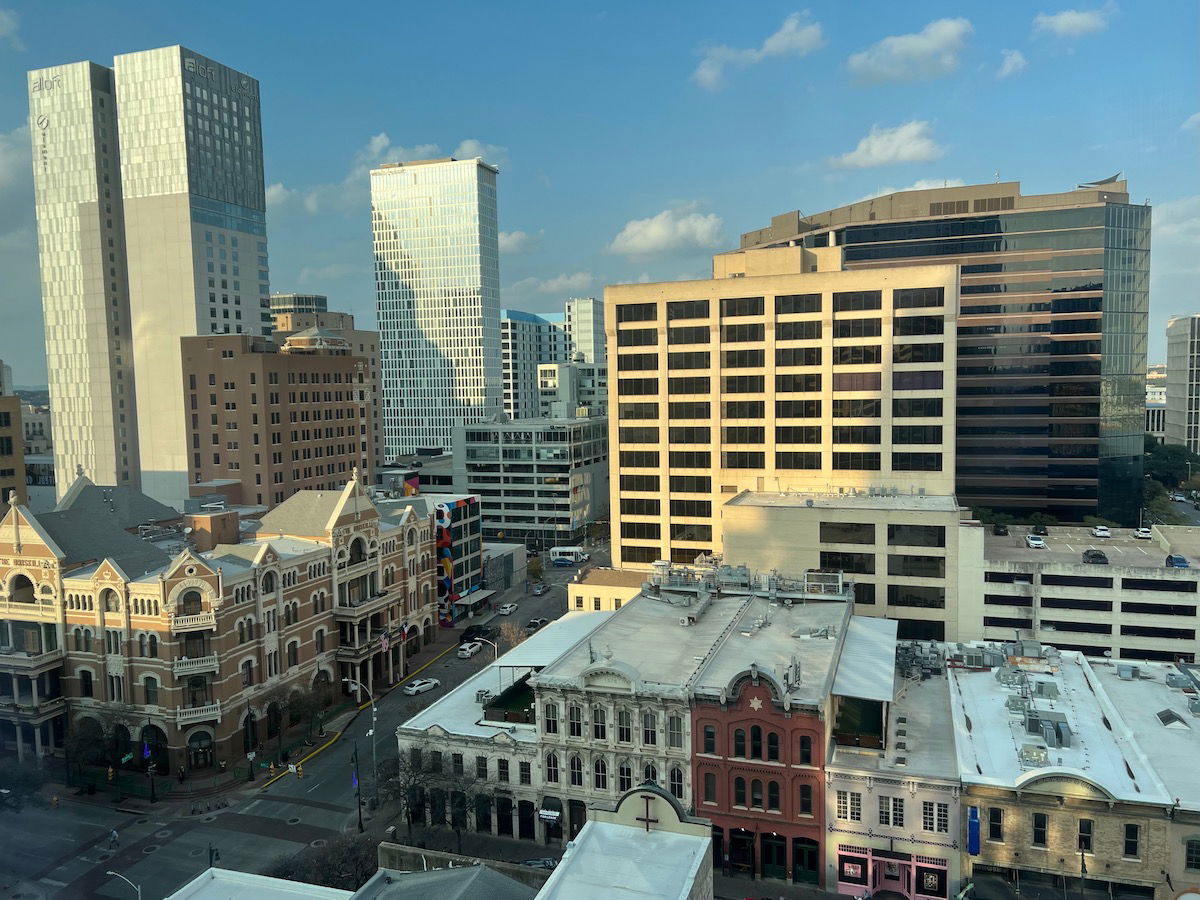 You're probably thinking "well that suite looks pretty nice." I'd agree with that — the issue is that the suite felt like it was designed by someone who never stayed in a hotel before, and no thought was put into the actual design choices that impact the guest experience. Let me provide some examples:
There were no outlets on top of the desk, and the two outlets underneath the desk were occupied with the coffee machine and a lamp; who designs a desk with no outlets?!
The living room was sort of uselessly small; it had a single couch, so it would have been nice if there were another chair, or something, since often the nice part of having a suite is being able to hang out with others
There were two AC power outlets next to the bed on each side, but they were so close together that you couldn't use them at the same time with most types of cords
The sliding door between the bathroom and bedroom wouldn't stay closed, but would keep sliding open; while there's a lock, at times that was hard to open, and I almost thought I was stuck in there
It's odd to me to have one of the biggest showers I've ever seen in a suite, all while having a single sink in the main bathroom
I know black toilets might look nice right after they're cleaned, but I've never seen a black toilet that doesn't look awful after it's used in any capacity
The materials largely felt cheap, and the lighting wasn't doing the room any favors in terms of wear & tear; for example, take a look at the below picture of the door to the half bathroom
Something was funky with the air conditioner in the room; I'm not particularly temperature sensitive, but at night I found that it was either way too warm or way too cold in the room, to the point that I'd wake up, despite having the same setting on all night
There's no phone in the living room, but rather only in the bedroom; if you're staying in a full suite, it's nice to be able to separate the two areas in case someone wants to sleep, but then there's no way to call down without going into the bedroom
There's a master lighting switch at the main door to the room, but it's not labeled as such; I only realized this after spending several minutes trying to get any lights to turn on
Since the room had a concrete ceiling, there were no central lights in the living room or bedroom, which meant the lighting at night was poor
These are all individually minor gripes, and it's not that any of these made my stay horrible. It's more that I was frustrated by how thoughtless the design was in so many ways. Does no one test out these room designs before they decide to roll them out on a widespread basis?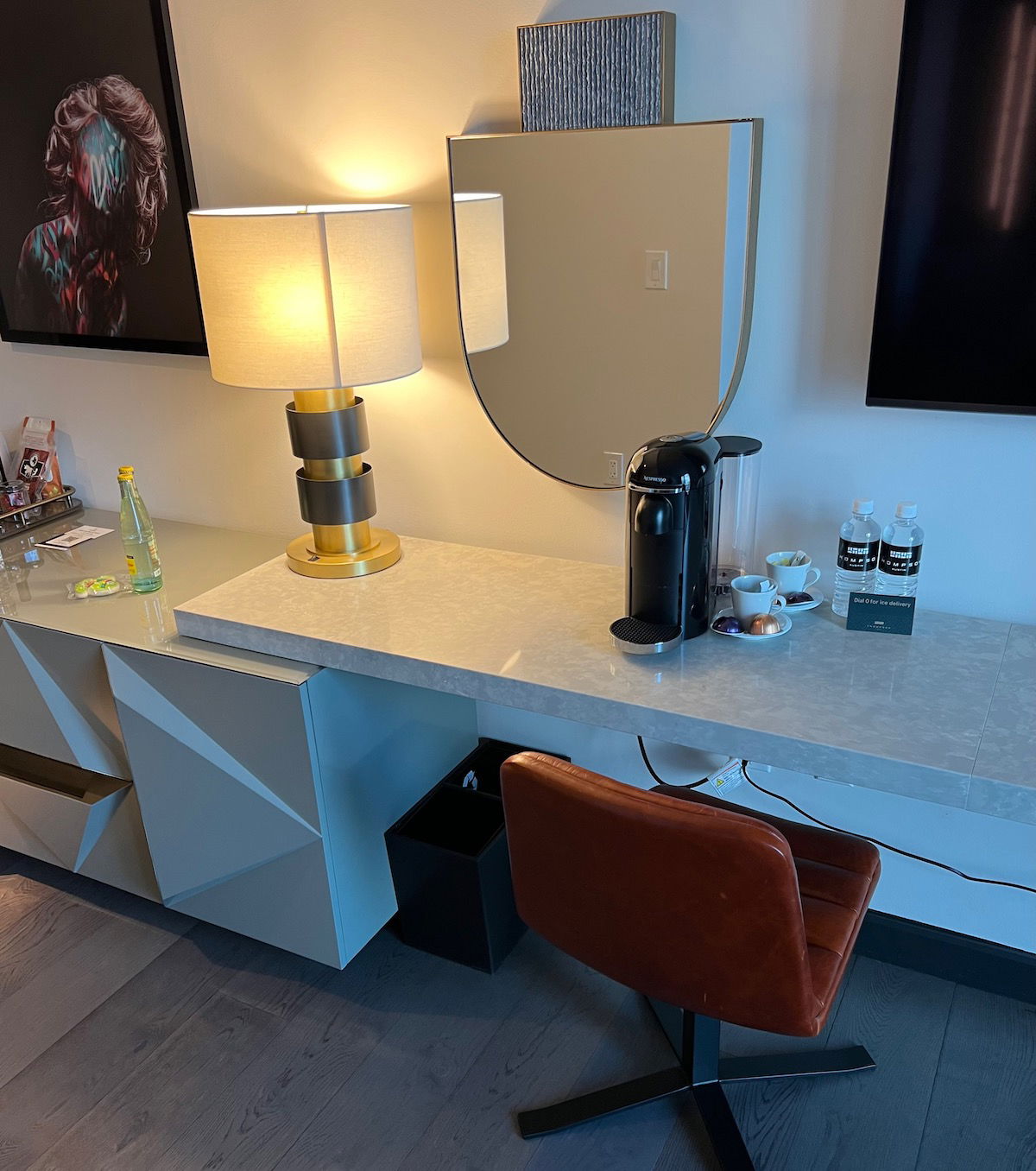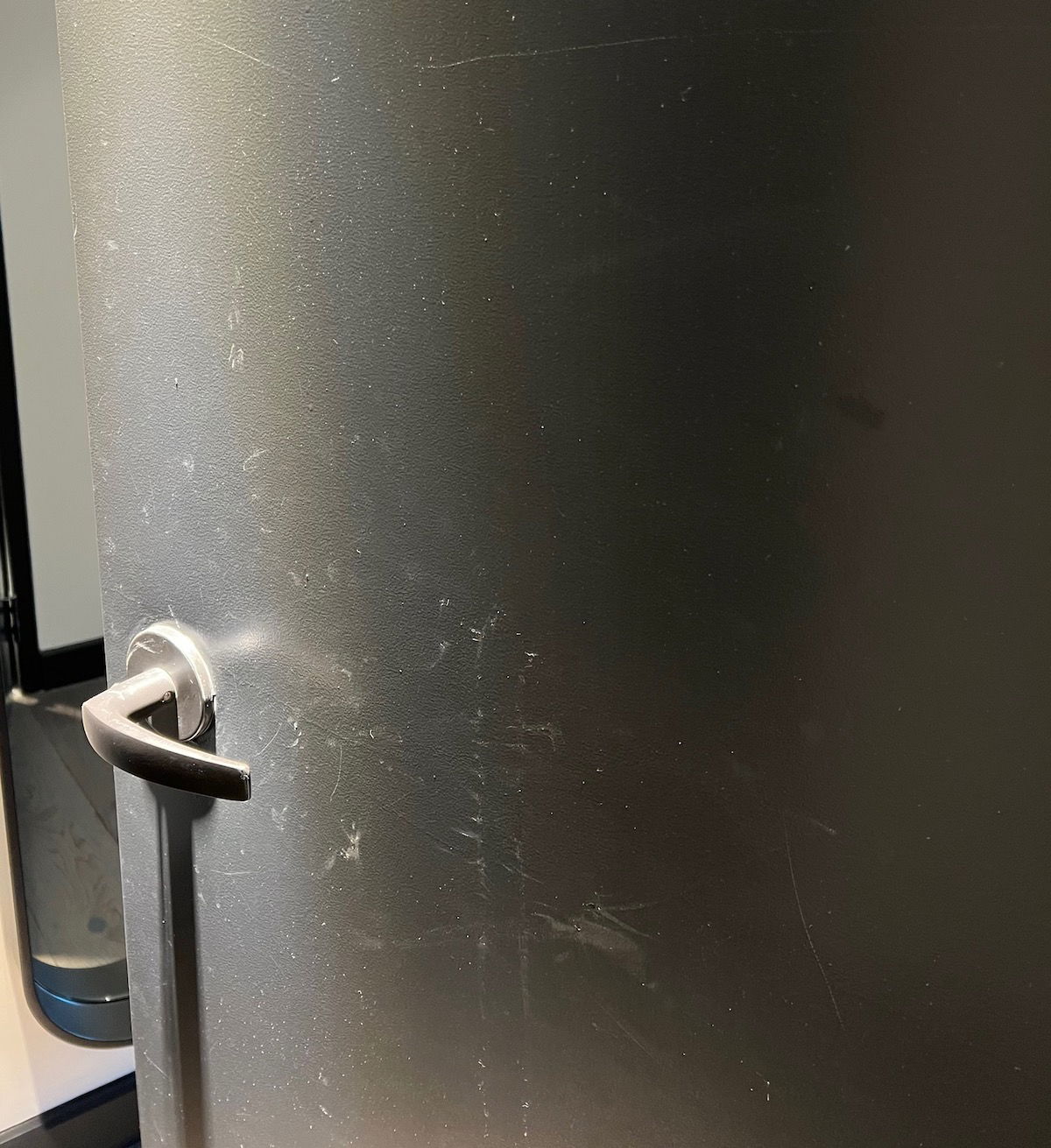 Thompson Austin gym
The Thompson Austin's gym is located on the third floor, and it's incredible, easily one of the best hotel gyms I've seen. It has a ton of cardio and weight equipment, and there's even a golf simulator you can book.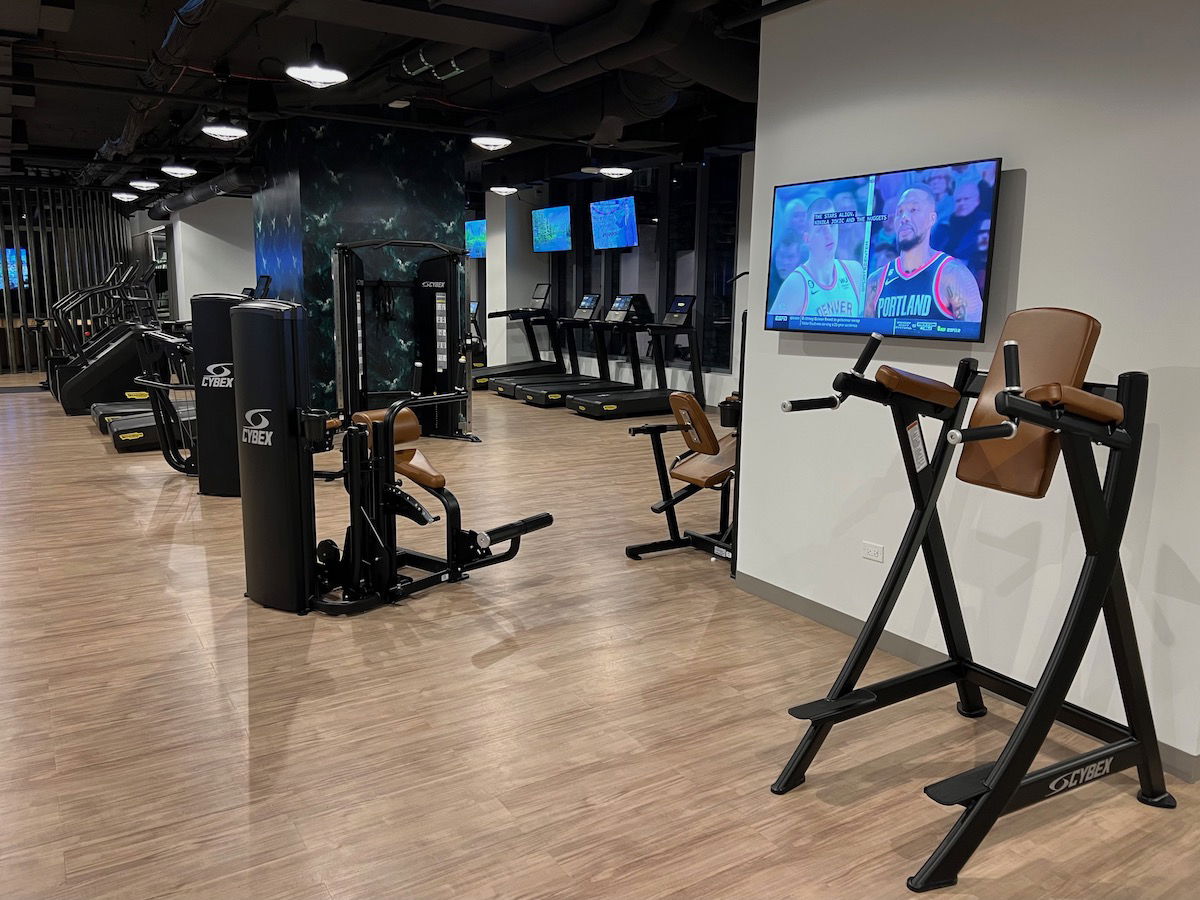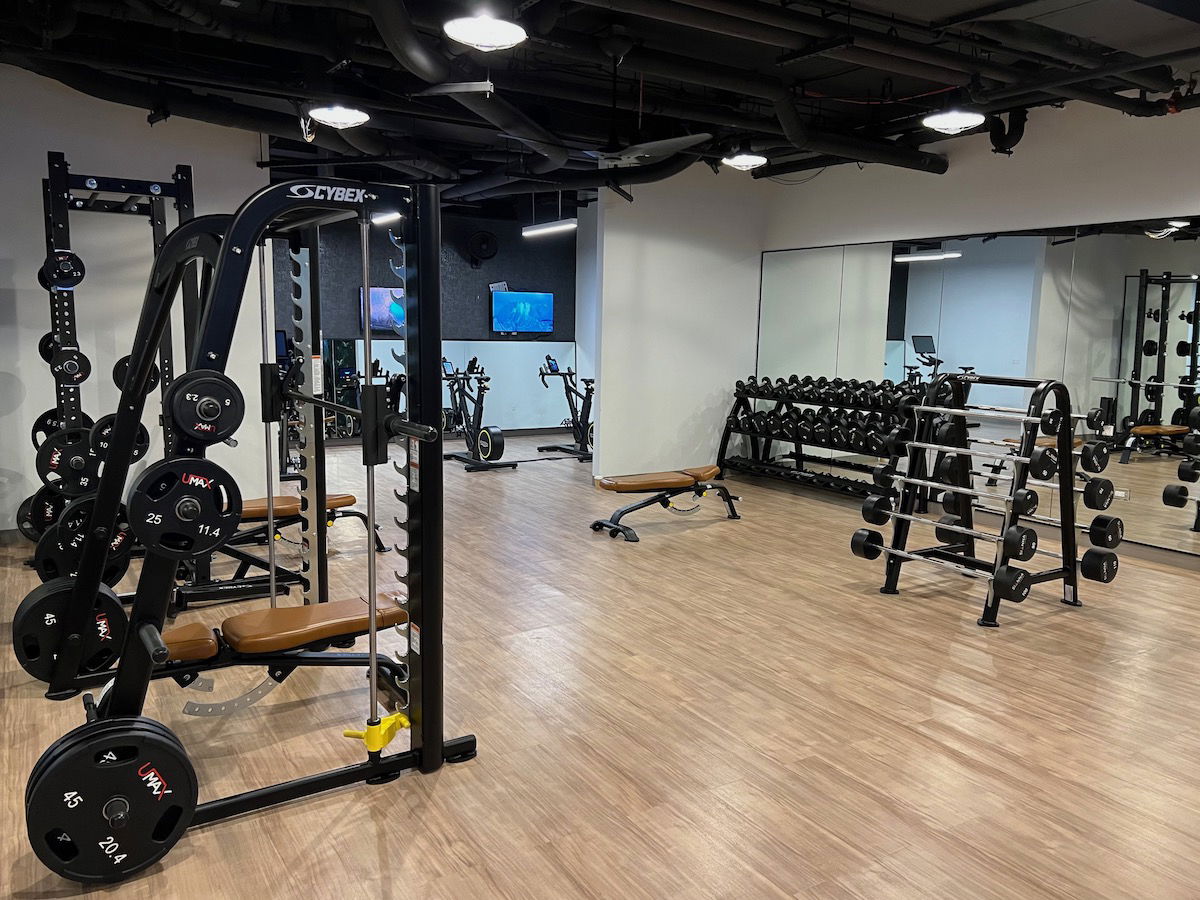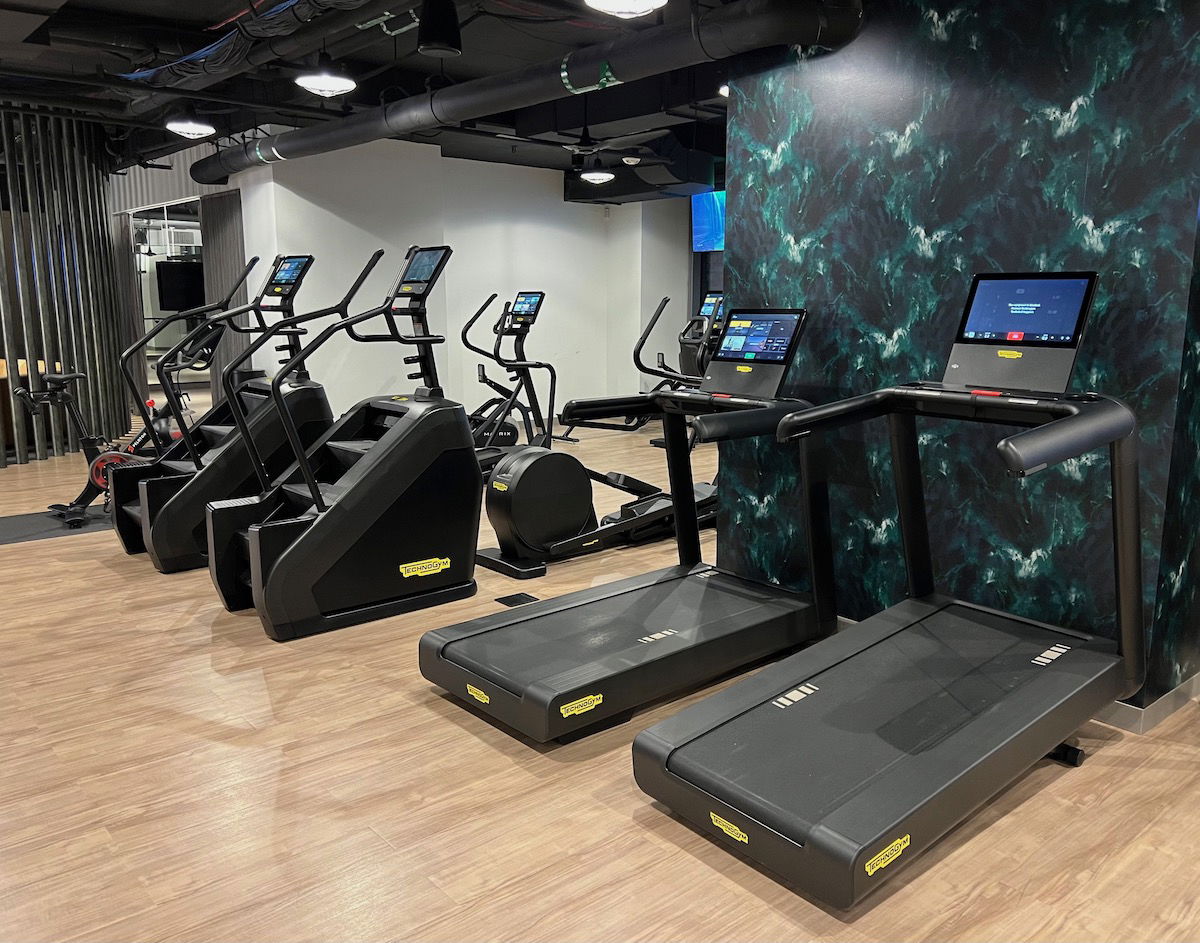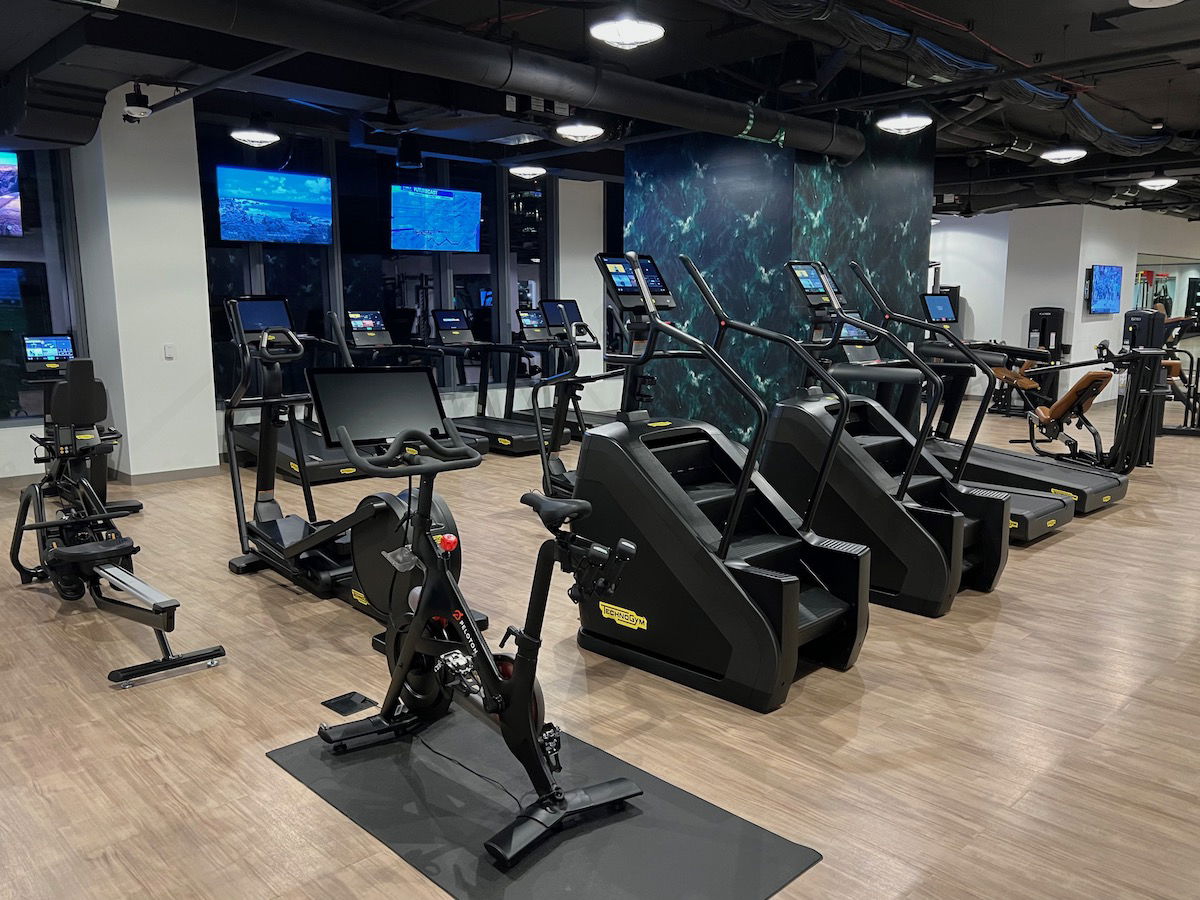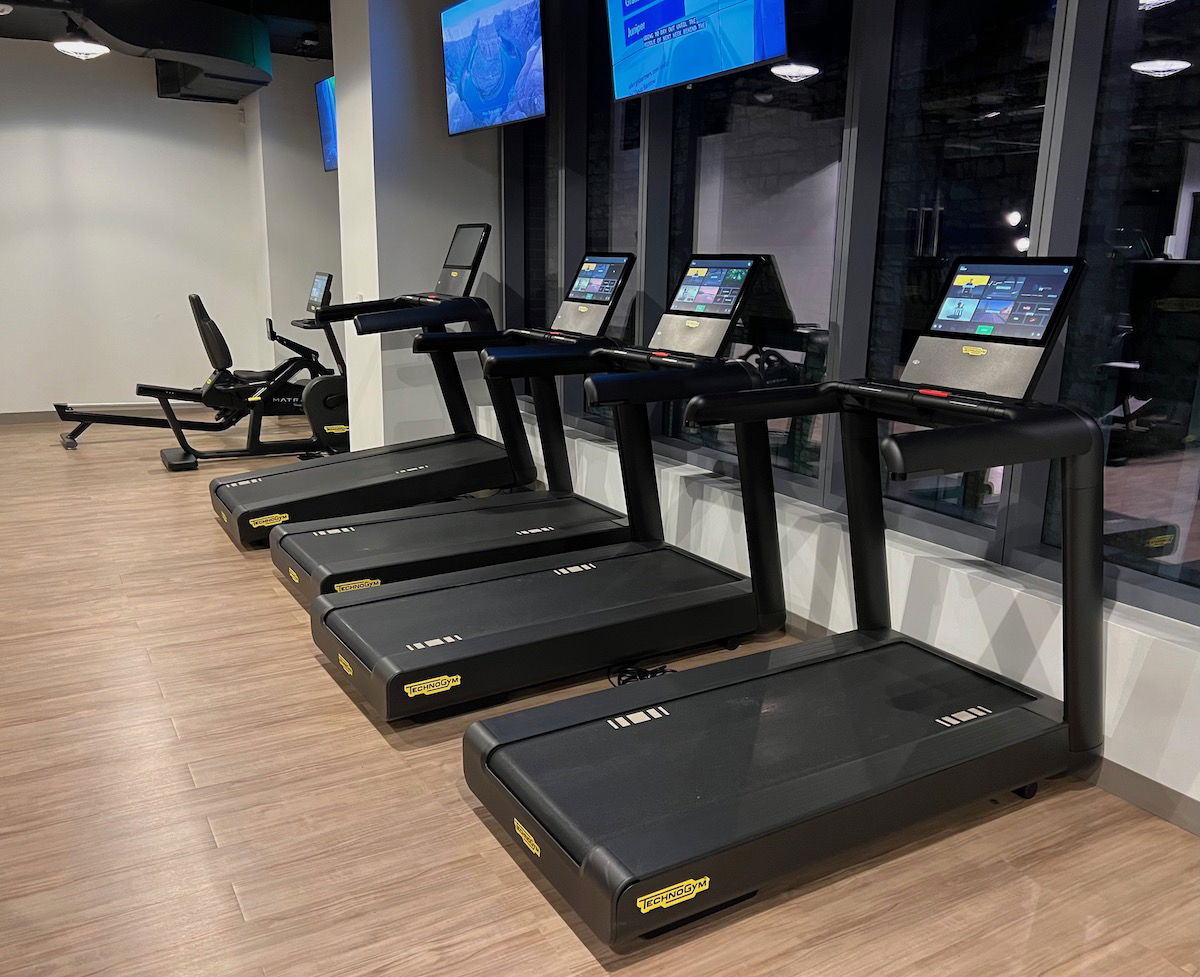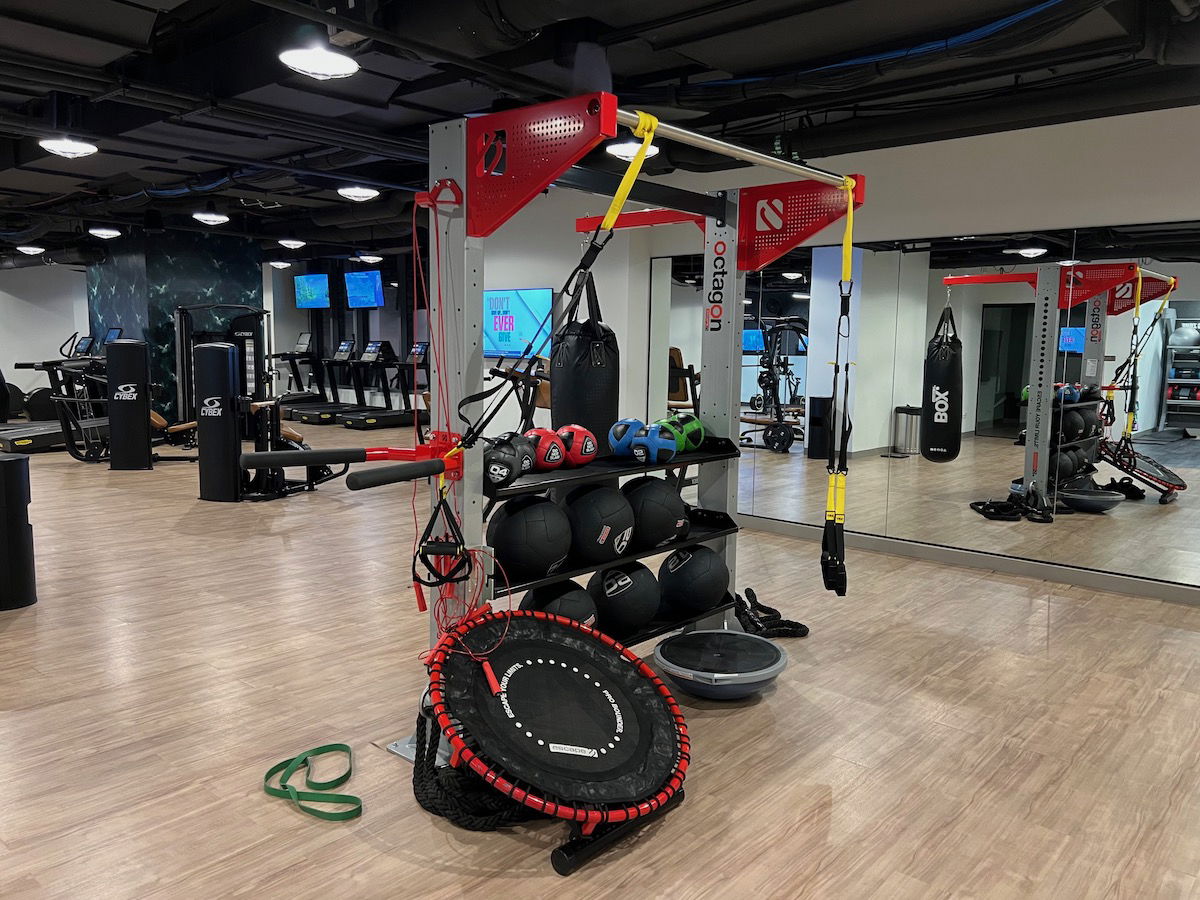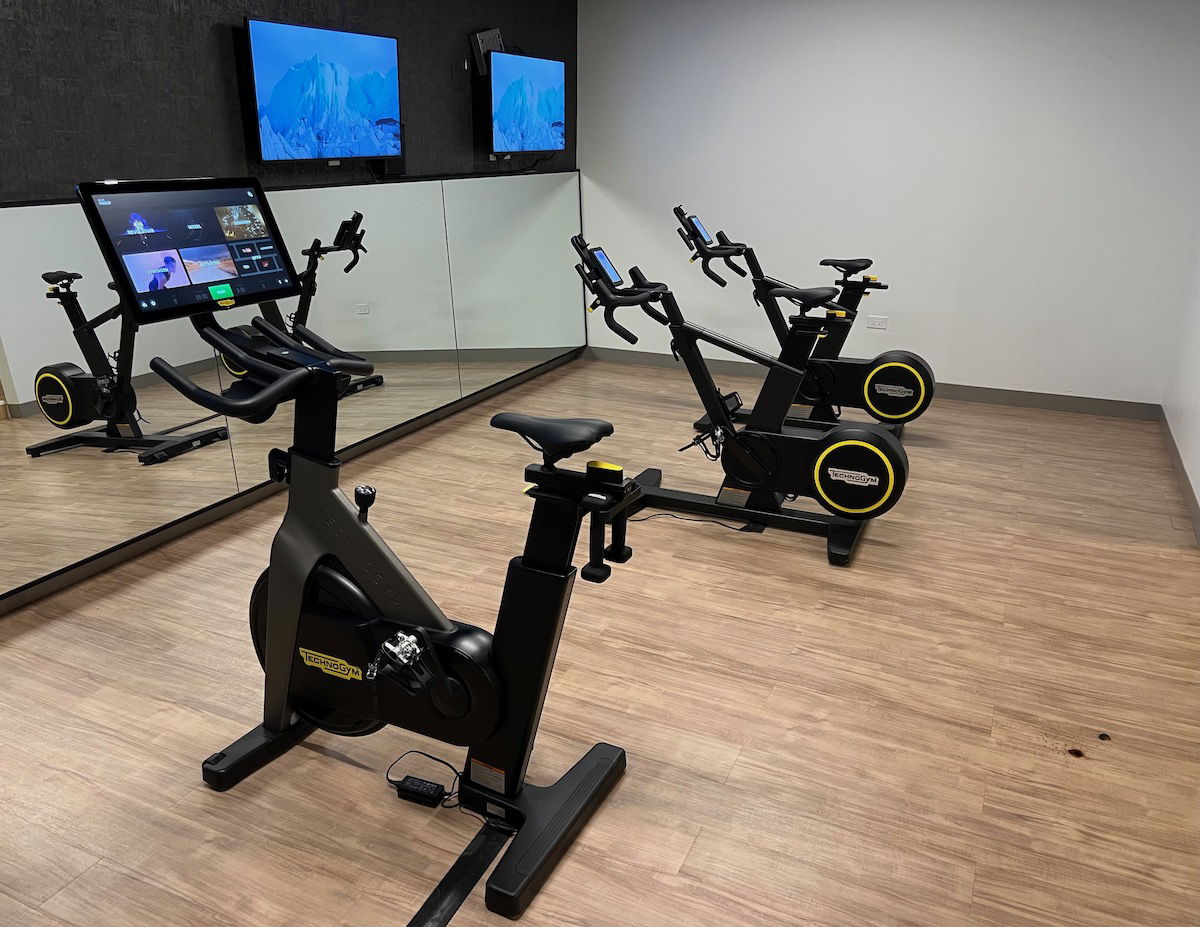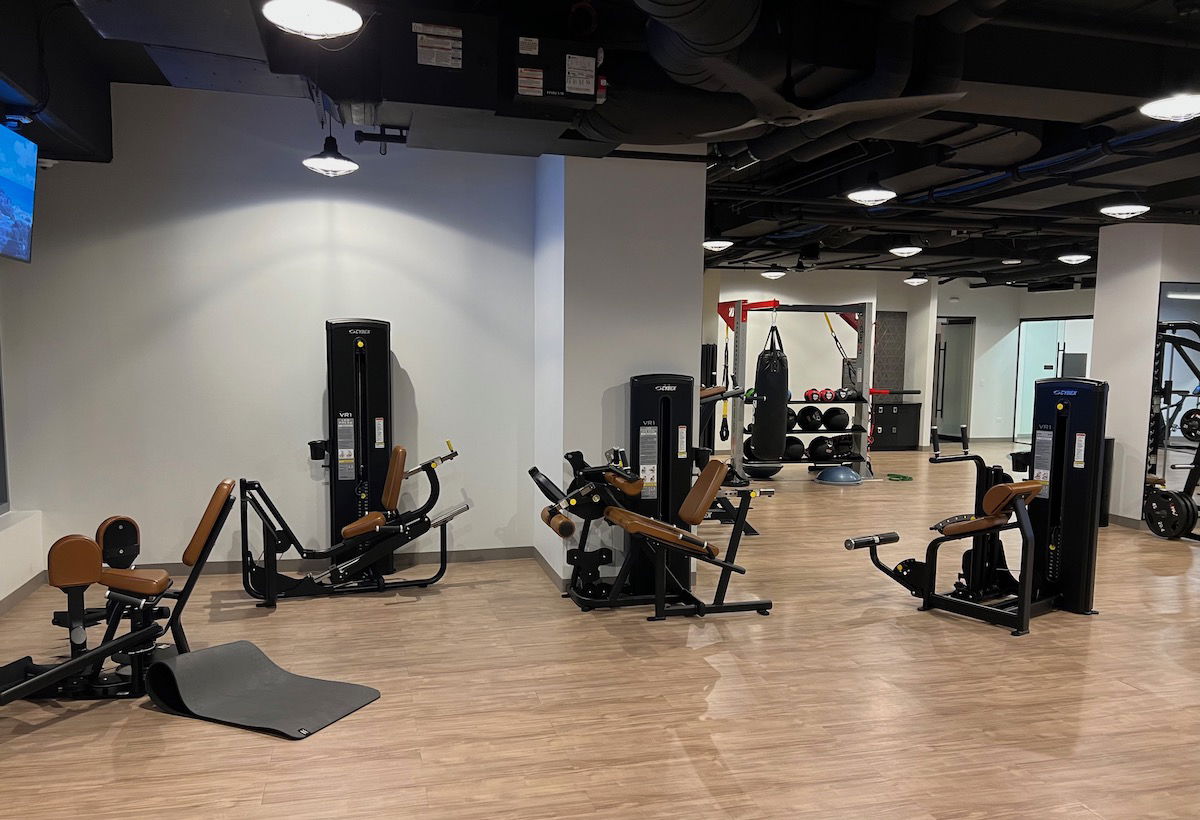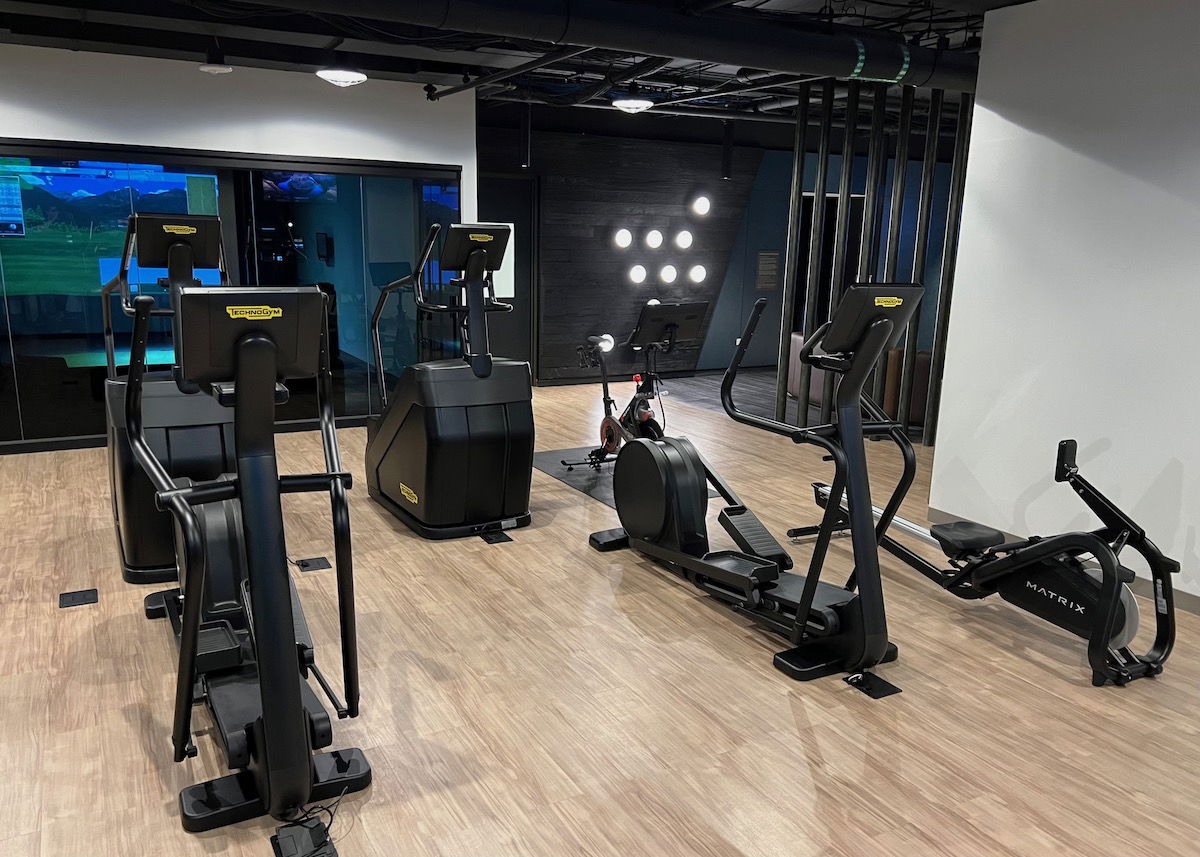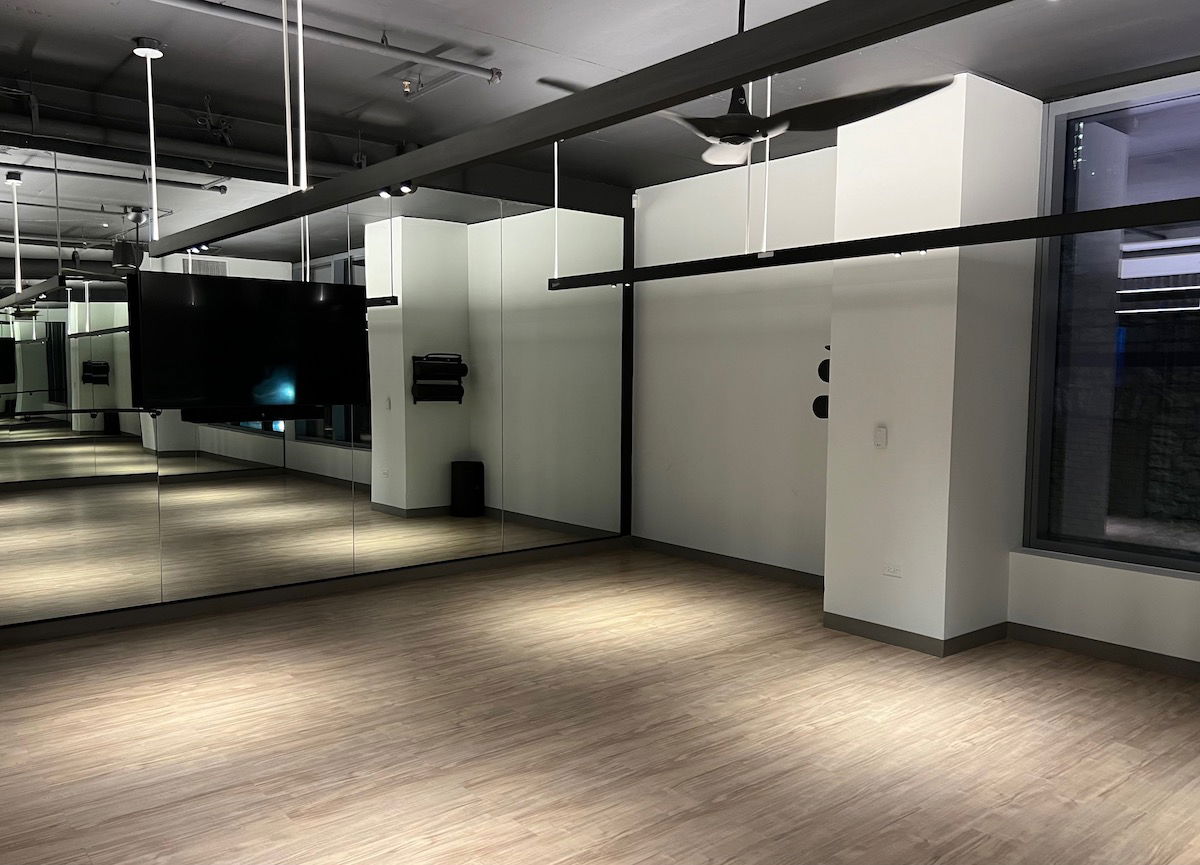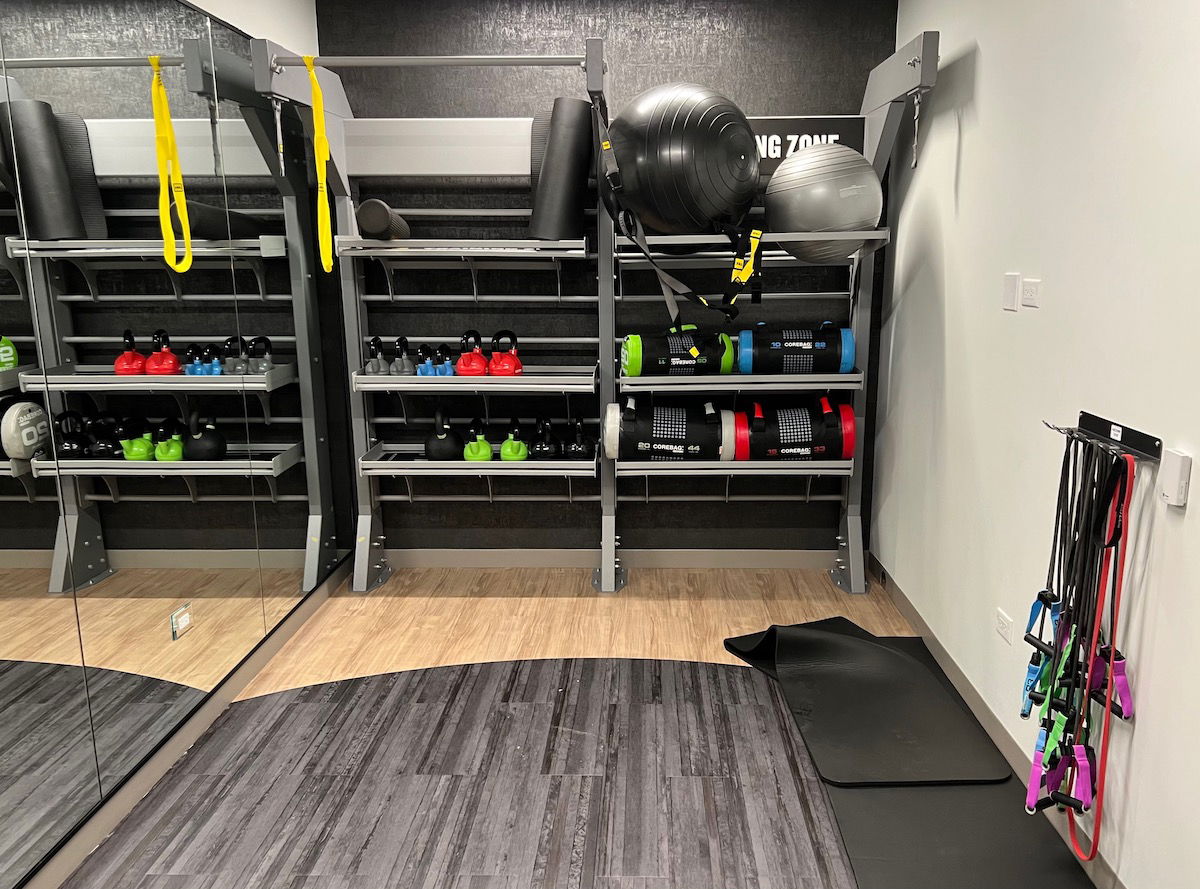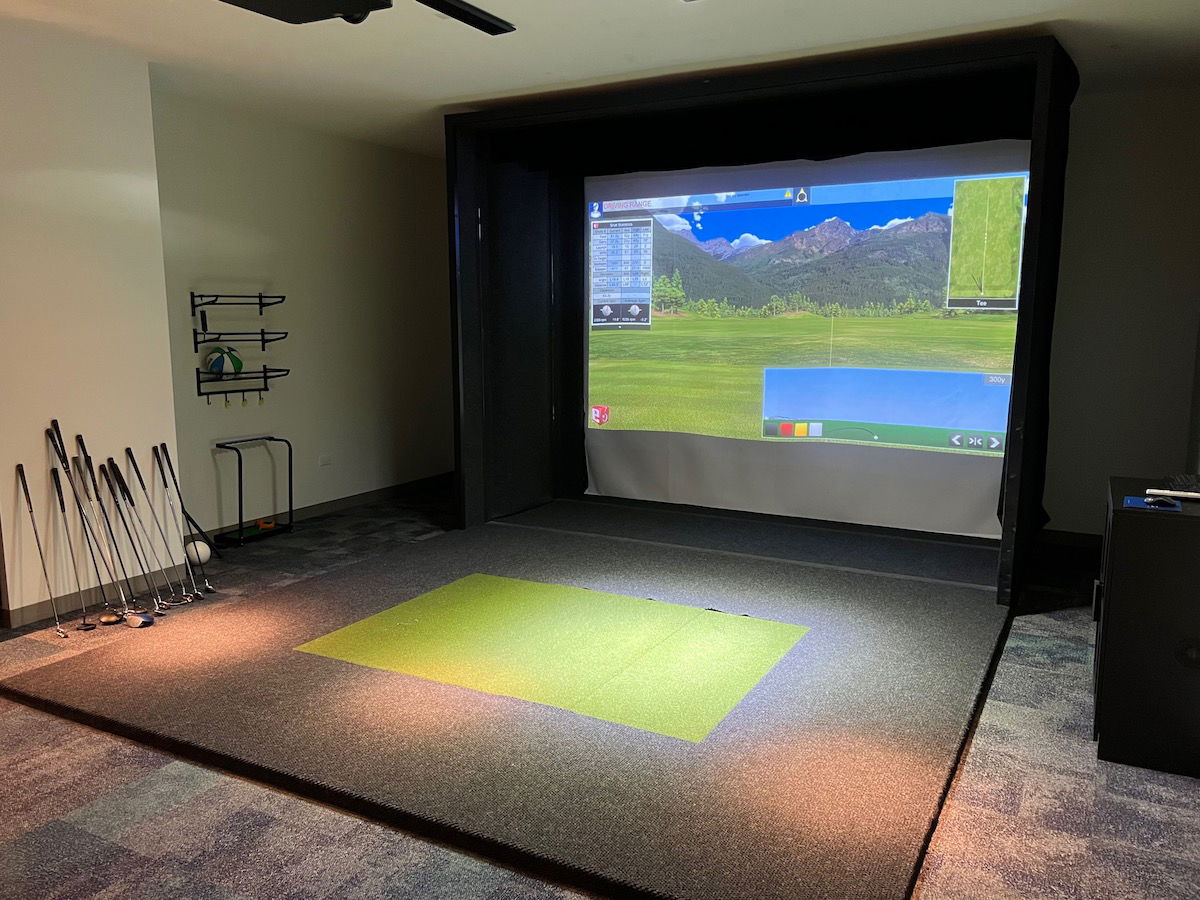 The gym also had bottled water, in both Thompson and tommie branded bottles.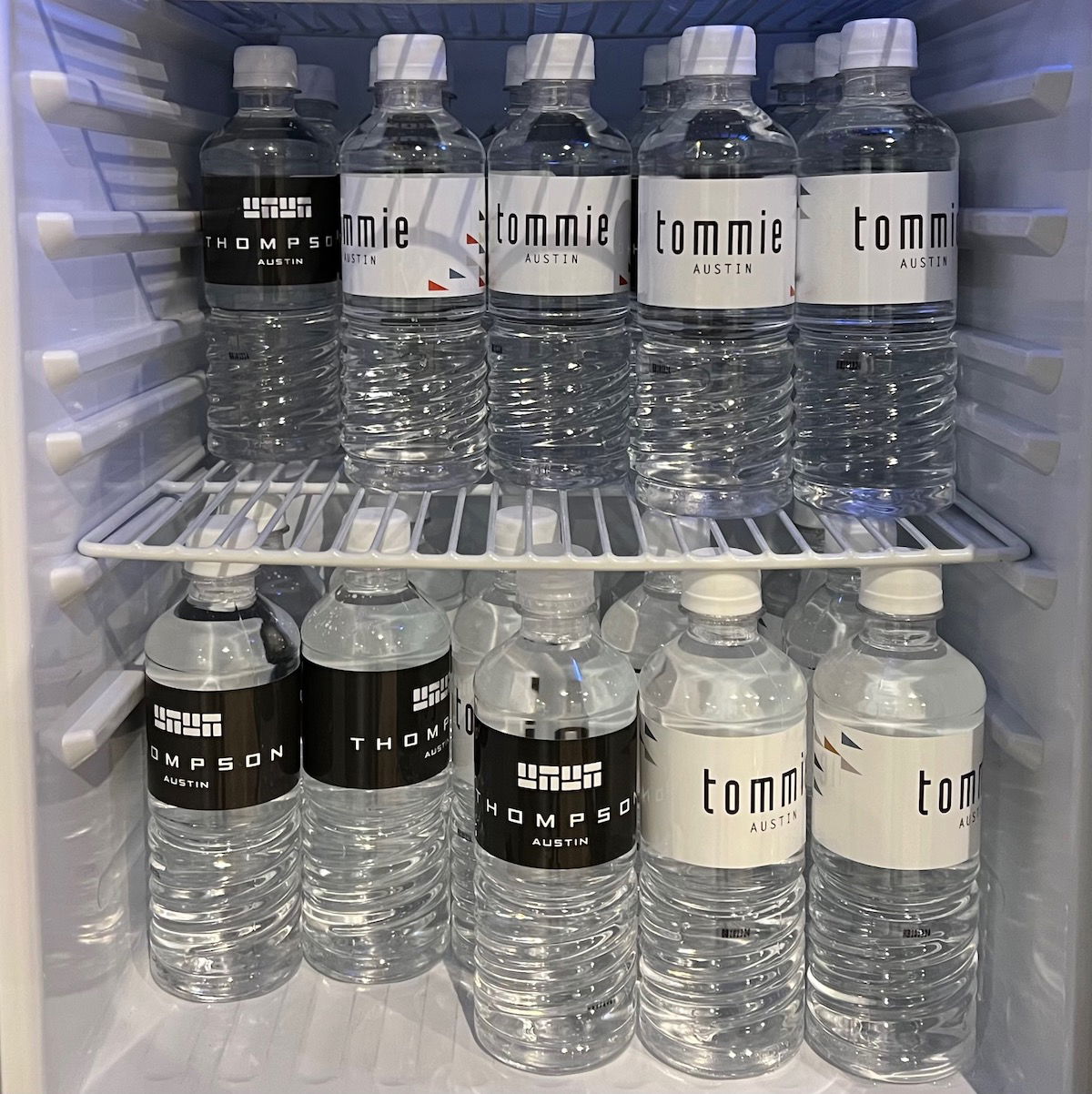 While this is a great gym, just keep in mind that it's shared between the two hotels, plus the apartment building, so it gets quite busy. It's much more crowded than your typical hotel gym.
Thompson Austin pool
The Thompson Austin has a very nice pool on the fourth floor. Now, in December the pool was totally empty, but I imagine that in summer this place is slammed, given the number of people who have access to it (it's also shared with the apartment building). It's also probably not going to be a great pool for actually swimming laps, assuming you're not alone in it (and even then it's questionable).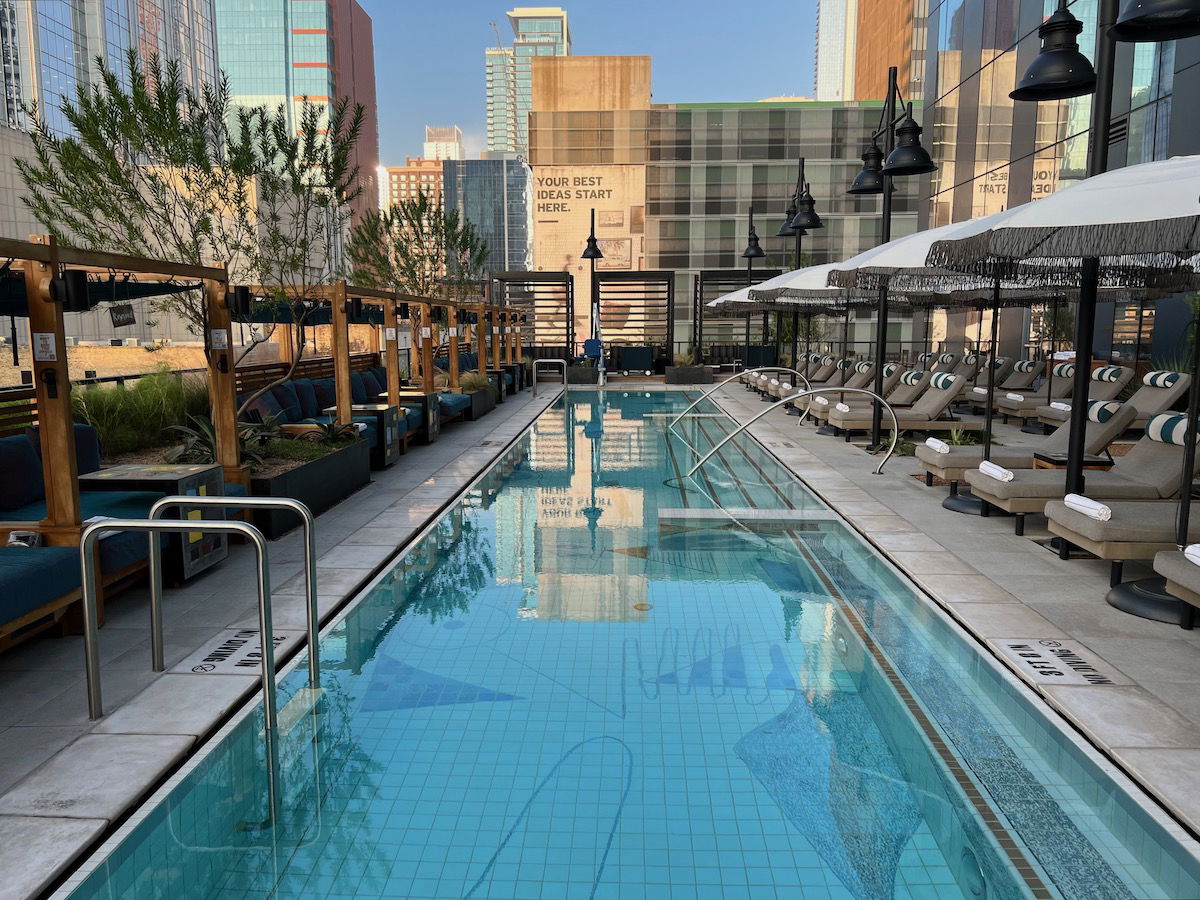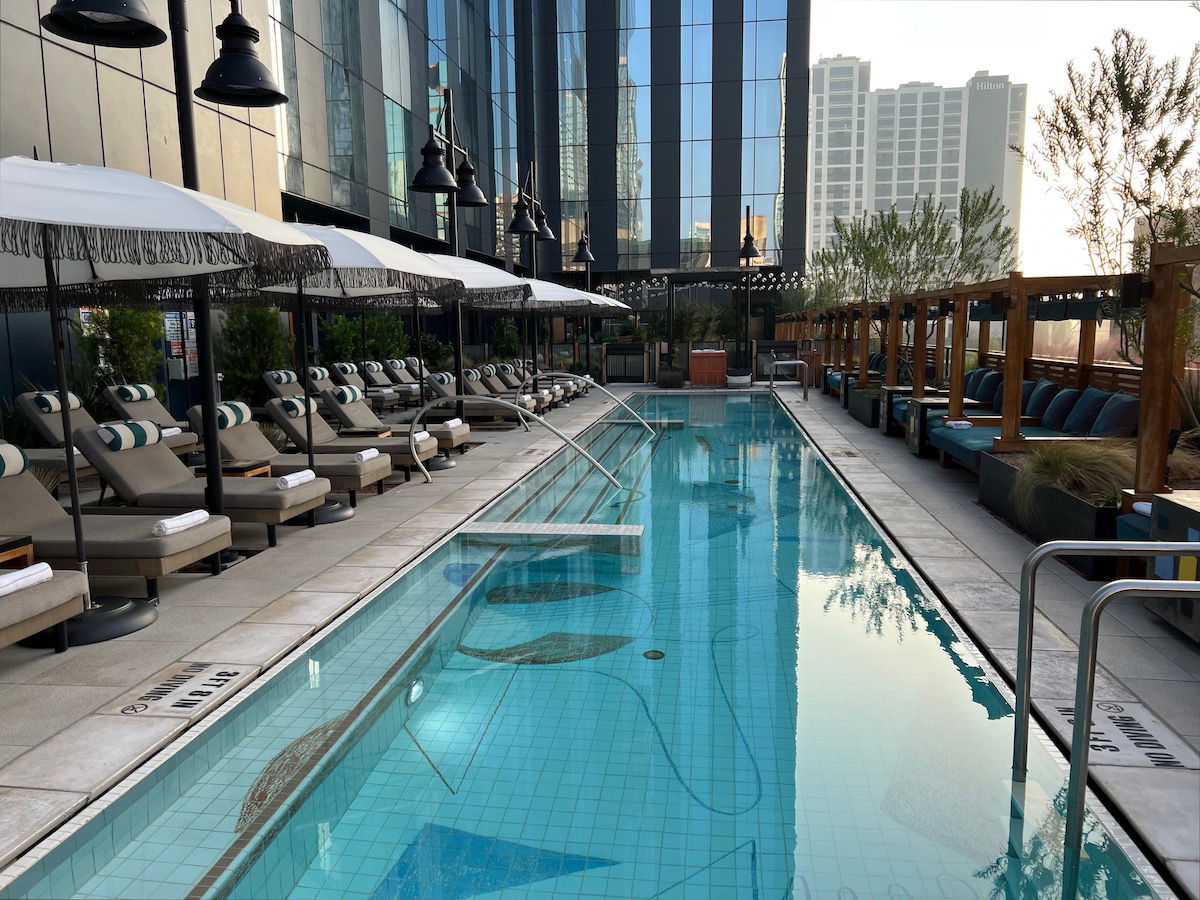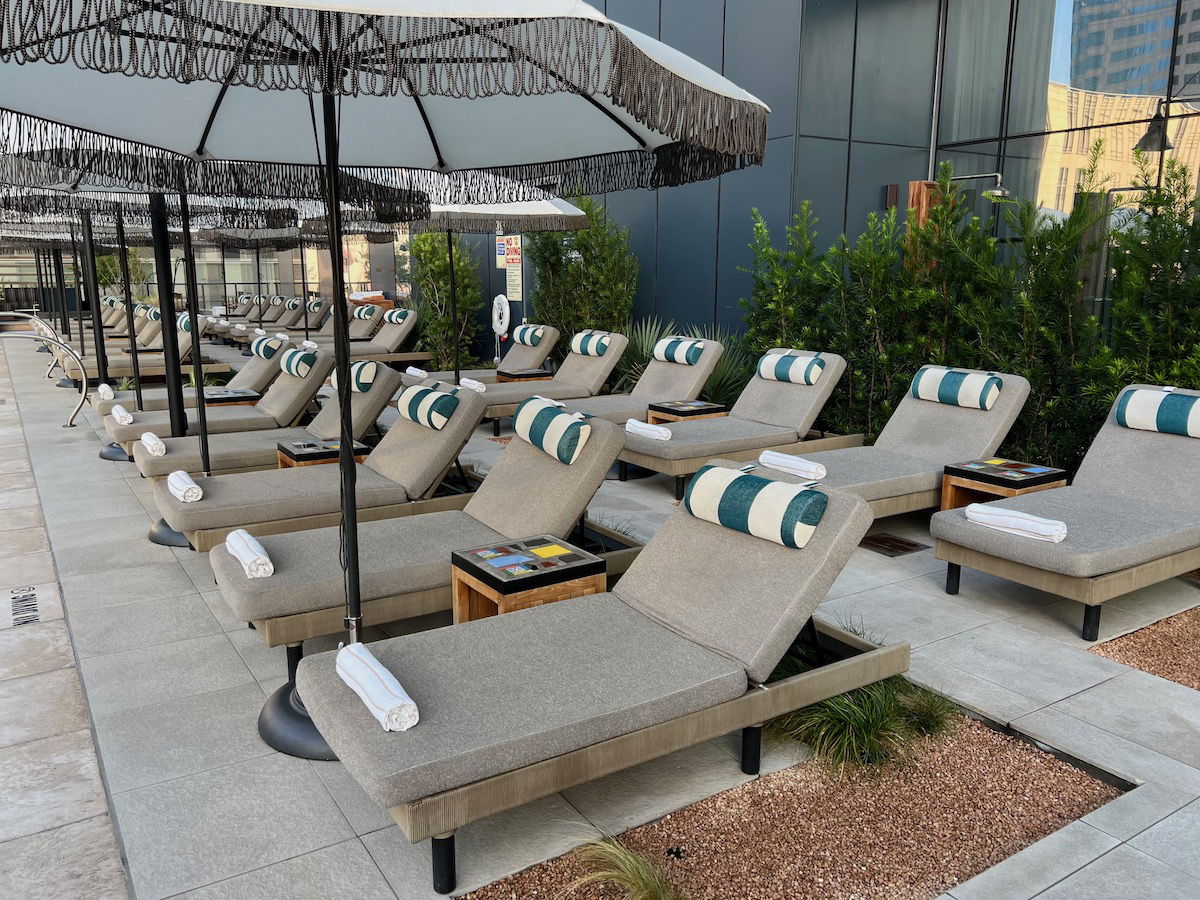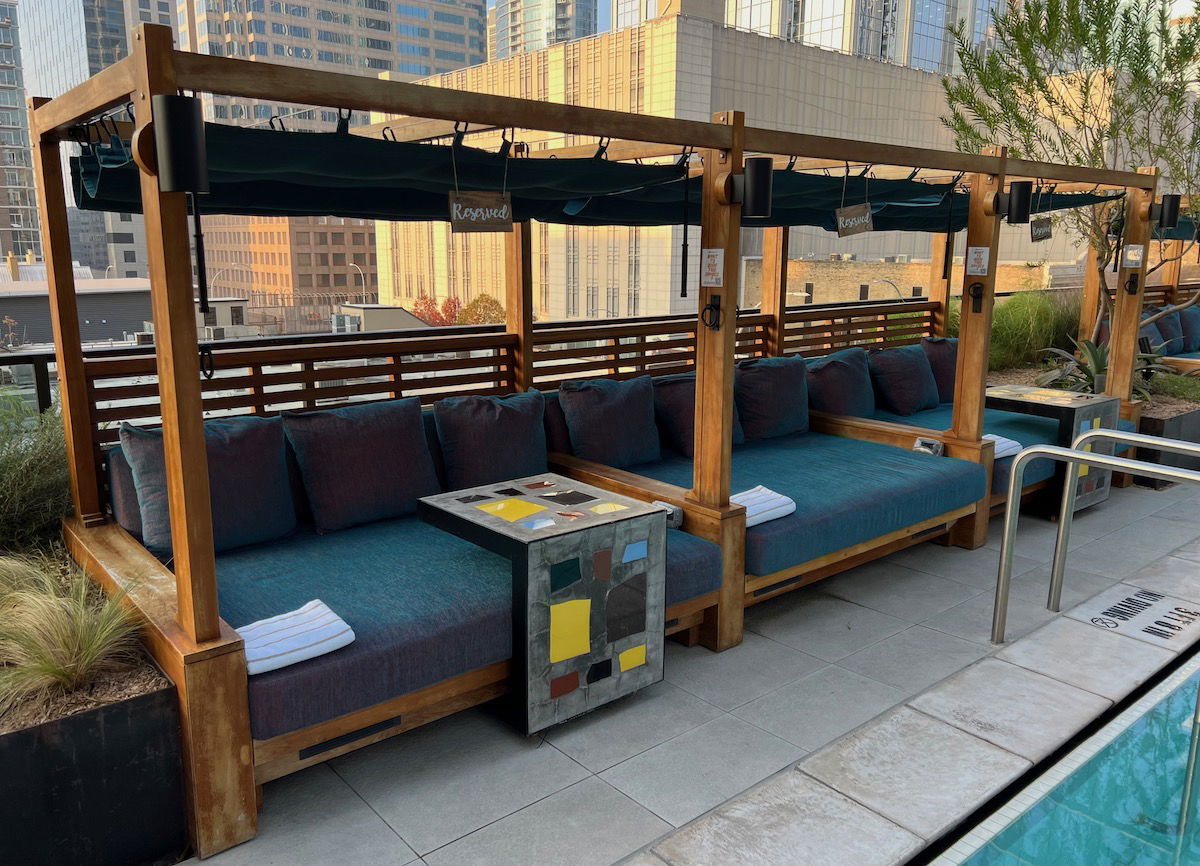 Thompson Austin The Coffee Bar at tommie
One area where the Thompson excels is with food & beverage outlets, as there are four unique concepts. The Coffee Bar at tommie is located just off the lobby of the Thompson, and is open daily from 6AM until 7PM. It's a great place to get a cup of coffee in the morning, or even a glass of wine in the evening — this isn't your traditional coffee shop!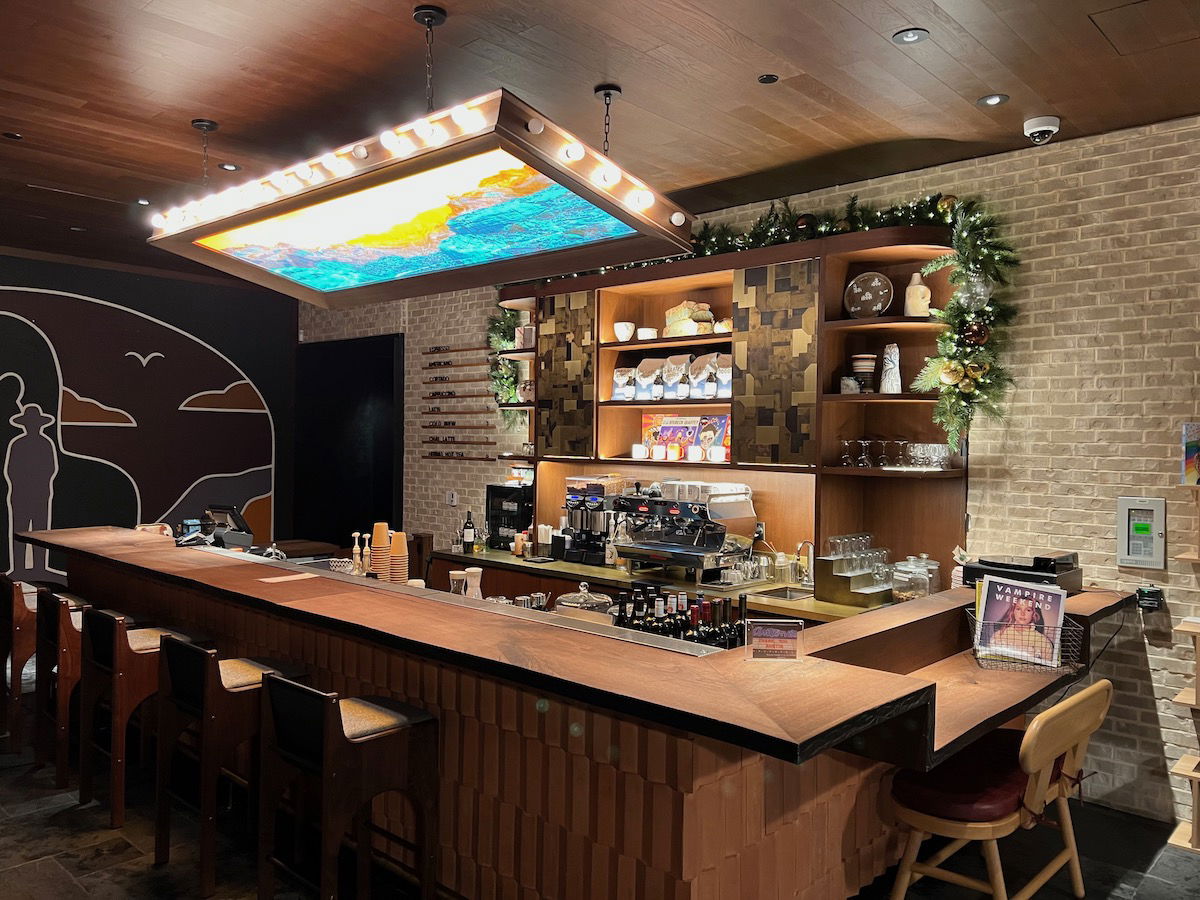 It also has comfortable seating, if you're looking for somewhere to get work done.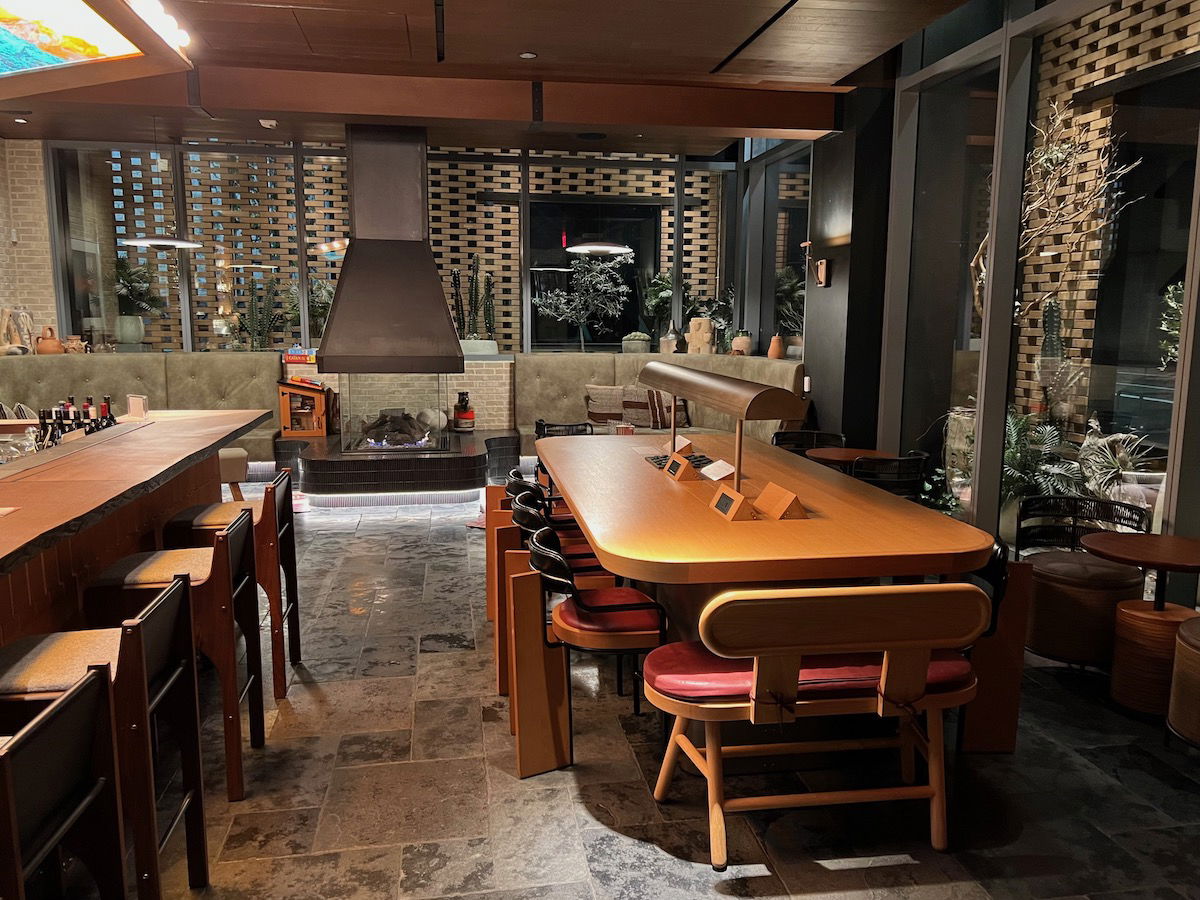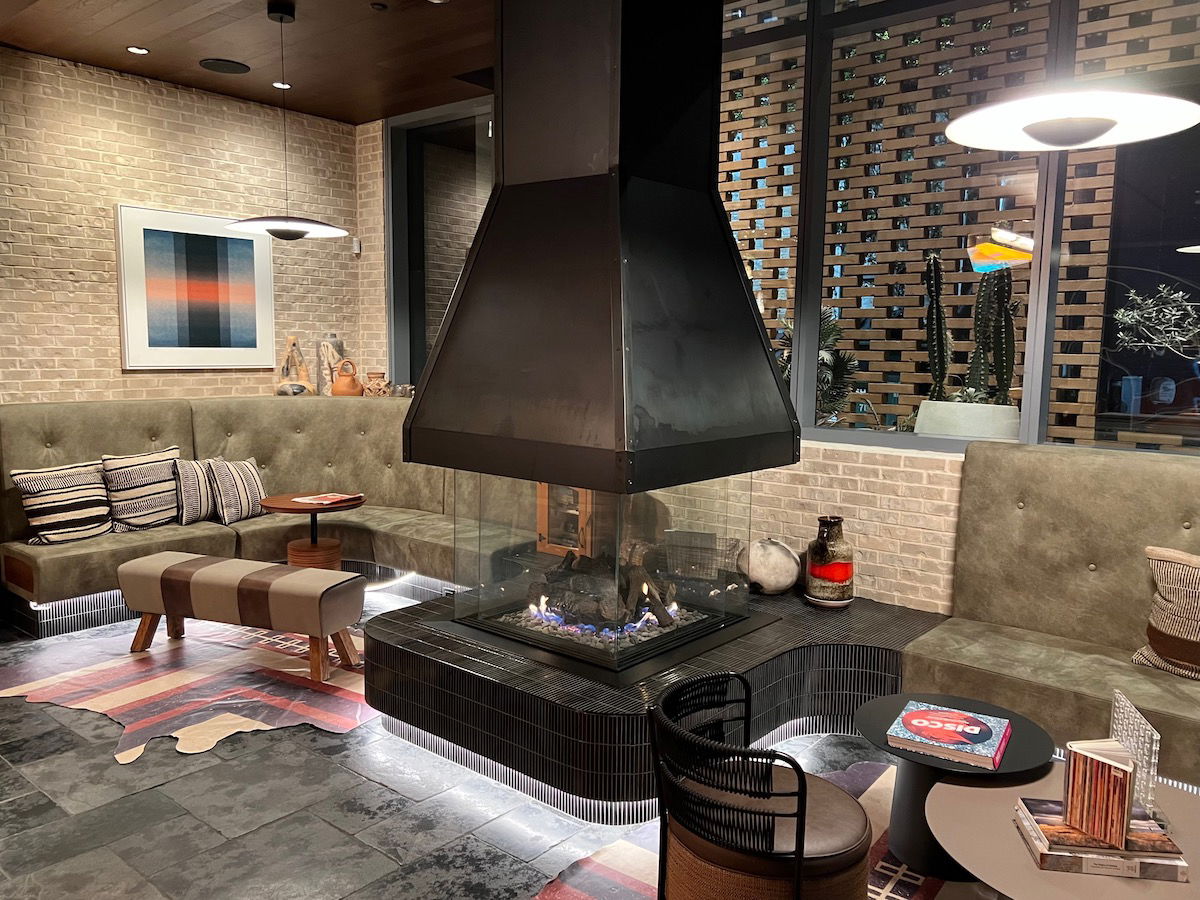 Both the cappuccinos and cold brews here were excellent, though really pricey — a small cold brew and small cappuccino both retailed for $7 each!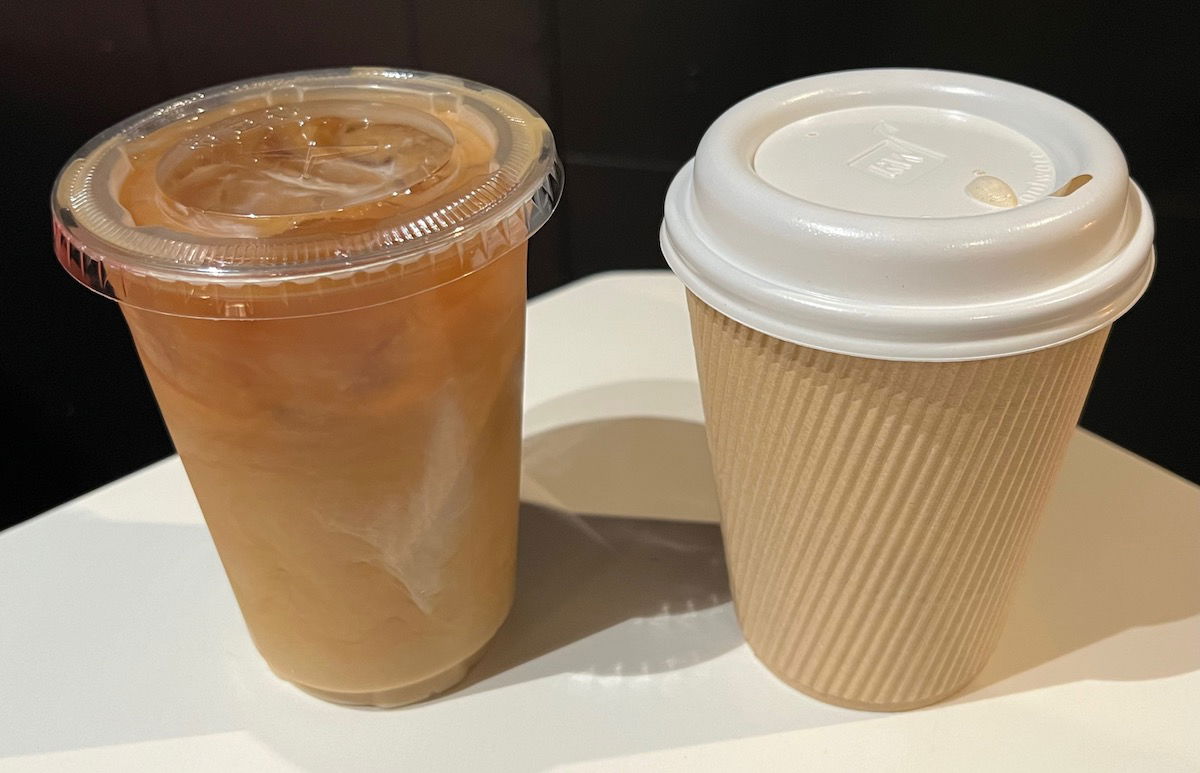 Thompson Austin The Diner Bar
The Diner Bar is also located off the lobby, and is described as offering "Port City Southern food, while seizing additional inspiration from regional ingredients and local Texan flavors." James Beard 2022 Outstanding Chef Mashama Bailey and Johno Morisano are behind the concept.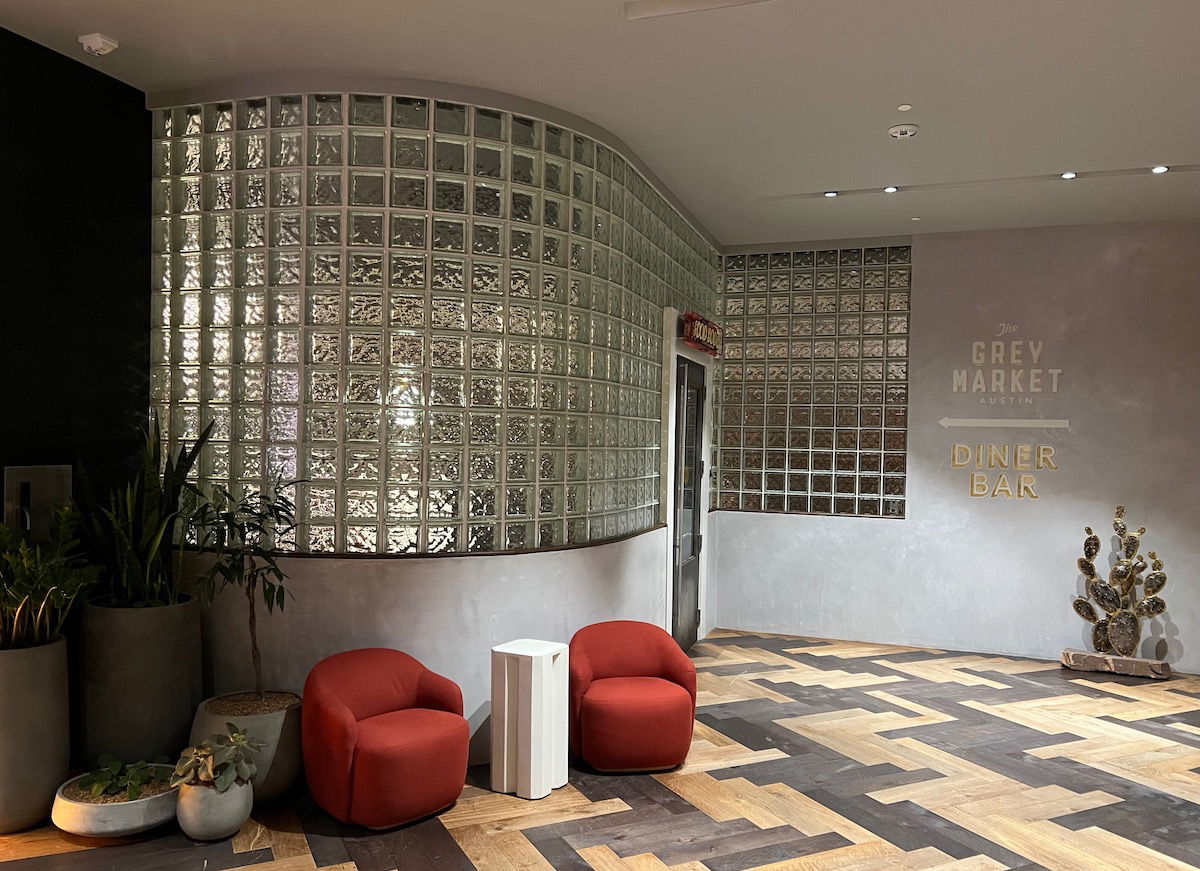 As far as the opening times go:
Breakfast is served here from 7AM until 11AM Monday through Friday; if your rate includes breakfast, you can have breakfast here or at The Grey Market
On weekends, brunch is served from 11AM until 2PM; if your rate includes breakfast, you can't use that benefit here for brunch
Dinner and drinks are served here nightly from 4PM until 10PM
The restaurant has a couple of dozen tables, and also has a long bar, which is the focal point of the restaurant.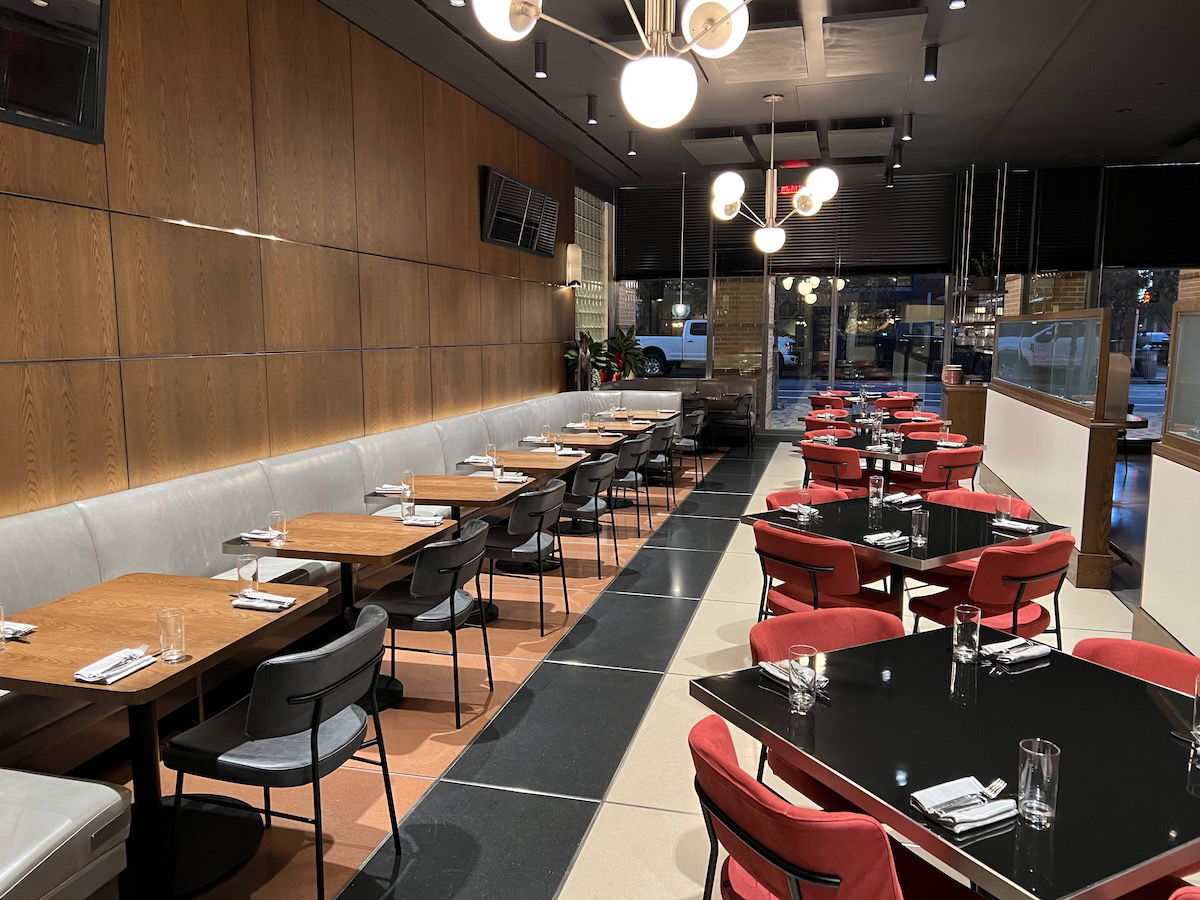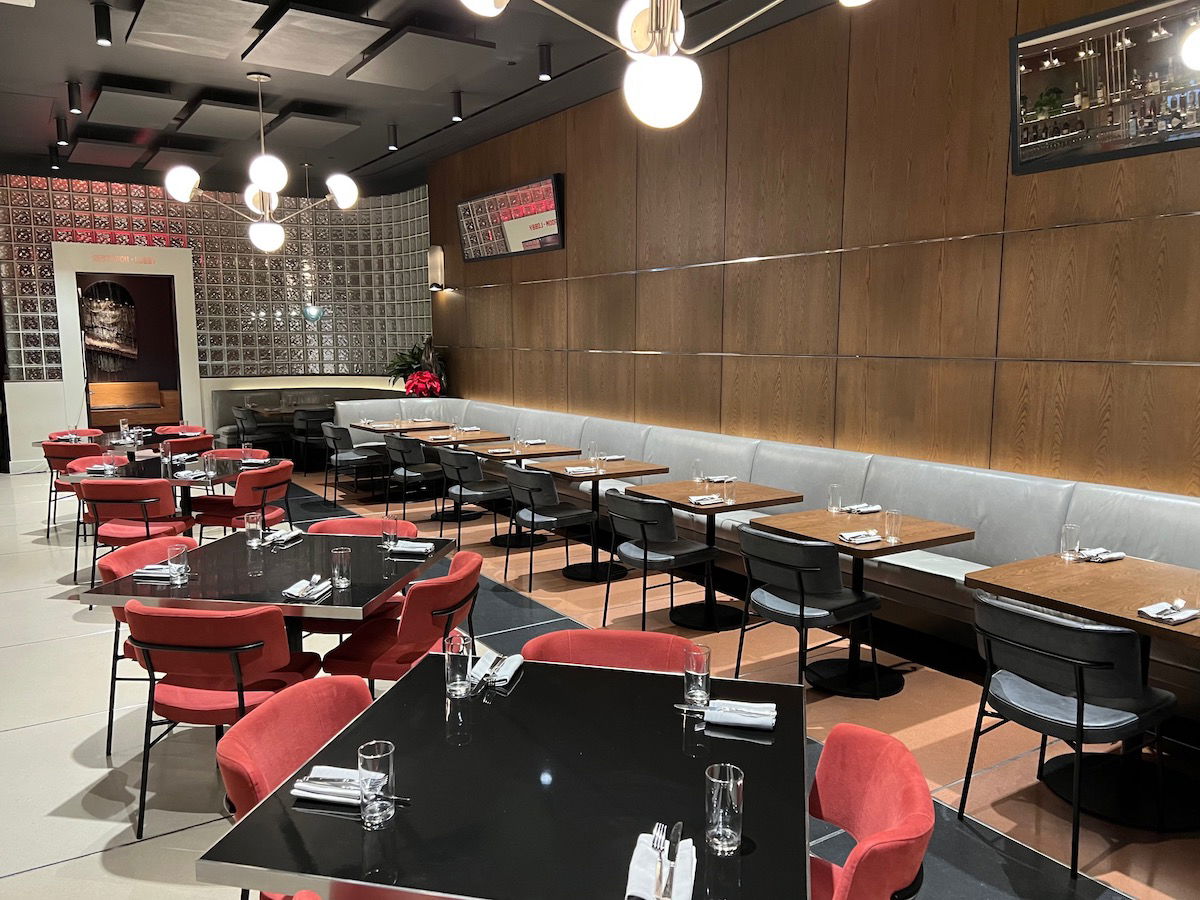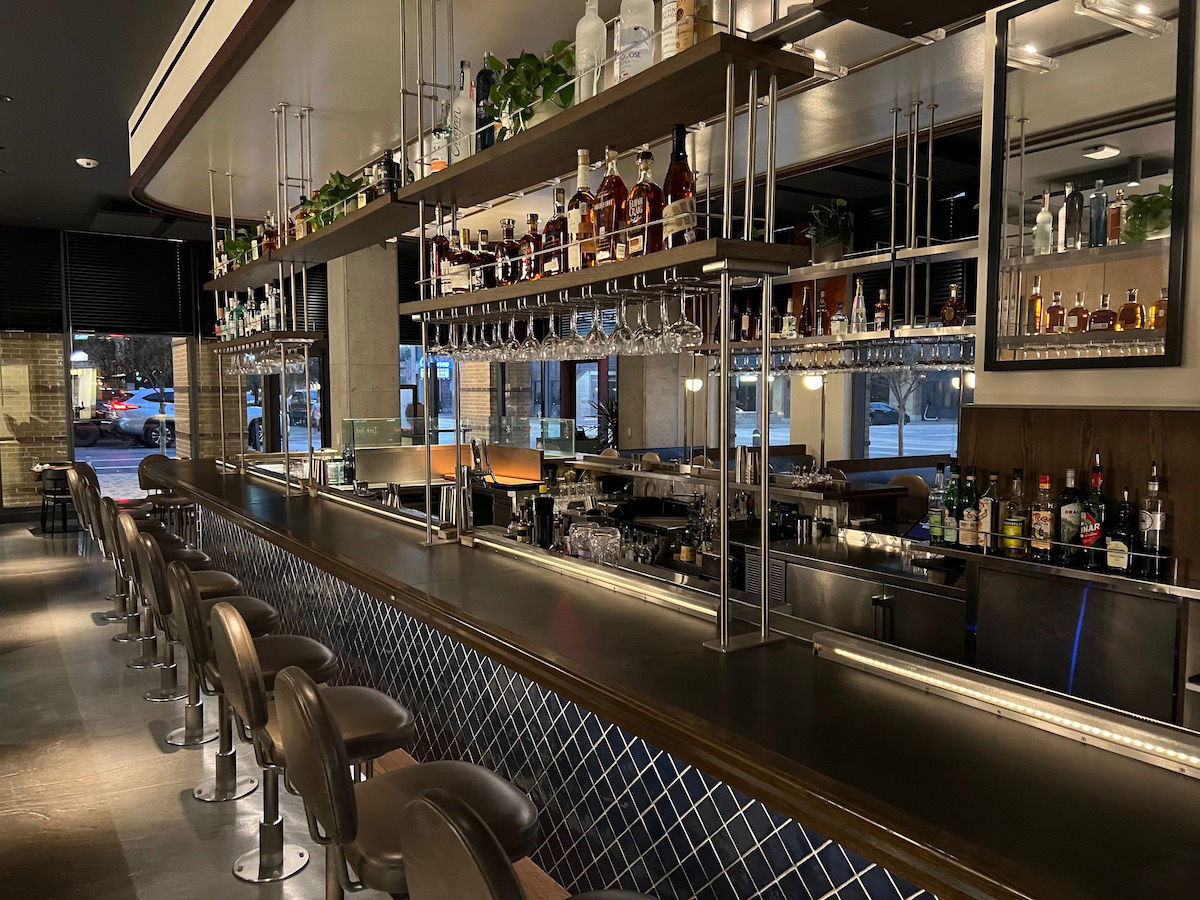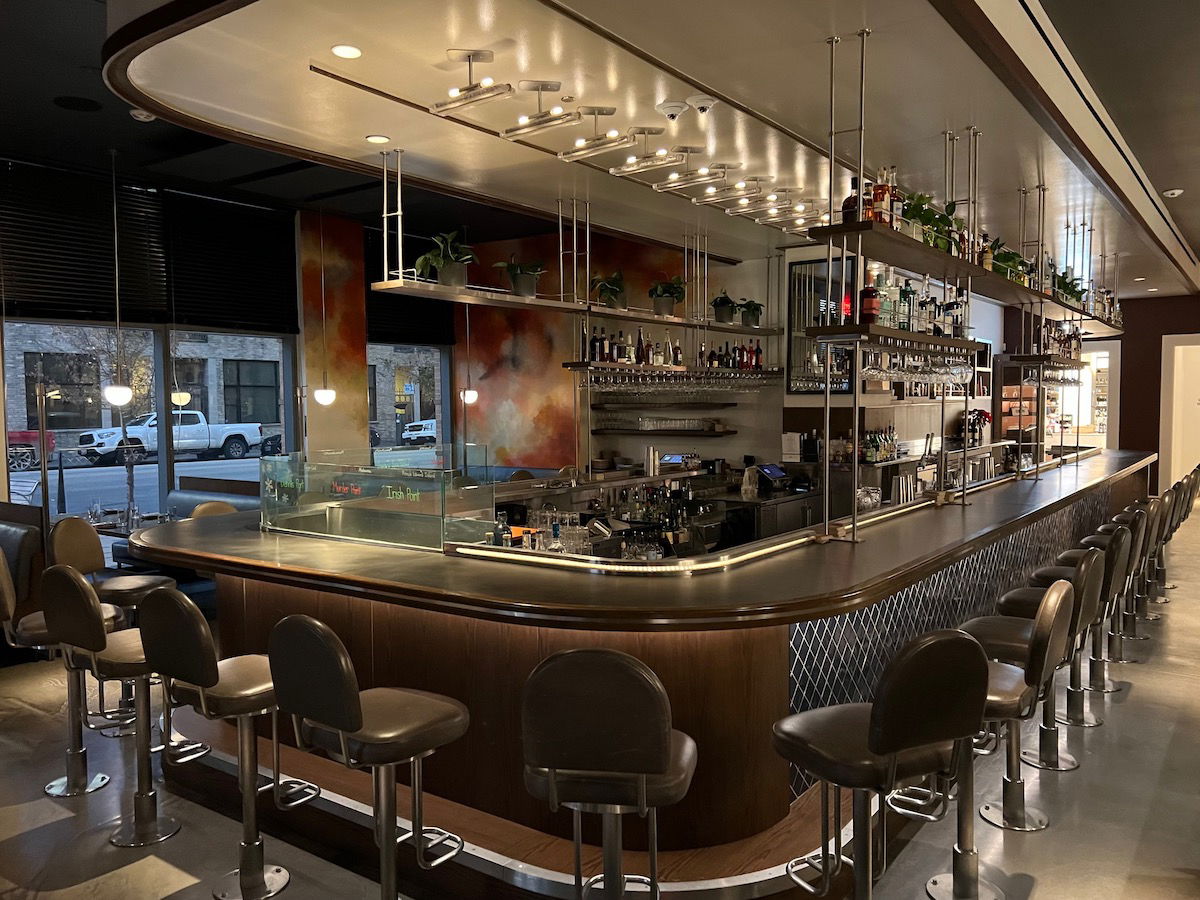 I had breakfast here one morning, and you can find the breakfast menu here. The breakfast menu is definitely a bit untraditional, as there's no avocado toast (gasp!) or build your own omelet option. Instead the selection is mostly pretty "filling," as you'd expect from southern food.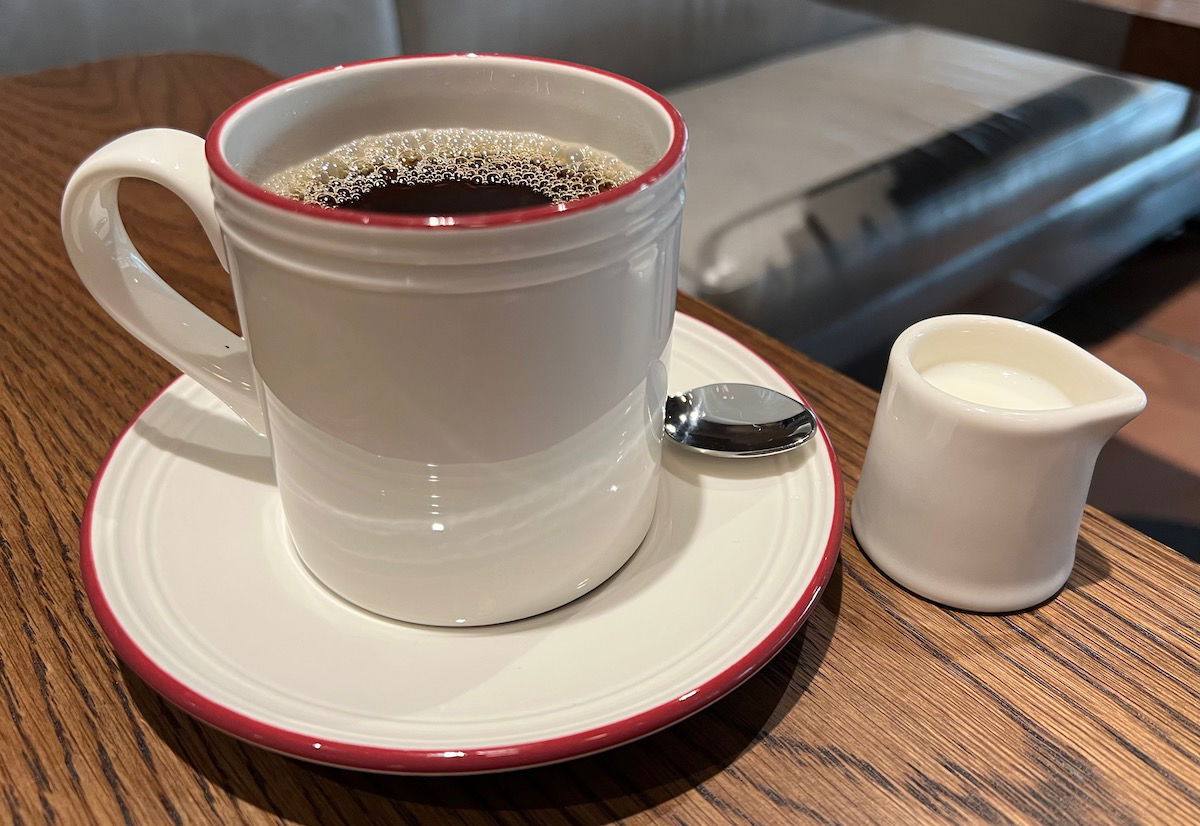 For example, options included the "French Omelet," with cheese, crème fraîche, chives, potato rosti, and lettuce, as well as the "Texas Best," with carolina gold rice, hominy, lentils, chickpeas, harissa, and fried egg.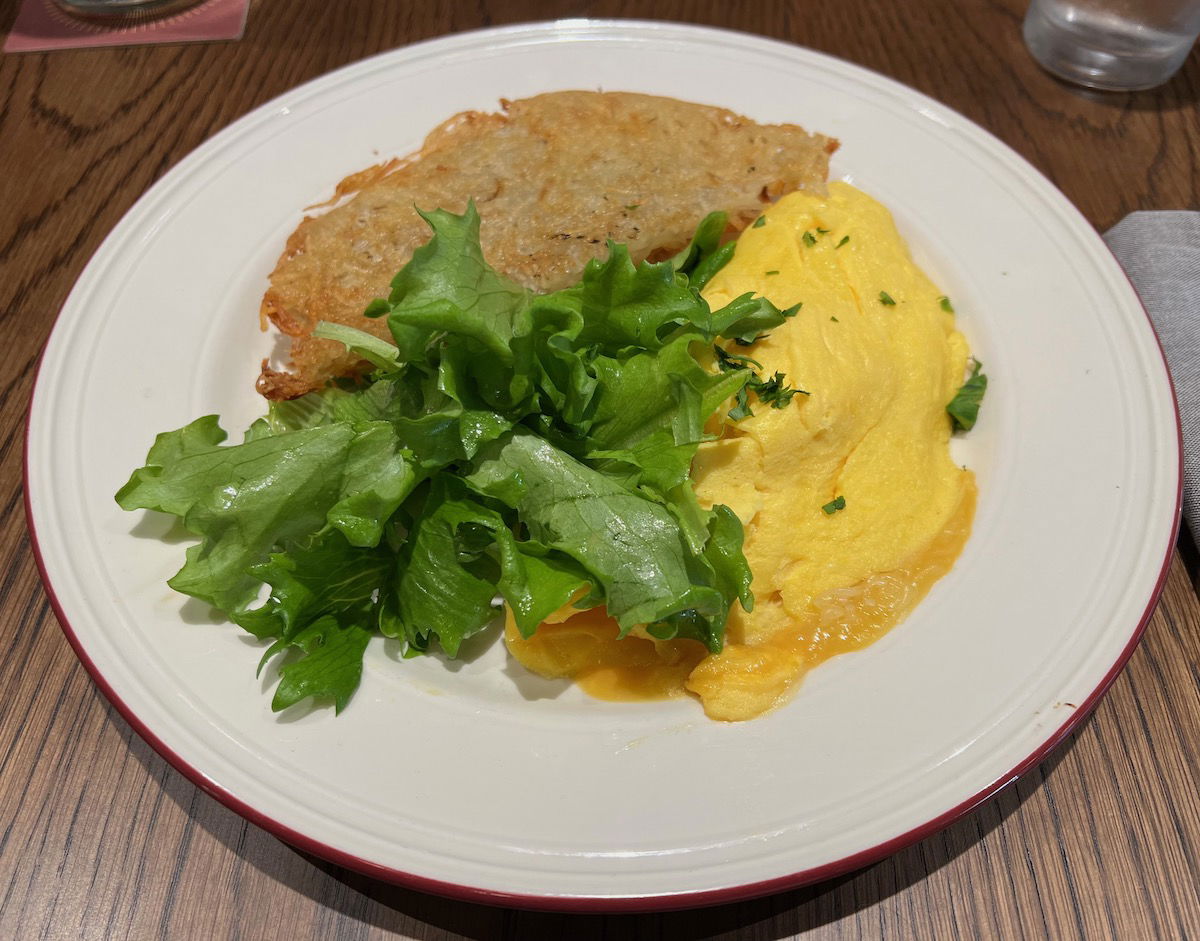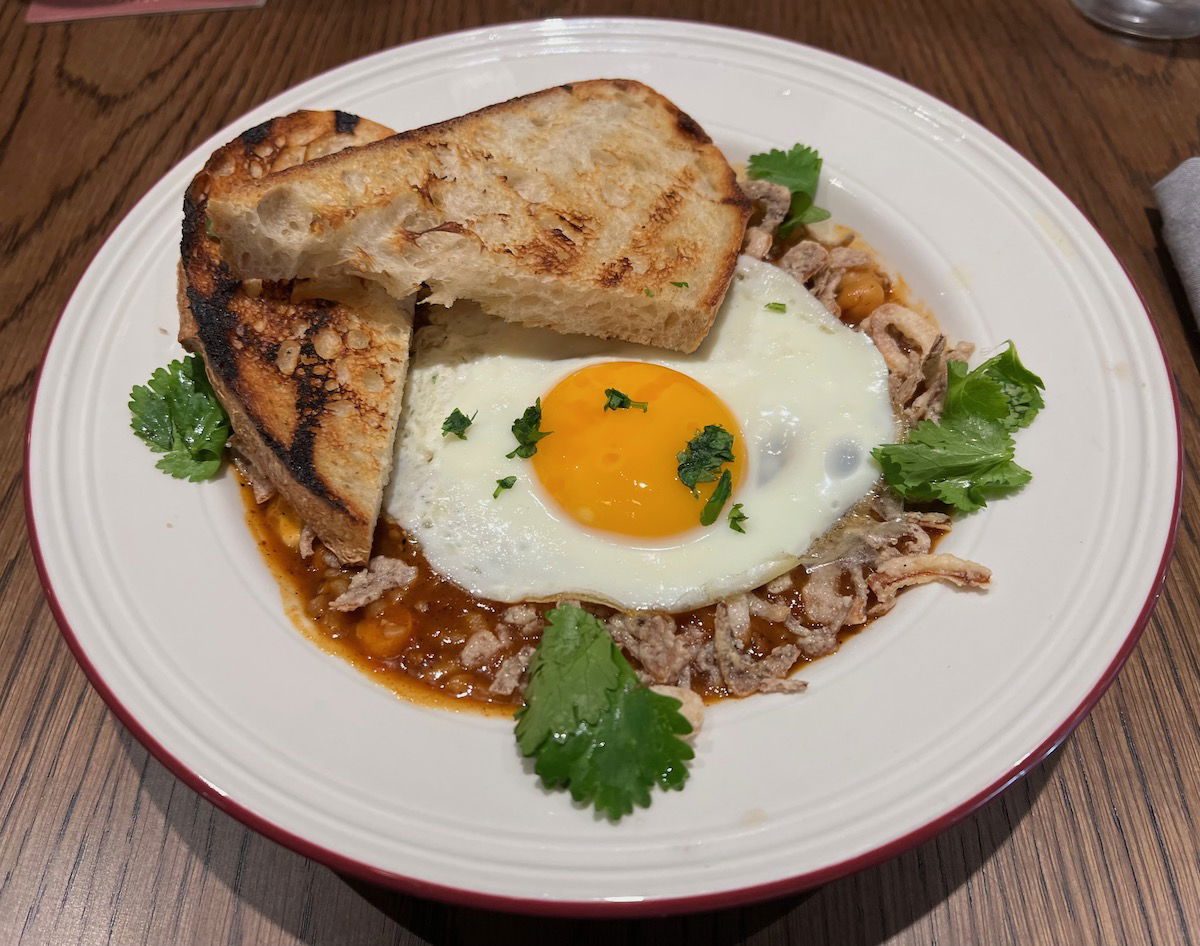 The restaurant was quite crowded with locals in the evening as well, and you can find the dinner menu here. Not only were the cocktails very good, but so was the food. This included the shrimp & carolina gold rice with peas, and the half roasted chicken with garlic trencher and braised escarole.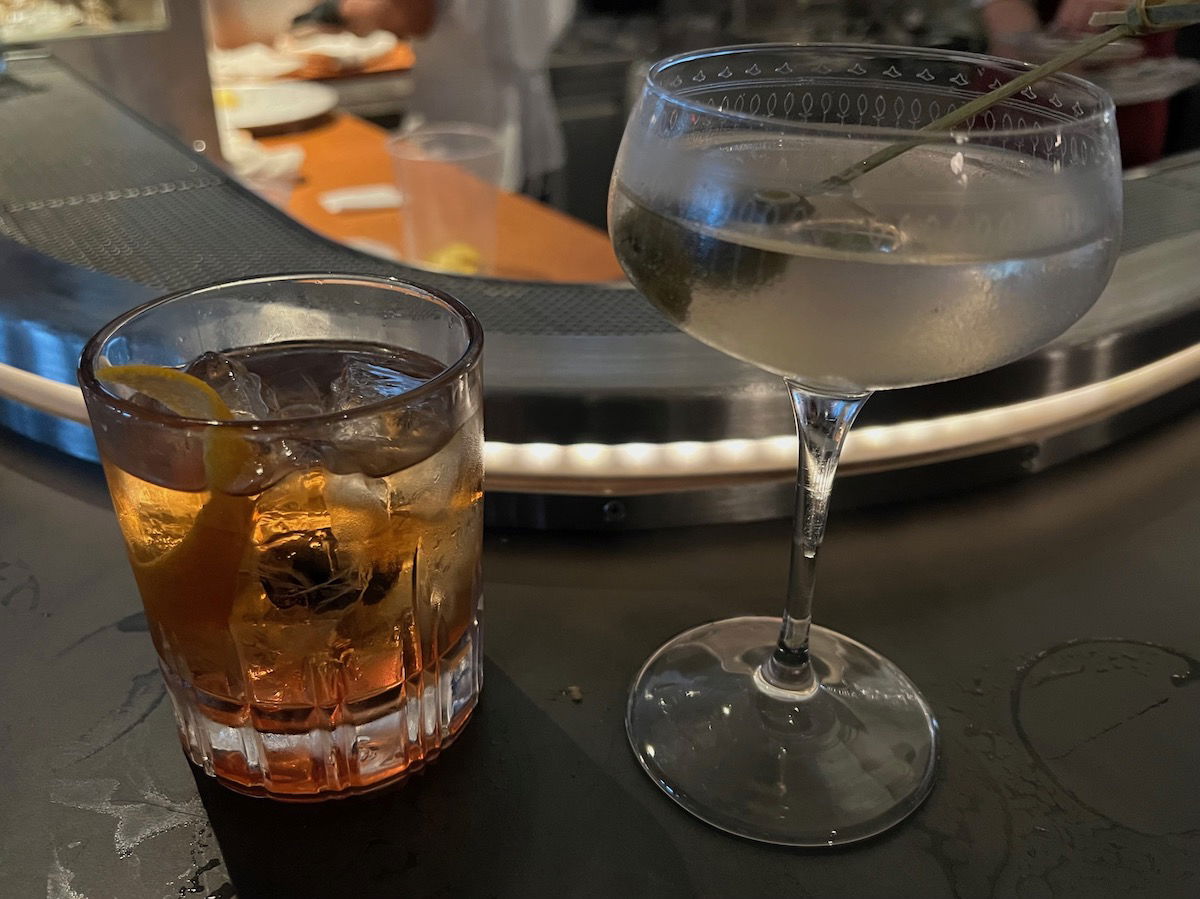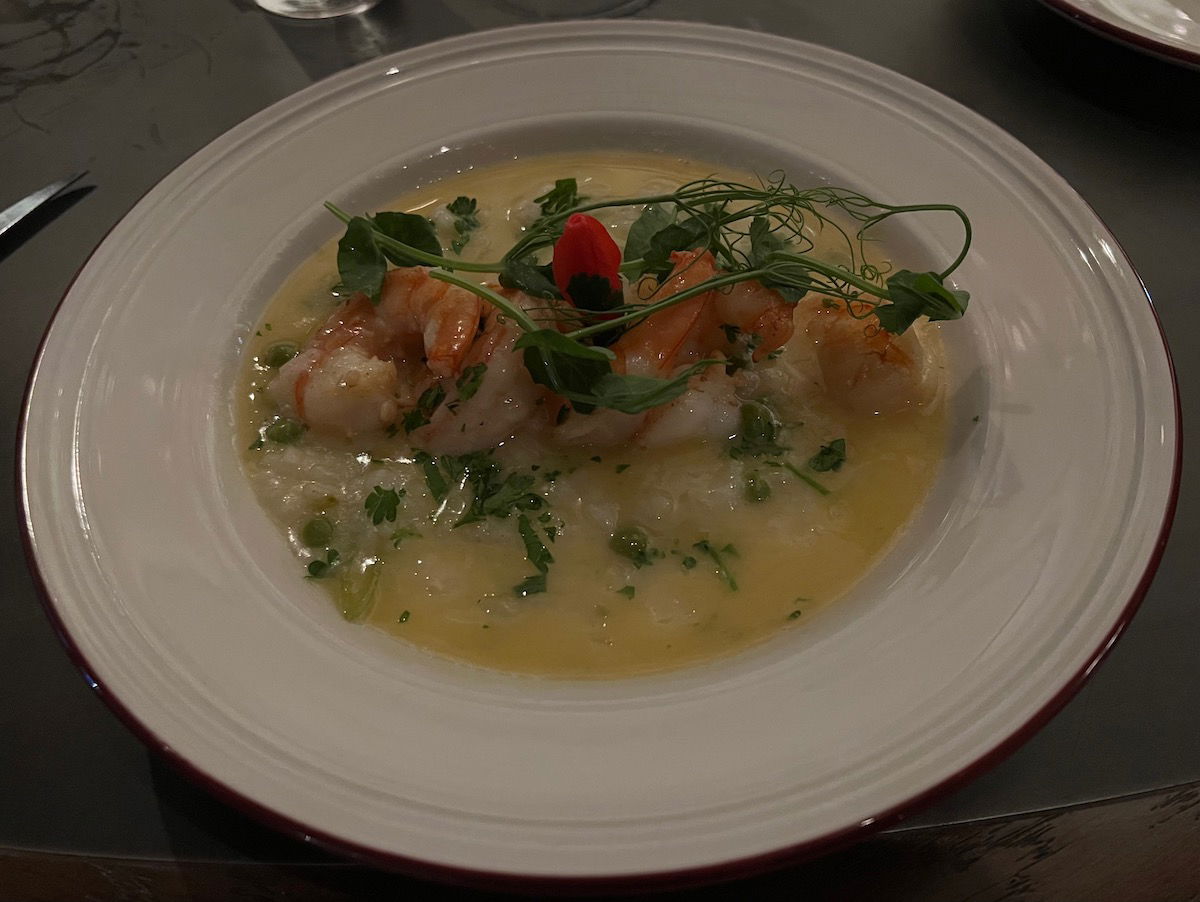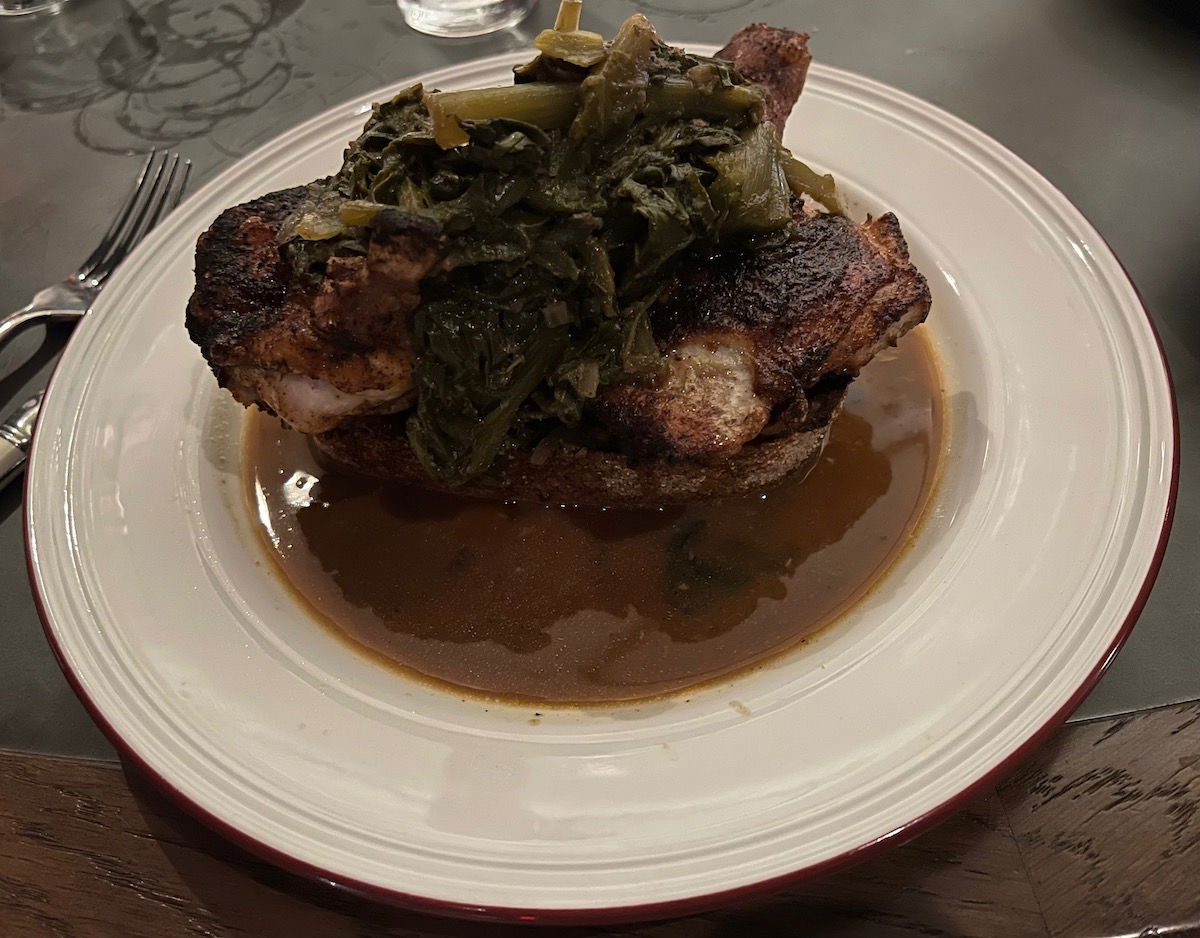 Thompson Austin The Grey Market
The Grey Market is the other lobby level dining option at the Thompson, and it feels like a cross between a diner and a grab & go market. To access this from the hotel, you actually have to walk through The Diner Bar. It's open daily from 7AM until 10PM.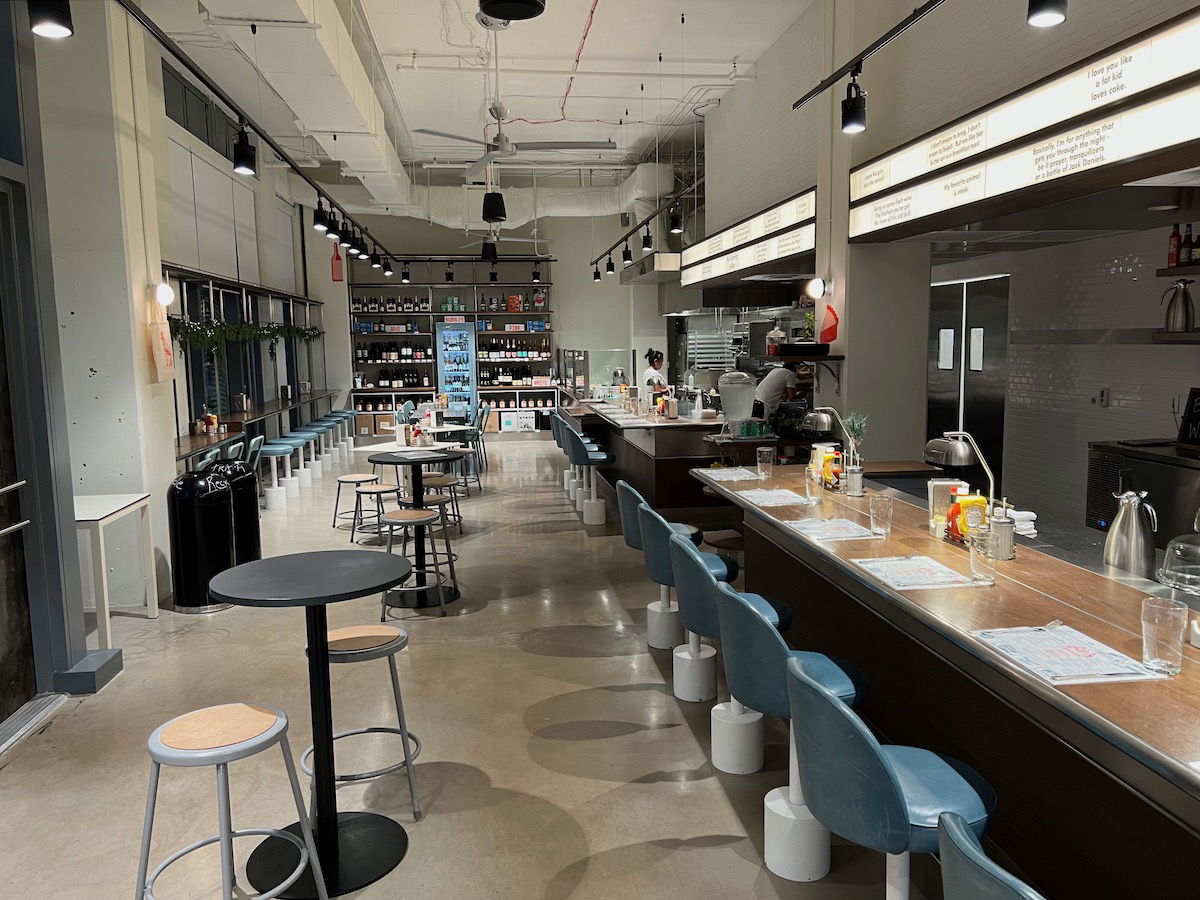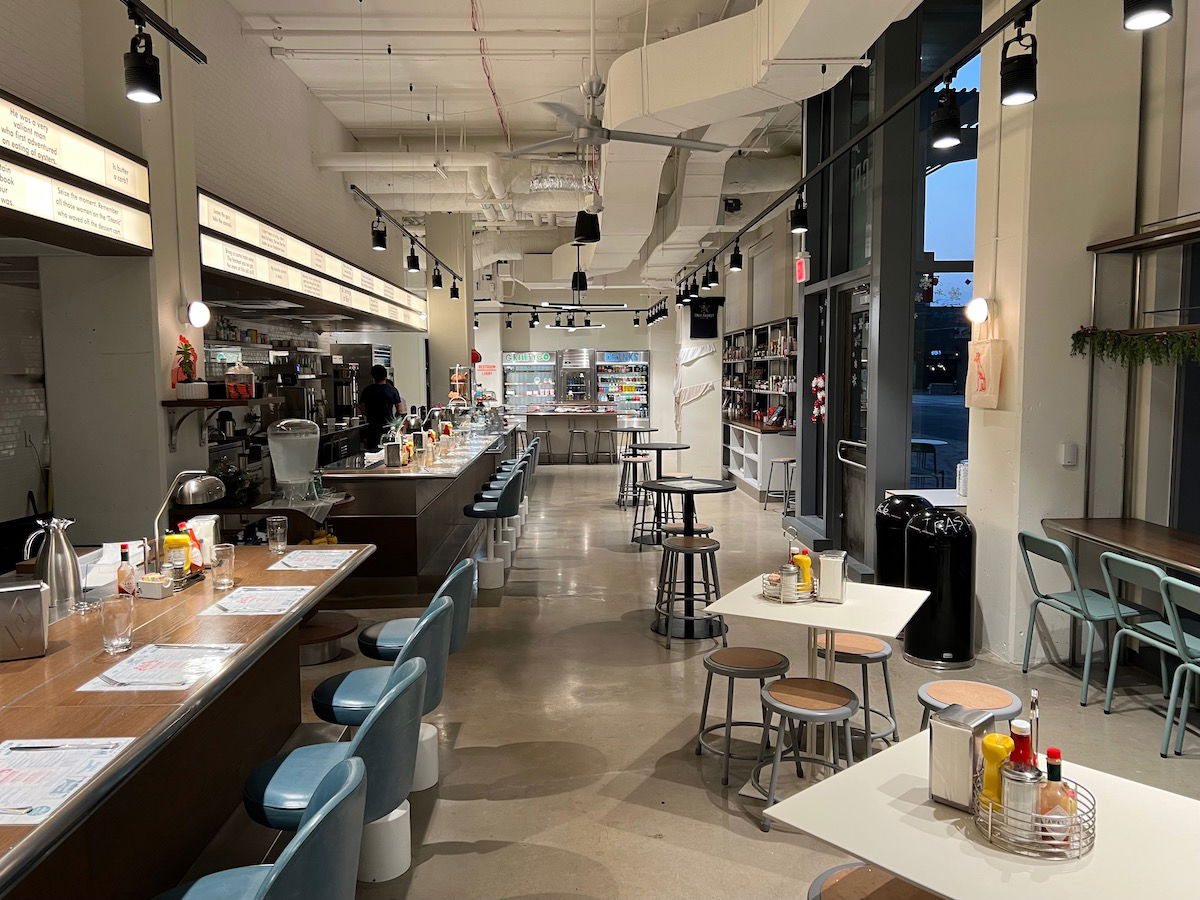 For one, you can come here any time to grab drinks or food. There's everything from soda, to bottles of wine, to prepared meals, to souvenirs.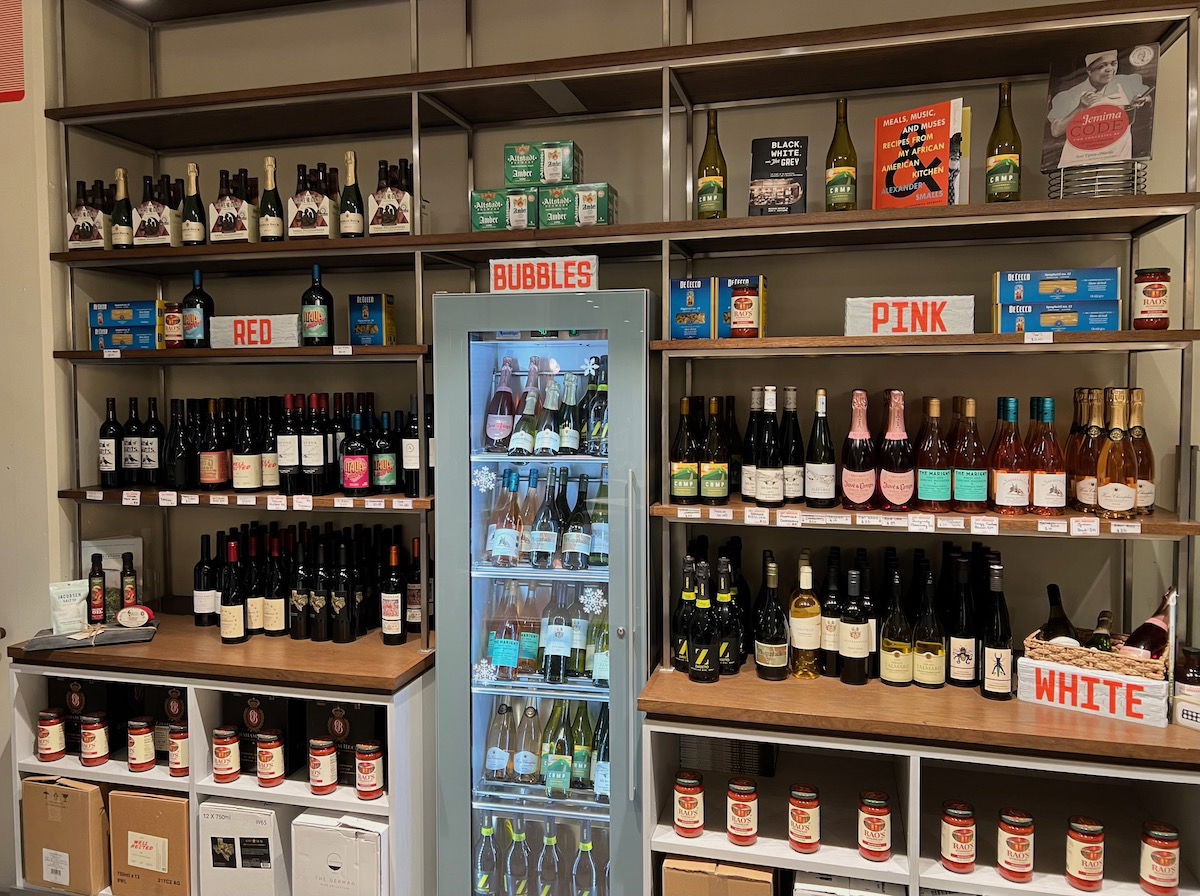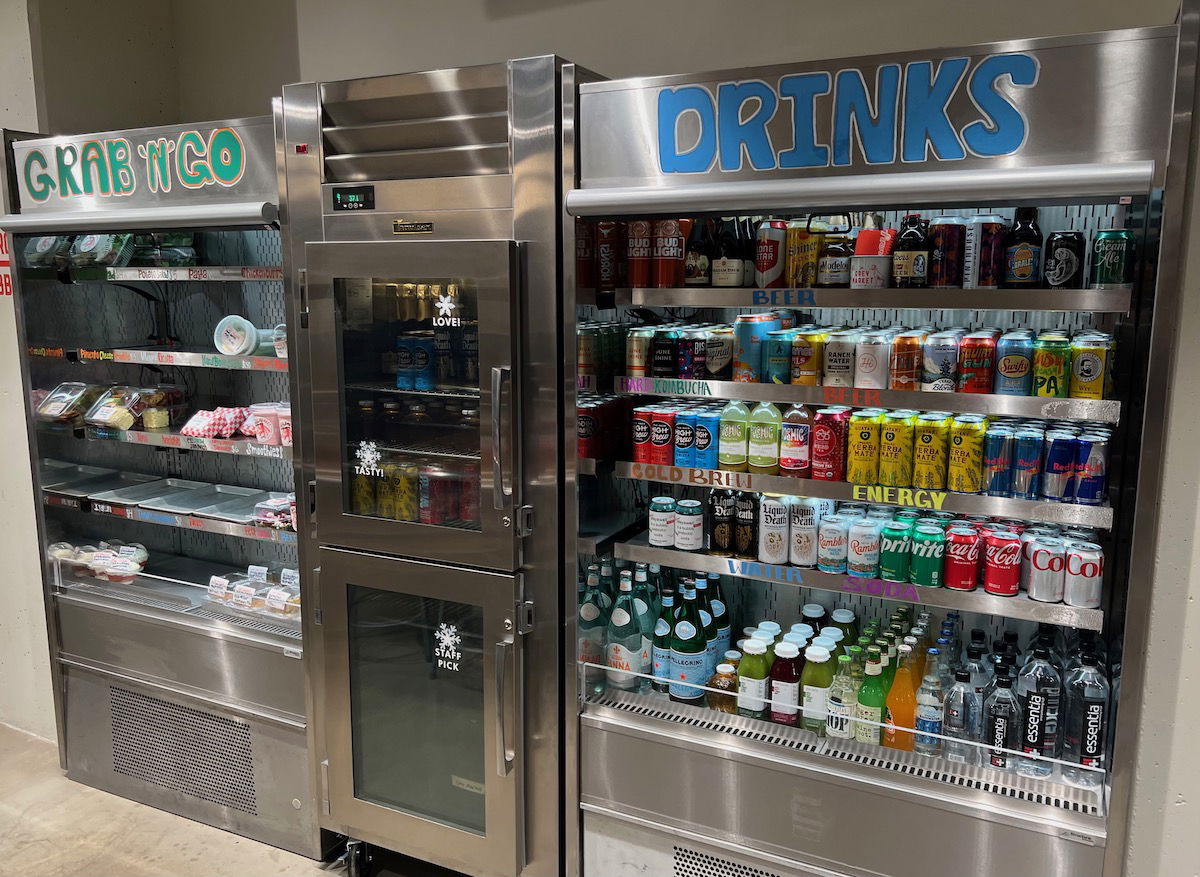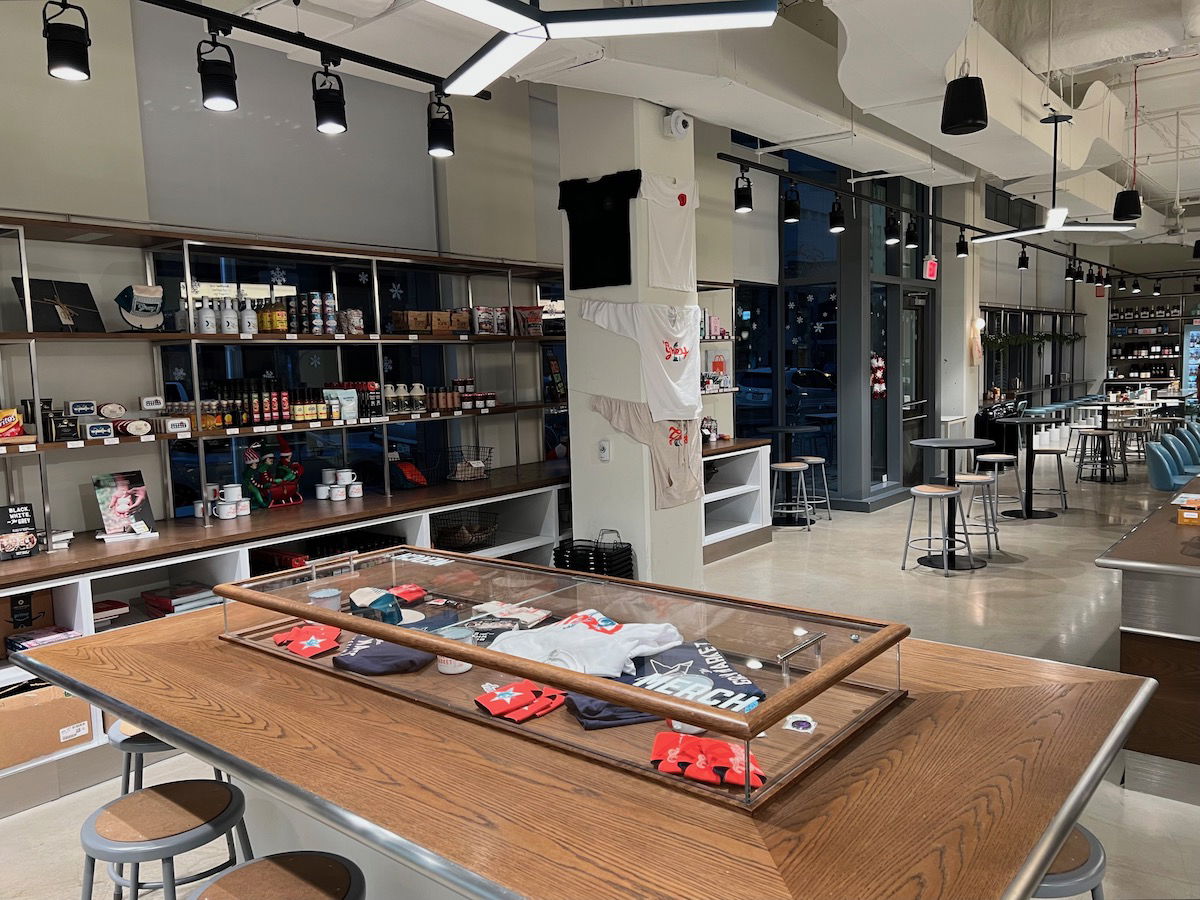 On top of that, there's a full kitchen, and you can find the breakfast and all day dining menu here. If your rate includes breakfast (or you're a Globalist member), you can enjoy breakfast here any morning, and you can also have it via room service. The service fee is even waived if you have it delivered. On the weekends this is the only option for breakfast that's included, since The Diner Bar is closed for breakfast.
As has become common nowadays with room service, it's served in to-go bags, which takes away quite a bit from the experience of in-room dining.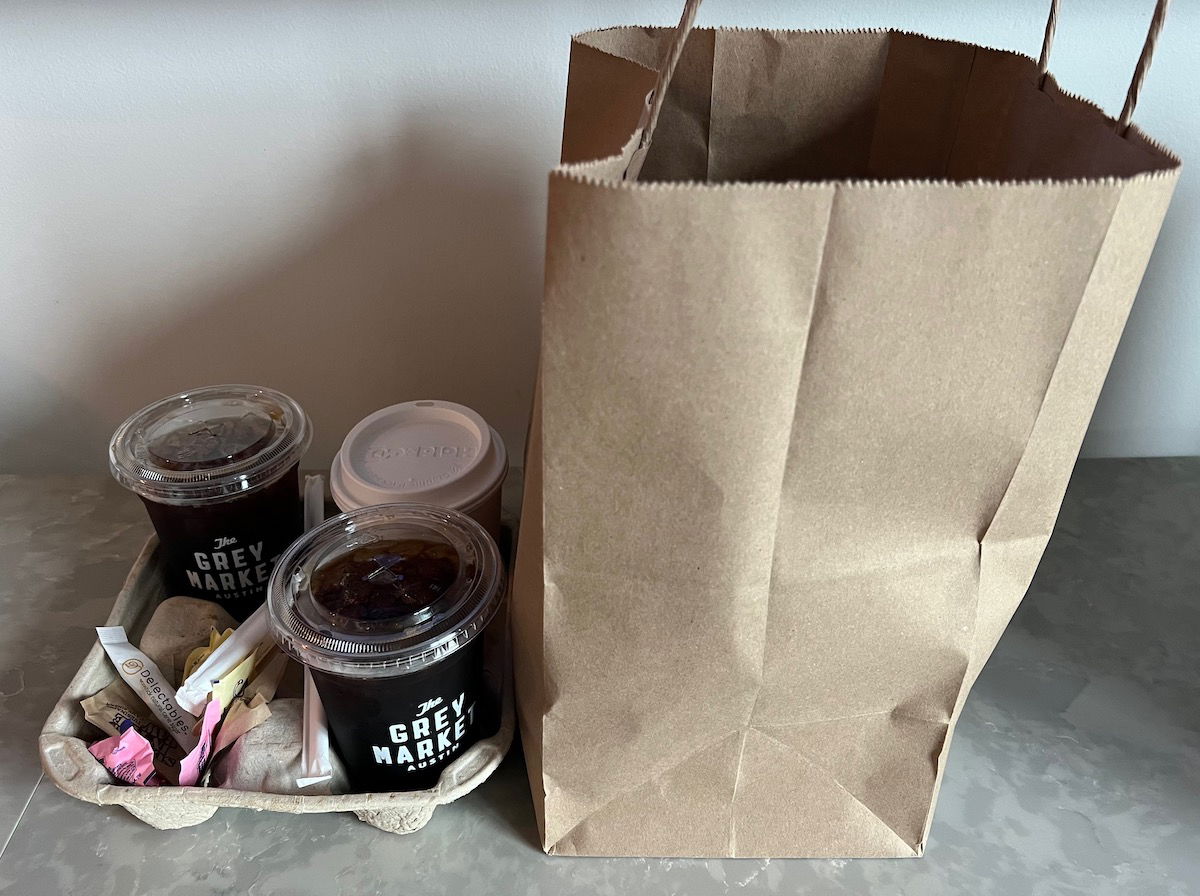 Options included the "TGM Omelet," with mushrooms, peppers, onions, and potato hash, and the "Hash and Eggs," with crumbled chicken sausage, potatoes, and sunny eggs.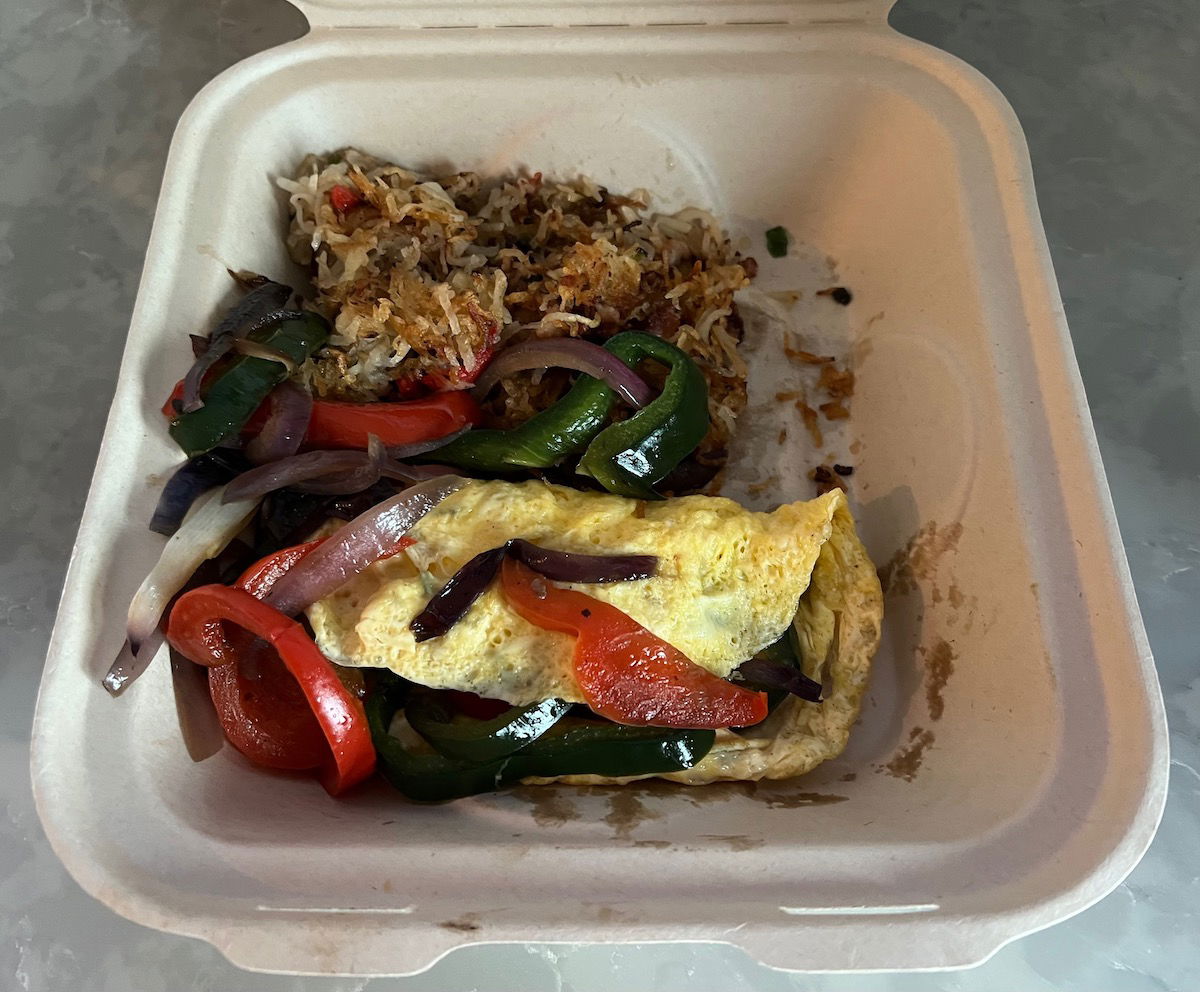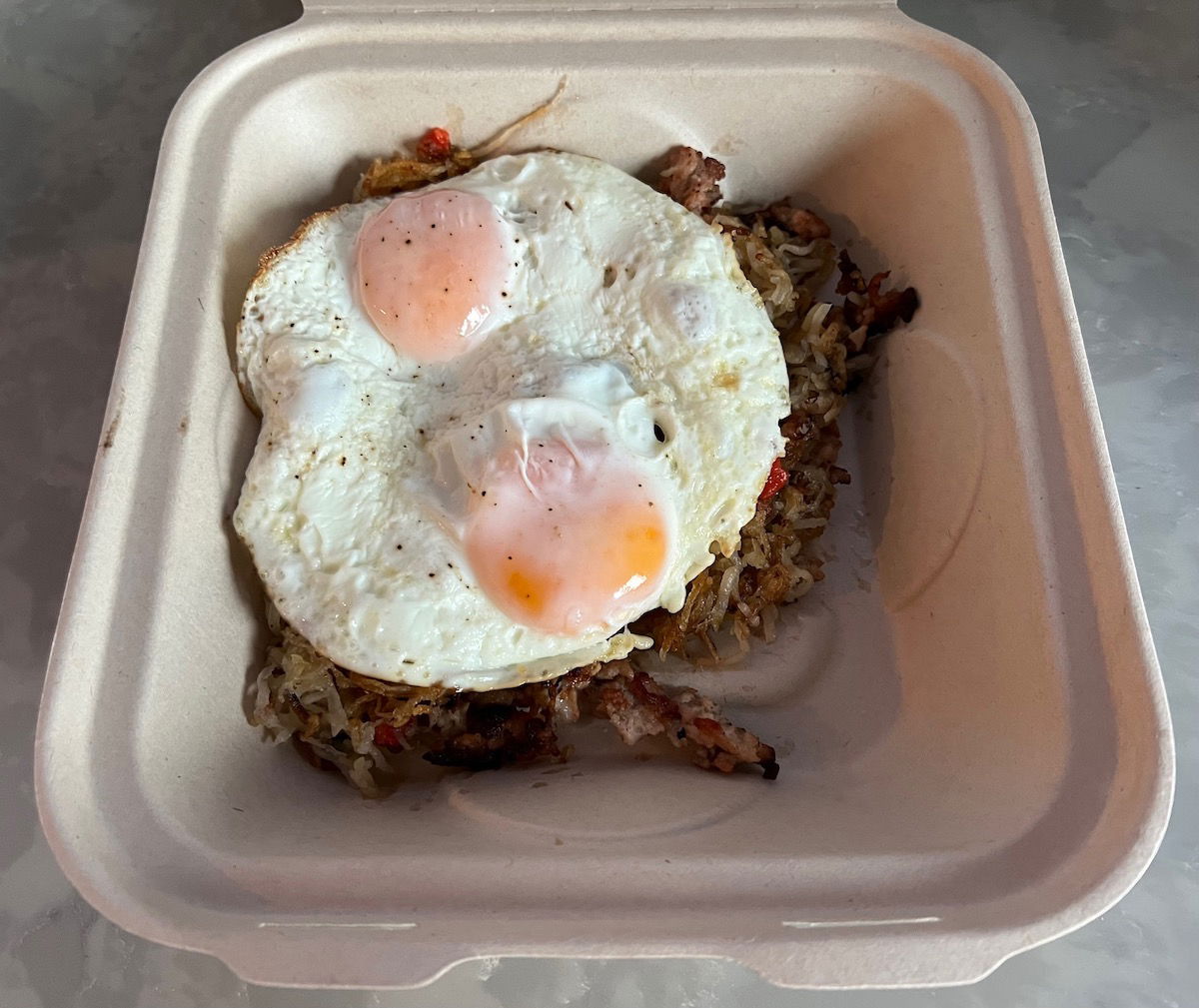 Thompson Austin Wax Myrtle's Hide-A-Way
Wax Myrtle's Hide-A-Way is located on the fourth floor, next to the pool. It's open daily from 11AM until 11PM, and is a great place to have a drink or a meal. You can find the menu here.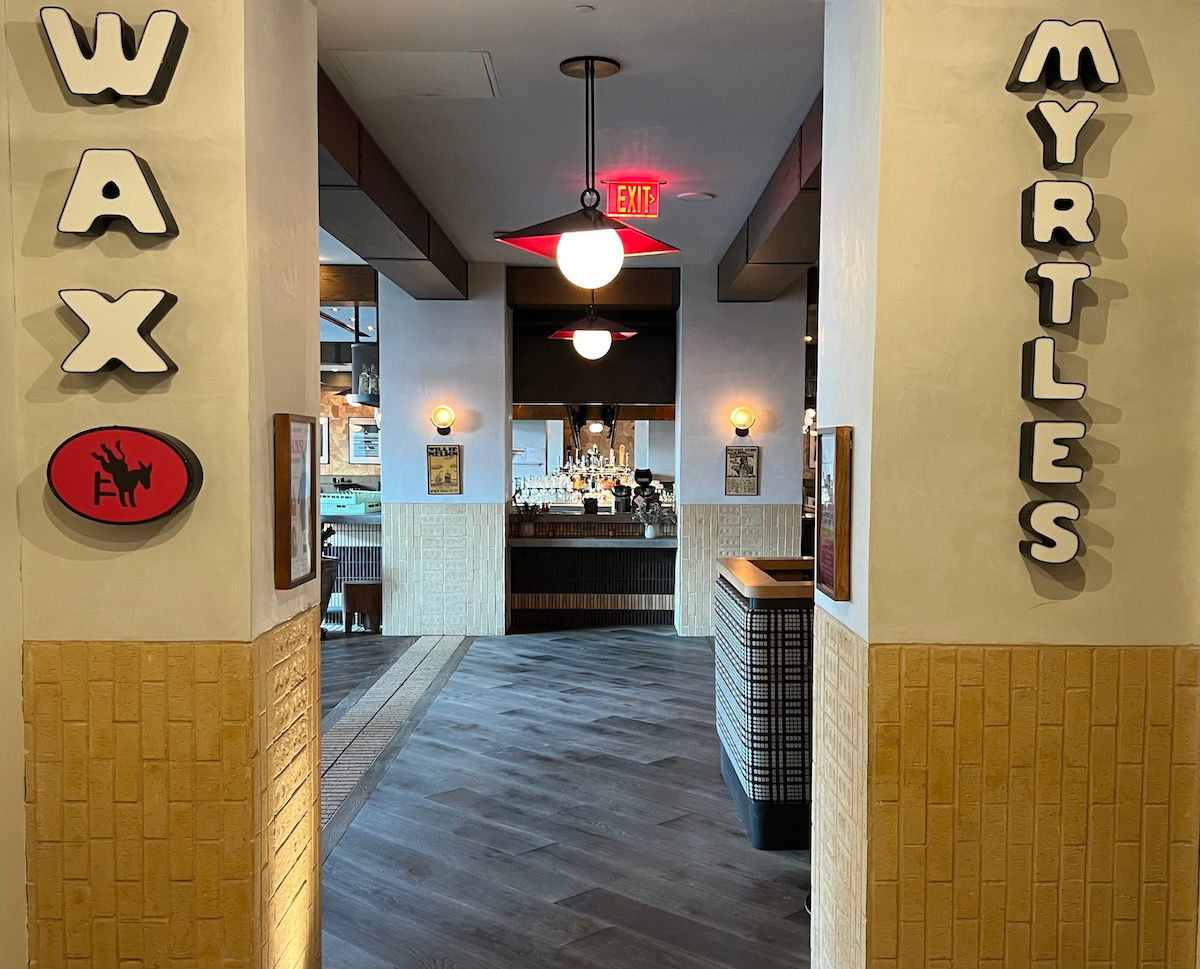 Not only does the restaurant have a huge indoor space, but it also has lots of outdoor seating.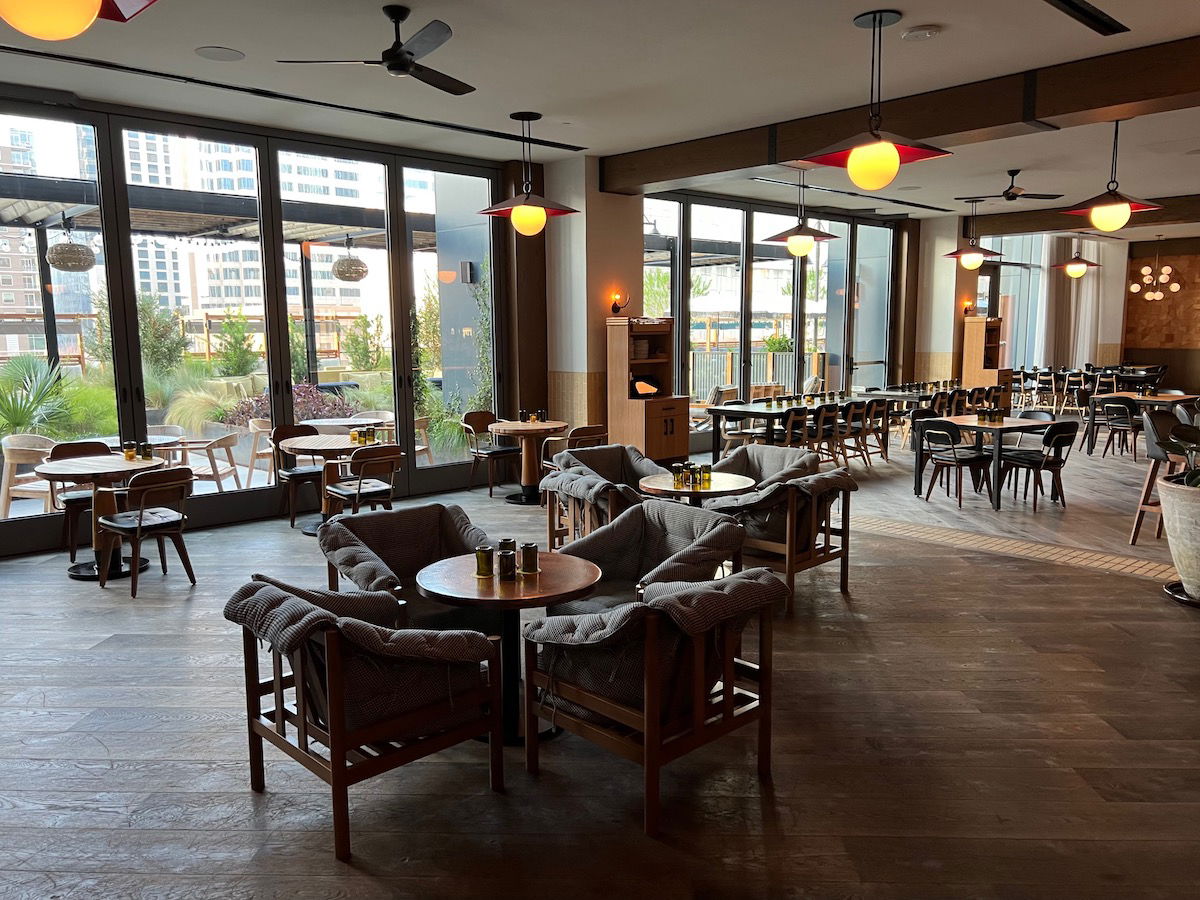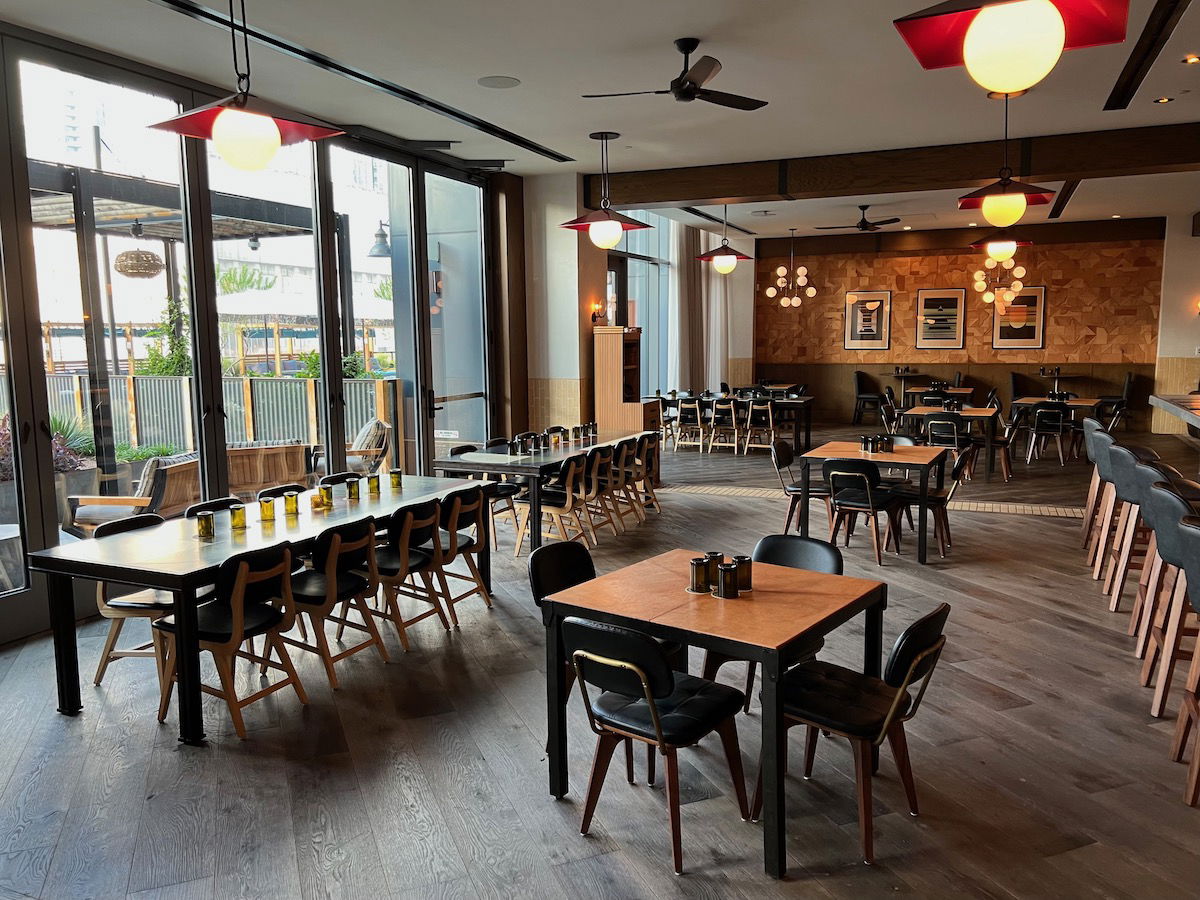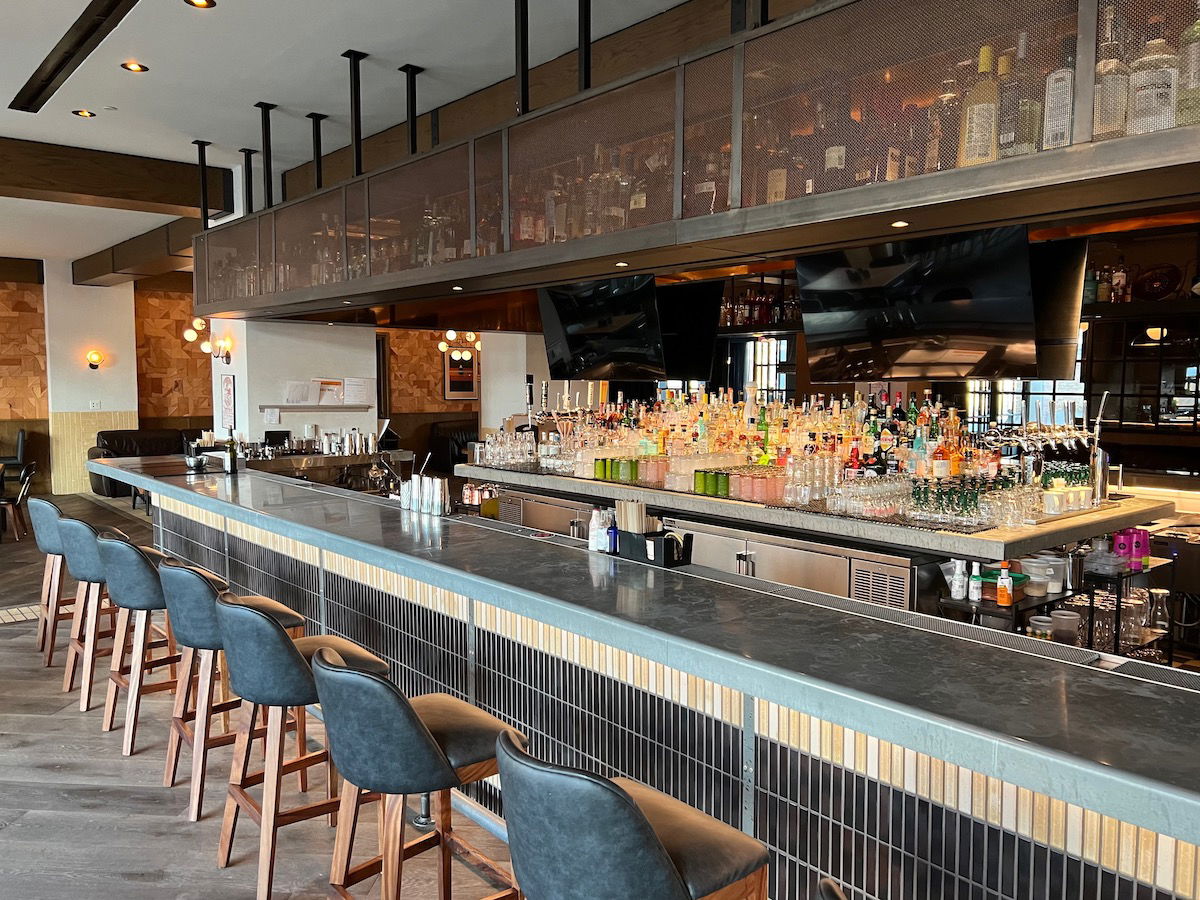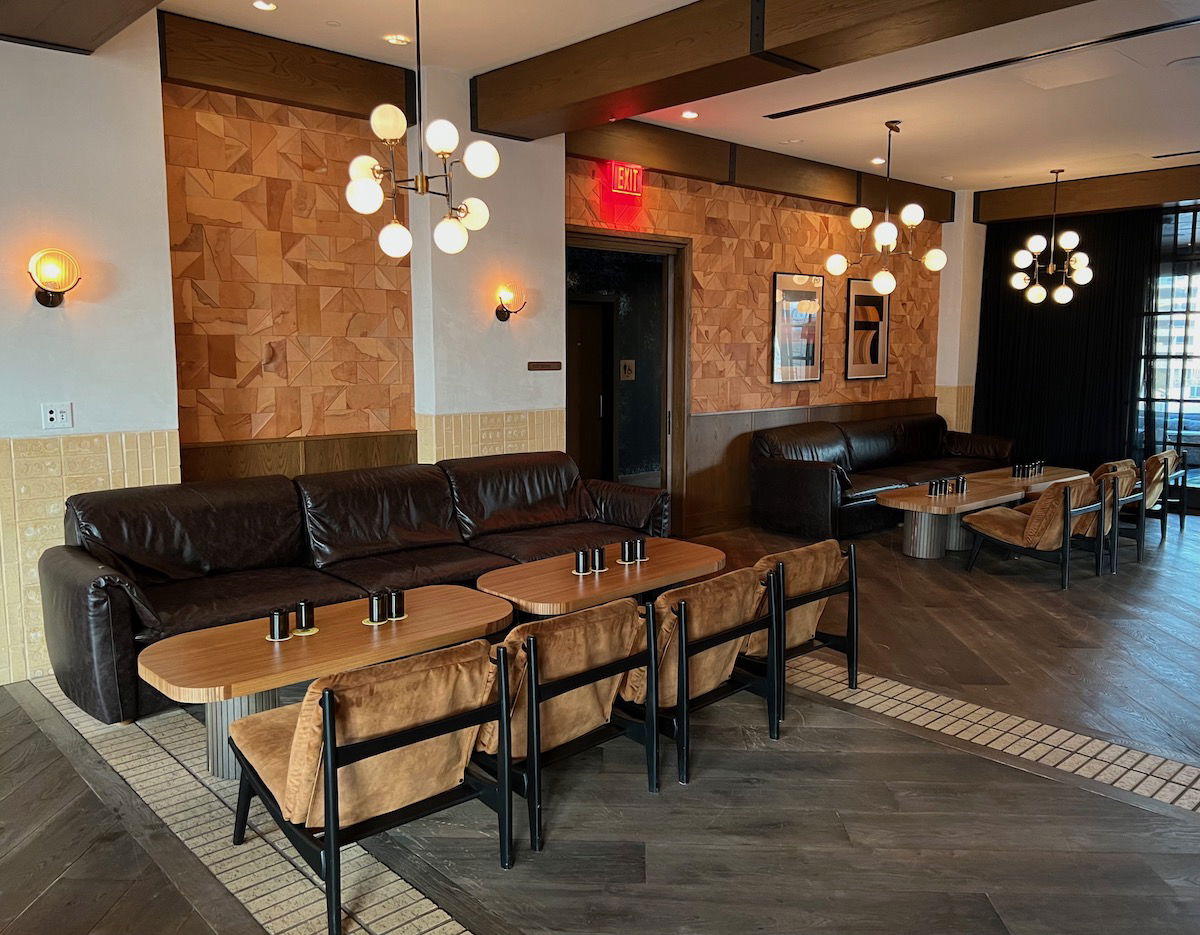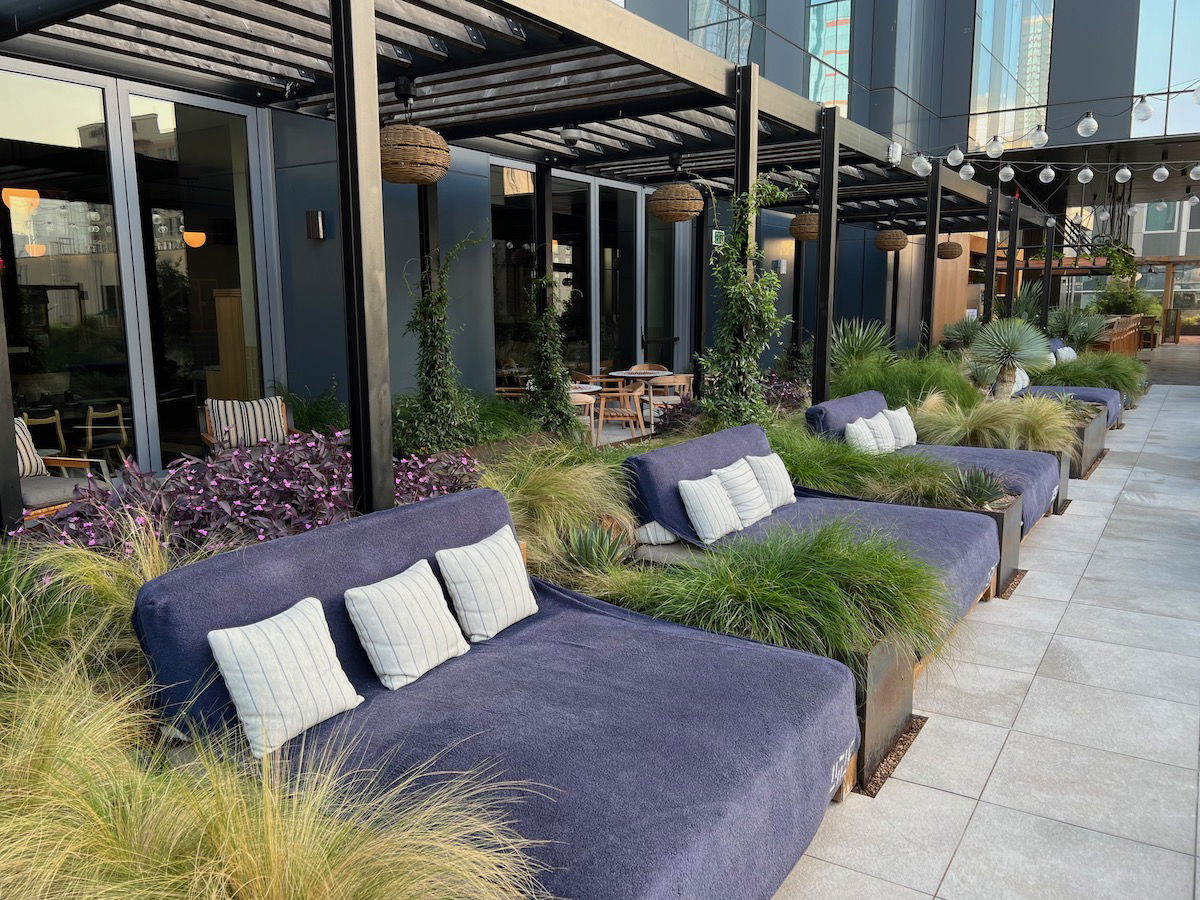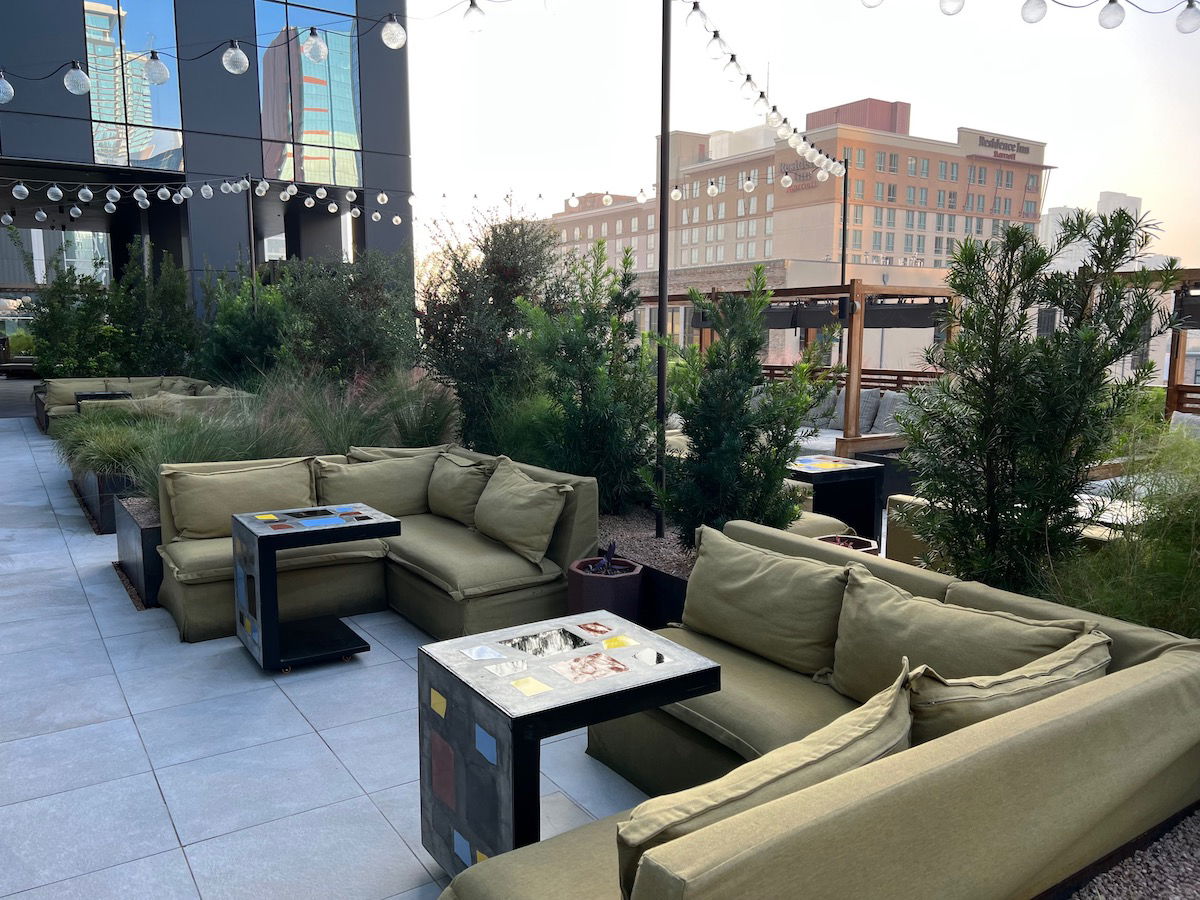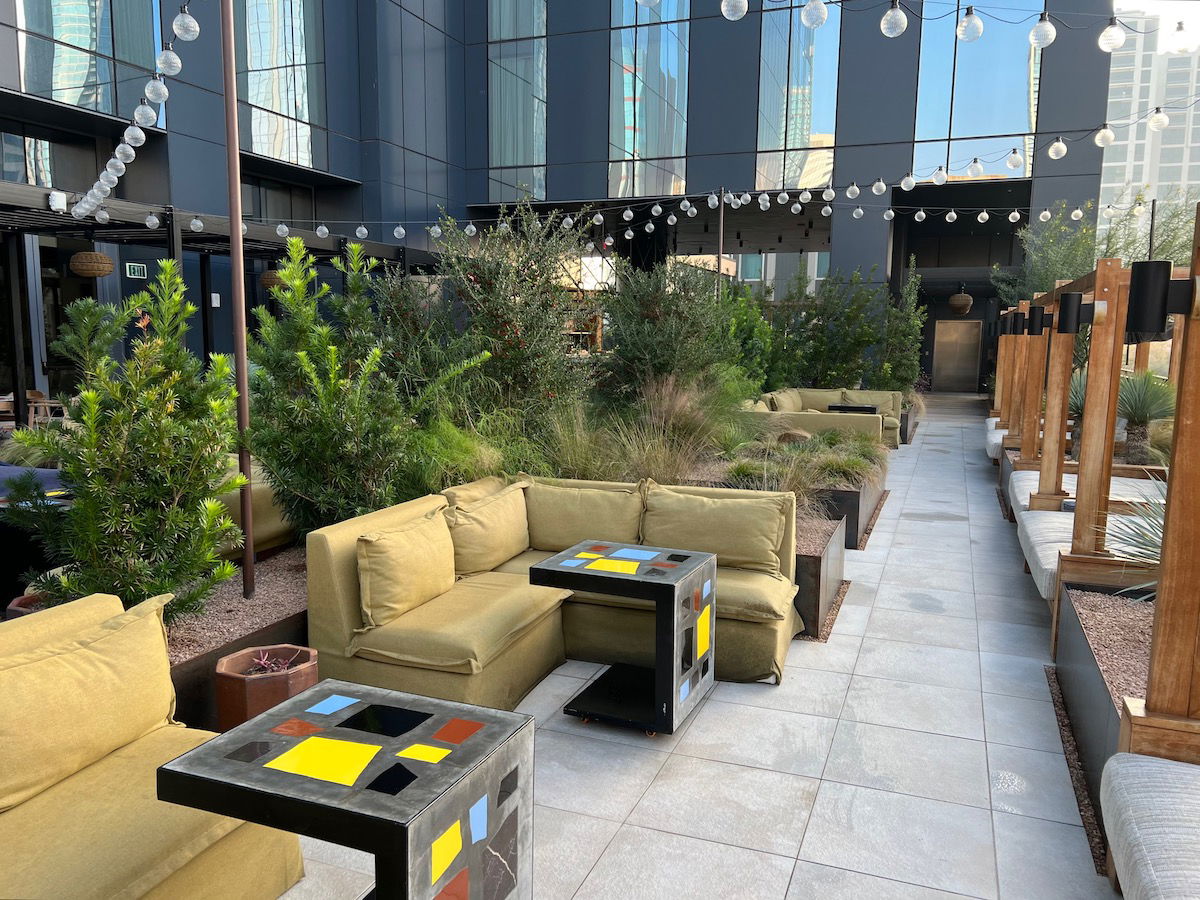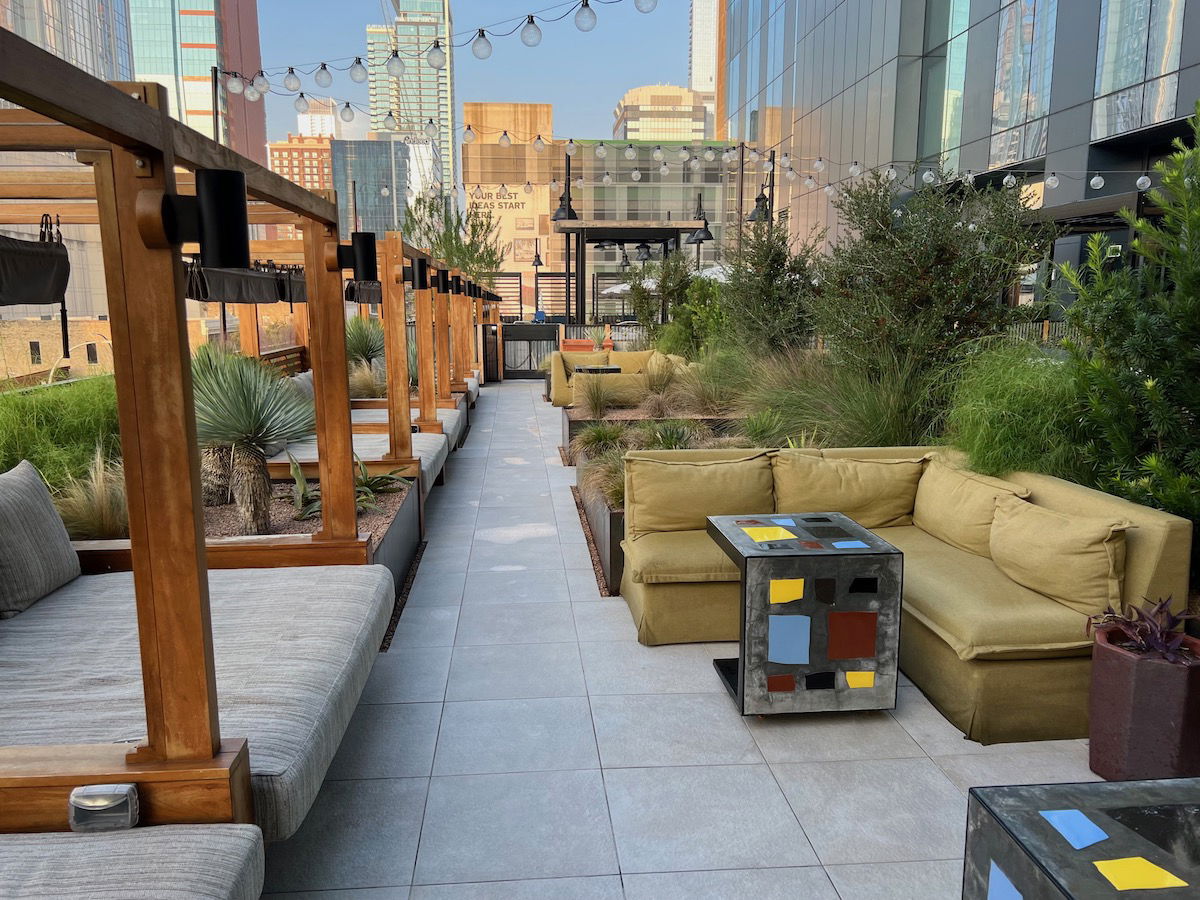 The food here was great, including the boiled peanut hummus with roasted salsa verde and the tuna tartare tostada.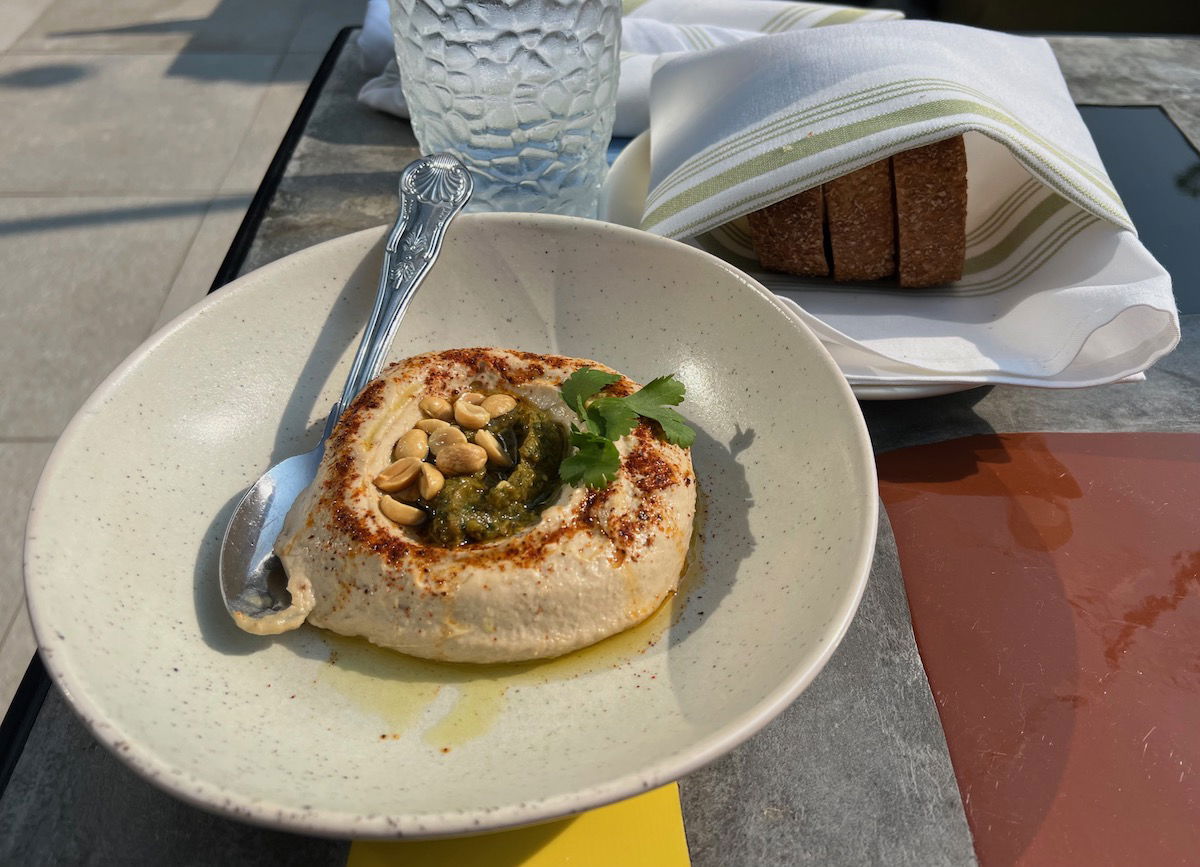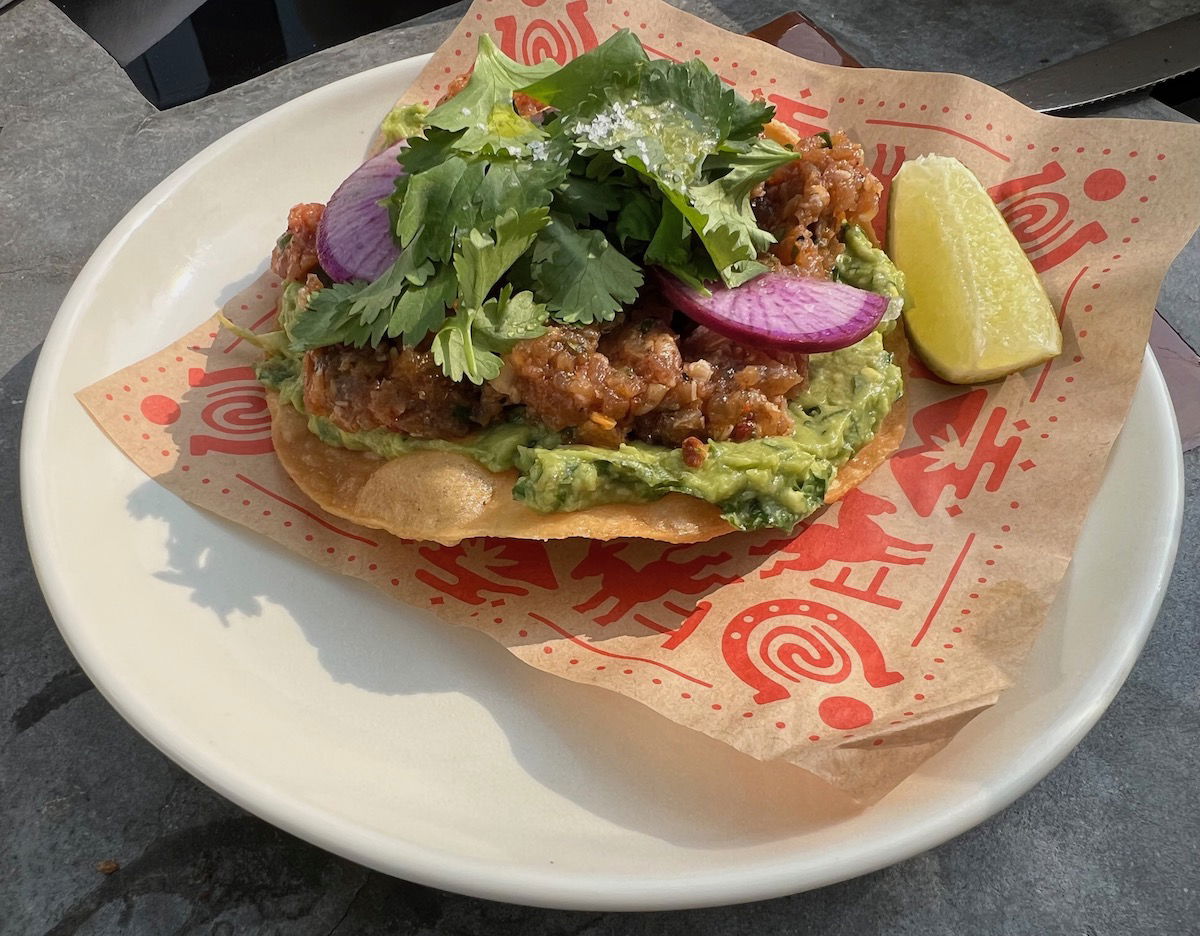 Bottom line
There's a lot to like about the Thompson Austin, including the great food & beverage outlets, the friendly service, and the generally good elite recognition.
However, there are also things that I didn't love, like the poorly thought out room design, which demonstrated a clear lack of attention to detail. Furthermore, I'm not a huge fan of dual branded hotels, not to mention that there's an apartment complex added into the mix here as well. This isn't a boutique hotel, but rather a 400+ room hotel, along with a 300+ unit apartment building.
I still like the Thompson brand, I just don't like it quite as much as before. For example, I loved the Thompson Dallas, because it was a converted property. Meanwhile the newly purpose built Thompsons seem to have small rooms, and a lack of attention to detail.
If you've stayed at the Thompson Austin, what was your experience like? And where do you stand on the Thompson brand as such?