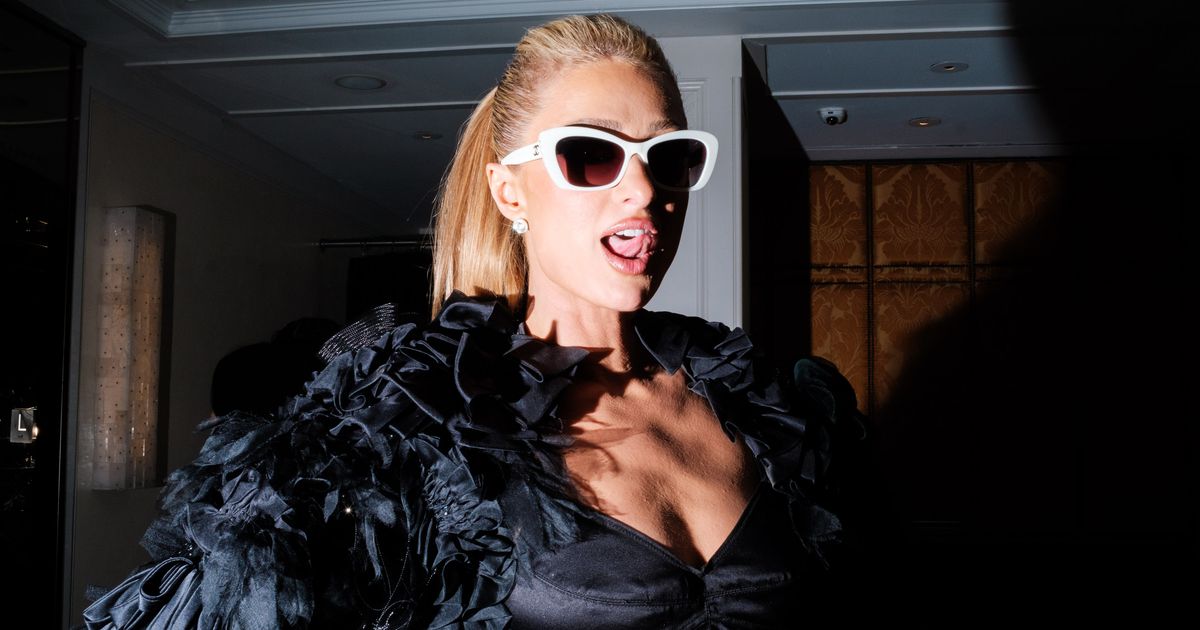 Scene Report from the Mark Hotel Met Gala 2023
It's 4 p.m. on the first Monday in May, and the streets around the Mark Hotel are at a standstill with traffic. A fleet of Sprinter vans are double-parked on Madison Avenue awaiting their precious cargo of famous people, and hordes of fans are crowding into the street outside of the hotel. In the lobby — which serves as the Met Gala's unofficial red carpet — finishing touches are being made: Publicists are kicking out anyone who shouldn't be there, while paparazzi negotiate for a good spot on the floor. Whispers of who, what, and when fill the hall with a conspiratorial buzz.
It's 5:15 p.m., and I catch sight of Anna Wintour slipping out through Caviar Kaspia, the hotel's restaurant. I figure she would rather debut her look (and rumored beau, Bill Nighy) at the gala. Shortly after her escape, the Mark's mirrored elevator bank opens to reveal Maude Apatow, Olivia Wilde, Gabriela Hearst, and Vanessa Kirby. They all seem to be channeling Sharon Stone in Casino while making a strong case for column dresses.
Everywhere there is an excess of fingerless gloves, but that is to be expected with a Karl Lagerfeld theme. The only person who is really pulling them off is Ke Huy Quan, who bounces into the lobby with boyish enthusiasm and a genuine "Happy to be here" air. Nearby, there's a bit of chaos as the back of Ivy Getty's organza dress has ripped open. Her stylist is frantically trying to adjust her train so that it obscures the tear. It does not work, but Getty, in true "It" girl fashion, strides onto the carpet nonetheless. She cuts Sienna Miller, resplendent in black feathers, who has been patiently waiting her turn for 15 minutes.
At 6:19 p.m., the doors open to a blossoming of umbrellas. Apparently they are shielding an unknown star. "It's Cardi … No, maybe it's Doja," someone behind me whispers. All I can see is the fluff of a white dress and a hint of cat ears. As the umbrellas rush out the doors, the paparazzi and the crowd jeer. They're mad they can't see the celebrity, and the chorus of boos is enough to make everyone in the lobby crane their necks. It would make sense for Doja Cat to dress as Choupette as per her madcap style, but no one expected the addition of cat-face prosthetics. 
It's 6:30 p.m. now and the lobby is teeming with people. Each celebrity seems to have their own troupe of videographers, photographers, and social-media assistants. At 6:40 p.m., Carla Bruni slips out with Amber Valetta. When someone asks her who she's wearing she turns to the crowd and purrs: "Karl Lagerfeld." Across the hall, Devon Aoki is being led out by Jeremy Scott while Charlotte Tilbury blows kisses at her, squealing, "Love you, love you!"
There's a flurry of action when Donatella Versace and Anne Hathaway emerge into the lobby arm in arm, followed by Gigi Hadid. The photographers are in a frenzy, crowding and getting in each other's frames. Shortly after, Bad Bunny saunters out with a glass of champagne in one hand while an assistant struggles to carry out his lengthy rose shawl. A few feet away, Paris Hilton is getting a final spritz of hairspray before giving a generous array of her signature poses. When a rogue Polaroid camera flies out of nowhere and breaks into pieces near her dress, she gasps, "Oh no!"
A few minutes later, I notice a mysterious blonde standing near the concierge desk in dark sunglasses. Behind me I can hear publicists whispering, "Is that Jessica Chastain? Right? She's been standing there for a while …" At 7:27 p.m., security does a final push to clear the lobby for the last big star to exit ("Clear the way! Clear the way!") Cardi B waltzes out of the elevator bank like Venus emerging from the sea. She's wearing a custom pink Miss Sohee dress that reminds me of the archival Thierry Mugler gown she wore at the 2019 Grammys. The crowd outside of the Mark roars as she lingers on the red carpet to give everyone all the angles.
A climate-change protest is forming outside of the hotel, and I spy a contingent of NYPD out the window. Apparently, Paris Hilton's van has been boxed in by the rally and her arrival at the Met is delayed.
By 10:36 p.m. the Mark's afterparty is in full swing. Blake Abbie, of Bling Empire fame, wants to dance and leads me over to the DJ booth. Guests are taking photos with a huge (and gaudy) bust of Lagerfeld's head, but are distracted by Jared Leto, who raises his Choupette head in the air, and just as quickly leaves for the next party. At 11:00 p.m., I pass by Lucas Gage and Chris Appleton, who are fielding congratulations on their recent nuptials. At 11:42, party host Michelle Yeoh arrives to a reverent hum of excitement, while Carla Bruni shimmies to "Happy," by Pharrell.
Out in the lobby, where it all began, celebrities come and go with a little more freedom. Anne Hathaway has changed into a motorcycle jacket and a pink beaded dress, ready to host her own after-party at the Nines. I hear that 77th was blocked off a few hours extra because vice-presidential step-daughter Ella Emhoff had to get to a party. I suppose that is one thing the Secret Service can do.
By 12:27 a.m., I'm on my way out, and a man rushes past me through the doors with four bags of McDonald's in tow. He disappears up the elevators, the smell of french fries lingering in the air.