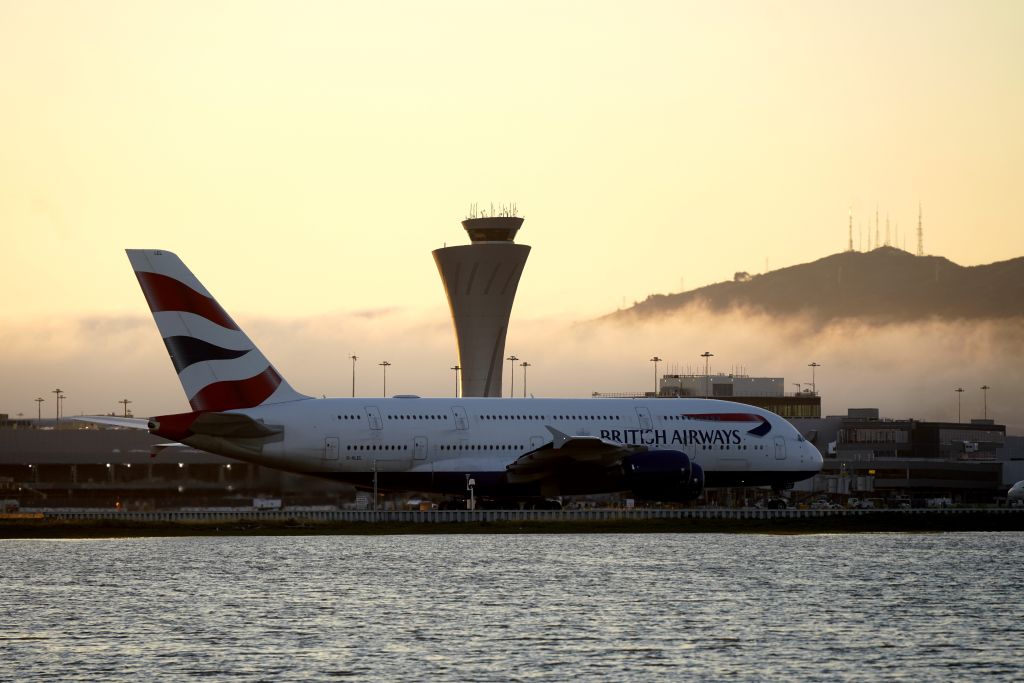 Summer air travel hits record as pilots falsify medical records
In the latest air travel news, the Transportation Security Administration said passenger numbers this summer will surpass the pre-pandemic year of 2019; the Transportation Department hits American Airlines with the largest fine yet for keeping passengers stuck on the tarmac for hours; a Washington Post investigation finds hundreds of pilots might be medically unfit to fly; China drops its COVID testing requirement for inbound travelers; Google Flights says booking the cheapest Christmas flights should start in a few weeks; Southwest resumes a transcontinental route out of Oakland; Avelo Airlines adds flights from Sonoma County and Eureka to Las Vegas; there's international route news from Norse Atlantic, Delta and Air Canada; American's flight attendants vote to authorize a strike; TSA adds more foreign airlines to its PreCheck program; Alaska Airlines introduces digital passport verifications; another foreign carrier reopens its premium lounge at SFO; Delta completes the last phase of its terminal reconstruction project at LAX.
Are you flying somewhere this Labor Day weekend? If so, you are among 14 million travelers expected to take to the air between Sept. 1 and 6, according to the Transportation Security Administration. That's an 11% increase over the same holiday period last year, and a larger number than 2019's Labor Day weekend. The agency said its airport officers have screened 227.5 million passengers since Memorial Day weekend, or an average of 2.5 million per day. "Travel volumes during this summer travel period are higher than 2019 (i.e., the last pre-pandemic year) during the same summer travel period, marking the busiest summer travel period on record," TSA said. Even with the crowds over Labor Day, TSA said it expects to maintain its waiting-time standards of 30 minutes or less for the standard screening lines and 10 minutes or less for PreCheck lanes.
Advertisement
Article continues below this ad
Advertisement
Article continues below this ad
Several years ago, the Transportation Department adopted a rule that bars airlines from keeping passengers aboard a domestic flight stuck on the tarmac for more than three hours (or four hours for international departures), and this week, the agency slammed American Airlines with the largest fine ever assessed for violating that rule. The $4.1 million fine was issued after an investigation by DOT's Office of Aviation Consumer Protection found that between 2018 and 2021, American kept 43 domestic flights on the tarmac — mostly at its Dallas/Fort Worth hub — "for lengthy periods without providing passengers an opportunity to deplane," DOT said. Although the rule provides for some exceptions related to safety and security, none of those applied to the 43 stalled flights, which affected 5,821 passengers. The $4.1 million fine allowed for a $2.05 million credit to the airline for compensation it paid to passengers on the affected flights. "Whether the issue is extreme tarmac delays or problems getting refunds, DOT will continue to protect consumers and hold airlines accountable," said Transportation Secretary Pete Buttigieg. 
Air travelers have been given a lot to worry about this summer. First came an investigative report from CBS News that suggested the airline industry's ongoing problems with excessive flight cancellations and delays are likely to continue for years. Then a few weeks ago, a New York Times probe found that the number of aircraft near-misses at the nation's airports is a lot higher than has been publicly reported, exacerbated by a shortage of air traffic controllers. And now the Washington Post reports that the federal government is quietly investigating about 600 commercial airline pilots for failing to submit complete and honest information about their medical records. 
Those 600 are among a total group of 4,800 pilots being reviewed for possibly "falsifying their medical records to conceal that they were receiving benefits for mental health disorders and other serious conditions that could make them unfit to fly," the Post said. An FAA official confirmed the investigation to the newspaper, and said that so far, the agency has ordered about 60 pilots who "posed a clear danger to aviation safety" to stop flying while it reviews their records. The Post said it was told by experts that "the sheer number of unreported health problems presents a risk to aviation safety." Pilots must undergo regular physical exams, it noted, but "the tests are often cursory and the FAA relies on aviators to self-report conditions that can otherwise be difficult to detect, such as depression or post-traumatic stress."
Advertisement
Article continues below this ad
The government of China this week ended its requirement that inbound international travelers must show proof of a negative COVID-19 test before entering the country. Before the government dropped its controversial "zero COVID" policy last December, China had some of the world's tightest restrictions on international travel, which it has been gradually loosening since January, including testing requirements and mandatory quarantines. At the same time, China has been increasing the number of flights that foreign carriers are allowed to operate into the country. According to the Associated Press, China announced the end of its testing requirement at a media briefing in Beijing this week.
It's only Labor Day weekend, but the travel planning website Google Flights suggests that you might want to book Christmas holiday flights in just a few weeks. In an update on 2023 flight booking trends that it issued this week, the site suggested that "for trips starting in mid-December, you're most likely to find deals around early October. Average prices tend to be lowest 71 days before departure — a big change from our 2022 insights, which found that average prices were lowest just 22 days before departure. And the typical low price range is now 54-78 days before takeoff." As for travel from the U.S. to Europe, Google Flights noted that average prices hit their lowest levels 72 days or more before departure. "Average airfares from the U.S. to Europe only tend to increase over time, especially once you're about 10 weeks from departure," the site said. 
Advertisement
Article continues below this ad
In domestic route news, Southwest Airlines has set Sept. 5 for the resumption of daily transcontinental service between Oakland International and Baltimore/Washington International. On the same date, Southwest is due to introduce new daily flights from Long Beach, California, to Albuquerque, New Mexico, and to revive daily service from Denver to Richmond, Virginia. On Sept. 8, low-cost Avelo Airlines plans to increase its schedule between Sonoma County Airport in Santa Rosa and Las Vegas from two days a week to four (Sundays, Mondays, Thursdays and Fridays), and to introduce a new route to Las Vegas from northern California's Eureka/Arcata Airport with flights on Mondays and Fridays. Low-cost competitor Breeze Airways is also expanding in the West, kicking off new service from Las Vegas to Raleigh-Durham, North Carolina, on Sept. 7 with three weekly flights, as well as twice-weekly service between Los Angeles International and Pittsburgh. 
Just a week after American Airlines pilots voted to approve a new labor contract, the carrier's flight attendants have now voted to authorize a strike. Leaders of the Association of Professional Flight Attendants said the strike authorization vote was approved by more than 99% of its members, who haven't had a raise in four years. However, as with the pilots, the flight attendants' vote doesn't mean a walkout is imminent. Under federal law, mediators would first have to declare that contract negotiations have reached an impasse. Airline unions typically vote to authorize strikes to put more pressure on management as contract talks progress.
Advertisement
Article continues below this ad
The Transportation Security Administration has added four more foreign airlines as participants in its PreCheck expedited screening program so passengers on those carriers can now get through airport security more quickly. The four are Cayman Airways, French Bee, Titan Airways and Zipair. Cayman Airways flies to the Cayman Islands in the Caribbean from Los Angeles, Denver, New York, Miami and Tampa. French Bee has service from San Francisco and Los Angeles to Tahiti and Paris. Japan Airlines subsidiary Zipair has routes from San Francisco, San Jose and Los Angeles to Tokyo Narita. And Titan Airways is a European charter airline.   
The latest enhancement in Alaska Airlines' effort to speed up the check-in process is called Mobile Verify, a self-service program customers can use for passport verification, so they won't have to take that step with an agent during check-in for international flights. "Eventually, guests will be able to flow through every airport touchpoint without having to take out identification documents, simply by controlling their digital identity on their smart phone," the airline said. To participate in the passport process, customers must download the Airside Digital Identity mobile app on an iOS or Android device, take a selfie of their face, scan their passport photo page, and hold their phone against the inside of the passport's back cover to read the embedded chip. Then when the customer has an international flight coming up, the Alaska Airlines app will issue a prompt to open the Airside app, where the traveler will select departure date and location and enter a confirmation code. "This gives a one-time consent to use your digital identity, which alerts Alaska that you have had your documents verified for international travel and do not need to see an agent," the airline said. "You'll repeat this simple process for each international trip." 
Another foreign airline has reopened its lounge for premium travelers at San Francisco International. According to Australia's Executive Traveller, Cathay Pacific's business and first class lounge at SFO resumed service this week, and will open its doors a few hours before the scheduled departure time of its flights to Hong Kong (12:55 a.m. for CX873, 1:35 p.m. for CX879). Besides first and business class travelers on Cathay and its Oneworld partners, the lounge can also be used by Cathay's Diamond, Gold and Silver members as well as Oneworld Emerald and Sapphire-level frequent fliers.
Advertisement
Article continues below this ad
In other airport news, Delta said it has completed the final phase of its $2.3 billion Delta Sky Way at LAX project 18 months ahead of schedule. That last piece was the construction of an airside connector with moving walkways linking the airline's Terminal 3 with the Tom Bradley International Terminal, "eliminating the need for busing between terminals," the airline said. Delta's reimagined 27-gate Terminal 3 opened last April with a centralized check-in lobby, larger security checkpoint and baggage claim area, and a new Delta Sky Club. In June, the project's west head house and Delta One check-in area opened.
Advertisement
Article continues below this ad